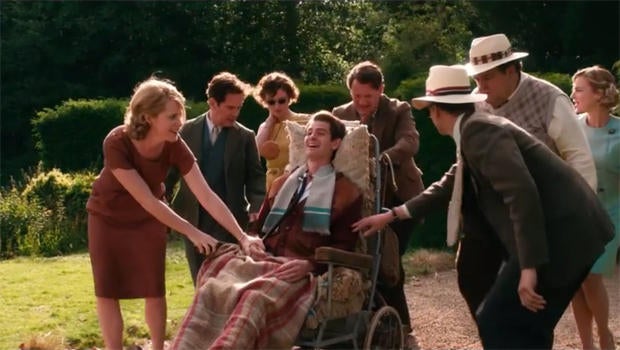 Sunday Profile: Andrew Garfield
ANDREW GARFIELD enjoyed huge success playing Spider-man. Whether he fully enjoys the sacrifices of a life of fame is another matter. Seth Doane has our Sunday Profile:
What he likes about walking along London's Westminster Bridge, Andrew Garfield says, is that he can be anonymous.
Just then, as if on cue: "Whoo! Spider-Man! I love you!"
It's getting harder for Garfield to go unnoticed on the streets of London, his home.
"Does that ever get normal?" Doane asked.
"No. No, I hope not! I think that's a really dangerous thing if that ever becomes normal."
The 34-year-old actor doesn't love fame, and puts some distance between himself and the role that made him most famous: Spider-man.
"It was, you know, the three-year-old in me going, 'Yeah, we are Spider-Man!'" he said. "It was my first Halloween costume. It was, like, everything. So there was no way I wasn't going to do it. And then there was the size of it, which is, whew, hard."
Why hard? "In terms of the exposure. In terms of now people know you -- or think they do."
His high-profile romance with "Spider-Man" co-star Emma Stone only heightened the exposure. But since that blockbuster, Garfield (who's part British, part American) has returned to his roots on stage, starring in the epic, seven-hour play "Angels in America" -- first in London, and coming to Broadway next year.
He says he wants to stay grounded … no easy task in his industry, which he learned early on after winning a top London acting award: "There was this major ego inflation that just happened; I couldn't help it," he said. "I wasn't going around going, 'Hey, I'm great.' It was just like, 'Oh my God. Like, they think I'm pretty good. This is insane!' And as soon as I got into my house, I had a panic attack.
"The panic attack was a way of going, 'Wait a minute. Come back down here. That is not sustainable. And it's not real. And it's not the point.'"
The point, for Garfield, is playing roles in which he finds purpose and meaning.
And he has poured himself into them, whether transforming into a Jesuit missionary in 17th century Japan in Martin Scorsese's "Silence"; getting an Oscar nomination for Best Actor in "Hacksaw Ridge"; or his latest challenge: becoming the gregarious, athletic Robin Cavendish, who in real life in 1958 was stricken with polio. He found himself paralyzed in a hospital bed on a ventilator.
But he and his wife, Diana, were determined to live on their own terms.
Robin: "I either go on living here, or leave here and possibly die?"
Diana: "Yes."
Robin: "Well, what are we waiting for?"
The film "Breathe" -- out this week -- is as much a story about love as it is about becoming a pioneer for the disabled.
"What an amazing life that he had, and what an amazing set of circumstances to deal with," Garfield said. "It's evident that some magic happened because of the decision that they made."
They invented a wheelchair with a ventilator attached, which allowed Cavendish to be mobile -- despite being paralyzed from the neck down.
Doane said, "That must make it particularly difficult as an actor, to not be able to move."
"Yeah," said Garfield. "So where does that energy go? It goes into the eyes, it goes into the face, it goes into muscles in the face that probably were never used before."
Garfield practiced trying to be expressive without moving his body, and studied the Cavendishes' photo albums and home videos.
"I had to create his sound, which is very specific," the actor said. "But then I had to imagine being breathed for by this external apparatus in a consistent rhythm. Having to break up sentences according to that rhythm. Not being able to get full thoughts out. Having to wait for the breathe to come back in to complete the thought."
Jonathan Cavendish (Robin's son) was on the set of "Breathe" every day -- not just to give notes, but as the film's producer. He said Garfield's performance, "The voice is exactly the same. The facial expressions are exactly the same."
"Is it strange? Is it difficult to watch somebody playing your dad?" Doane asked.
"I was incredibly close to my father," he replied. "And he died 23 years ago. And what Andrew has done has brought him back."
Off-screen, Garfield pivots from being serious to light-hearted, and relishes the unscripted -- which we saw as he waxed on about what Robin Cavendish might have thought: "But obviously I think he would have agreed …"
Just then a piece of foam hanging above his head collapsed. "Woah! That was Robin saying 'Shut the ---- (laughs) You have no idea what you're talking about!' I hope that's in, I hope you keep that in!"
Garfield studied acting at London's prestigious Royal Central School of Speech & Drama, where he channeled his childhood energy.
"I was just a goof," he said, "and I needed somewhere to do that in a way that wasn't annoying (laughs), and I needed someone to say, 'Oh, no, it's okay -- this is the time and space for you to be an annoying person. We actually like the annoying person here!'"
Today, he says, the more complex the character, the more interesting it is to play. And portraying Robin Cavendish was a challenge.
Diana Cavendish -- now 83 -- said, "I thought Andrew had managed to get the twinkle in Robin's eye extremely well."
"Well, that's quite a compliment," Doane remarked.
"Well, he did take a lot of trouble!"
Diana was initially skeptical about having her life turned into a movie, but is happy enough to honor her husband's legacy. "It's not a bad thing at all -- as long as people shut up about it eventually," she said.
"A little attention is fine, but let's not overdo it?" Doane asked.
"Yeah, yeah, yeah, yeah."
"Very English."
"Yeah, I know. I can't help it!"
Andrew Garfield doesn't want to talk about any Oscar chatter surrounding this role -- that's his English side. He says he just wants the chance to try to connect with audiences … and take risks as an actor:
"There is something life-affirming about risking failure on a large scale," he said. "It's exciting."
To watch the trailer for "Breathe" click on the video player below.
For more info:
"Breathe" (Official site), opening October 13 from Bleecker Street
Thanks for reading CBS NEWS.
Create your free account or log in
for more features.