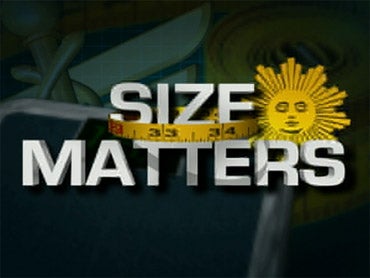 Sunday Morning: Size Matters
This week, "CBS News Sunday Morning" looks at our nation's growing problem with obesity in a special edition we're calling Size Matters.
As most of us have heard by now, America is supersized and expanding. Collectively, we're four-and-a-half billion pounds overweight and our health care system is straining under the burden of it all. In this week's "Sunday Morning" cover story, correspondent Seth Doane examines how we got so fat, and what it's doing to our nation's health and economy.
Our girth is even having an effect on the fashion industry, where there has always been tension between thin and not-so-thin America. But with money to be made, correspondent Michelle Miller reports, some designers seem fit to take up the challenge of expanding waistlines.
Plus-size, full-figured, even enormous…those are the women often considered the most beautiful by artists throughout history. Martha Teichner is our guide to the human body as seen through the eyes of artists.
Of course, they say "beauty is in the eye of the beholder." But today, health officials do not consider excess fat a thing of beauty. That's why researchers and doctors are working on new medications to help people in their battle with weight. Rita Braver travels to the Duke Diet and Fitness Center, perhaps the gold standard in treating obesity, to examine the latest advances in dealing with an obesity epidemic.
Obesity used to be a problem mostly associated with adults. But childhood obesity is now a national health crisis as well. One-third of children and adolescents are overweight or obese; that's more than 23 million young people. Russ Mitchell travels to Somerville, Mass., to check out an innovative city-wide effort to fight the trend.
Is there a reason for our collective weight gain? Dr. David Kessler, the former head of the FDA, believes he may have an answer. He claims the food industry has perfected the science of making food that we are unable to resist. But is it fair to demonize businesses for providing customers with what they want? Correspondent Serena Altschul looks at both sides of this provocative debate.
In a world where it seems that everyone wants to be thin, Mo'Nique is a big woman, and she's not apologizing for it. In fact, she's made her "big and proud" message a central part of her new nightly talk show on BET. Correspondent Mark Strassmann goes backstage to take a peek into the big, big world of Mo'Nique.
Backstage with Mo'Nique
Uniquely Mo'Nique
Actress Valerie Bertinelli has nothing to hide these days. She's been front and center as spokeswoman for the weight loss company Jenny Craig. In one commercial, she's shed most of her clothing to show off her new-found body, minus 40 pounds. And Bertinelli says she isn't done yet. Correspondent Tracy Smith has the "skinny" on Valerie Bertinelli.
Bertinelli: Going the Distance
There's a good chance that Valerie Bertinelli has sworn off the food you'll find at the State Fair of Texas. It's the place where the classic battered and fried "Corny Dog" was invented in 1942. And to this day, the fair remains on the frontier of fried food. Vendors compete to see who can create the most egregious violation of dietary law. Artery-clogging creations like fried cookie dough, fried peaches and cream, and fried Coke are just part of the fare. This year, Abel Gonzales Jr. unveils his masterpiece - fried butter. Yes, fried butter! Bill Geist eats his way through this Capital of Deep-Fried Food.
Those stories and more on a special edition of "Sunday Morning: Size Matters."
Listen for the trumpet.
Thanks for reading CBS NEWS.
Create your free account or log in
for more features.