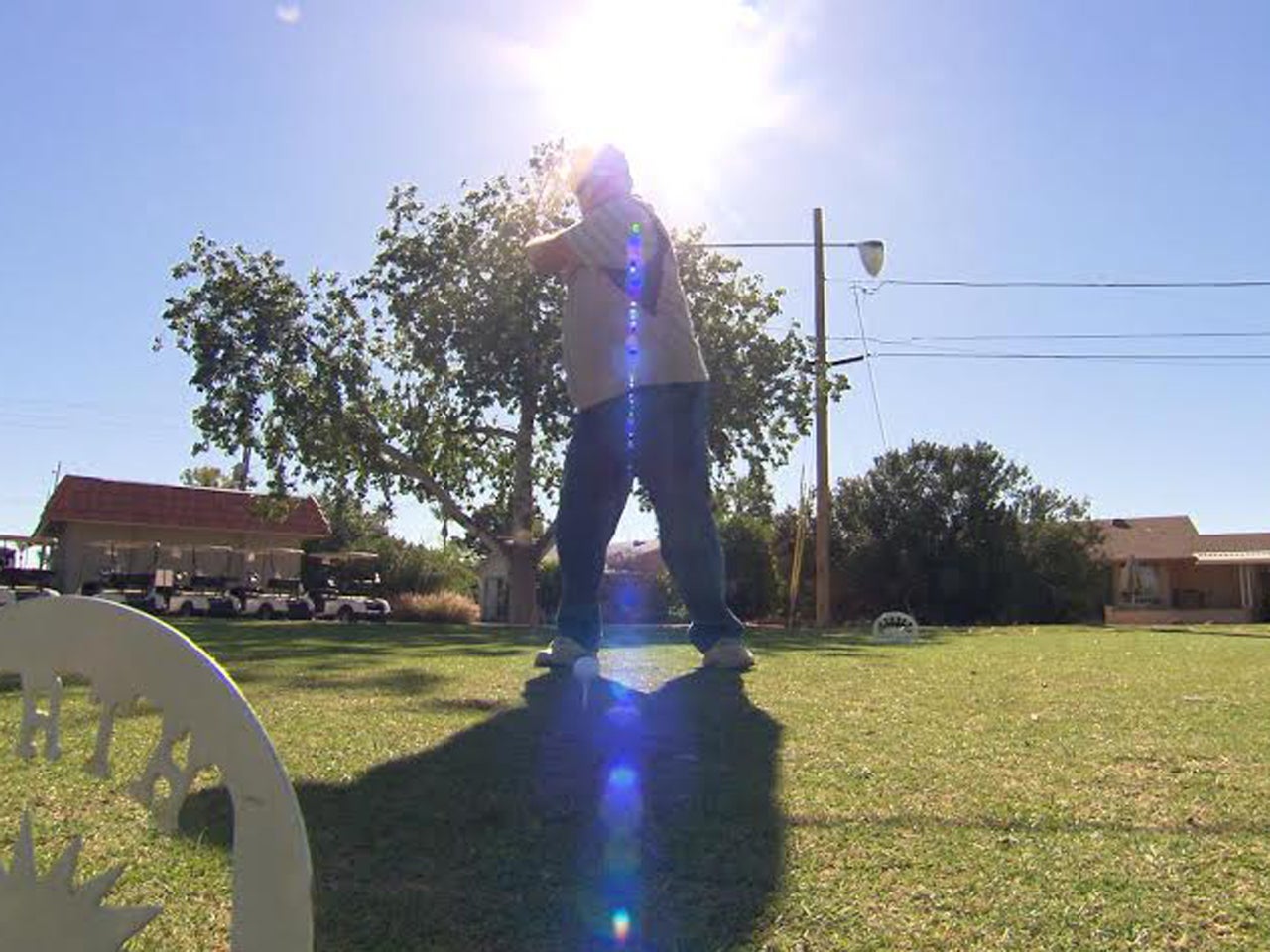 For more than half a century, folks have been having fun in the sun at a pioneering retirement community. With Conor Knighton now we'll share in the fun:
Sun City, Arizona, has seven swimming pools, eight golf courses, and 40,000 residents.
One thing it doesn't have? Children.
Sun City is the country's oldest active adult age-restricted retirement community.
Lynne Renner, Carol Arinno and Trudy Bryson -- all sisters -- all live in Sun City, where each of the 27,000 homes must have a resident of a certain age.
So, Knighton asked, if I wanted to live here, I could not? "Unless you had somebody that was 55 years or older living with you," said Renner.
Well, ladies? "You could come live with us!" Bryson offered.
The citizens of Sun City -- senior citizens, the average age is well over 70 -- know how to keep busy. Lapidary students learn how to make their own jewelry, and if you like to bowl, you have your pick: indoor or lawn.
"Any kind of activity you can think about, there is a club for it," said Bryson.
Her choice? The ukulele club, where she's a "uke-lady."
Today, Trudy lives in the same home her parents retired to back in 1968.
"I remember coming here in my twenties and thinking, 'You know, that's where all the old people live,'" she told Knighton. "And then I became one! And it was like, this is the most natural place in the world to live."
Her sisters never thought they'd end up in Sun City, either. "When my husband came here, he had the idea that it was a place to come to die," said Lynne Renner. "His famous saying was, 'Every time you hear a siren, that meant there was a house up for sale.'"
There was a time when the houses in Sun City were brand-new. The project was created by Del Webb, the developer who also built the Beverly Hilton Hotel in Beverly Hills, and the Flamingo in Las Vegas. But Sun City was his biggest gamble.
"The experts said Sun City would fail," said Bill Pearson. "Seniors didn't leave their family back in 1960. You just didn't pull up roots to move away from the family unit."
Pearson is past president of the Del Webb Sun Cities Museum, which is housed in one of the five original model homes.
"It sold for $8,500 and was 860 square feet," said Pearson. "And then, of course, we had refrigerated air conditioning, which was another $600."
"I think in the Arizona summer that's worth $600," said Knighton.
"That was a very popular item here in Sun City!" Pearson said.
When the models opened to the public on January 1, 1960, the developers were nervous. "They didn't know if anybody would show up," said Pearson. "It was New Year's Day - picture that!"
Pictures from the opening weekend show a turnout that exceeded their wildest dreams -- 100,000 people came through over a three-day period.
Webb knew he was selling a lifestyle, and created promotional videos emphasizing that retirement didn't have to mean a pocket watch from the company and days spent alone. Early ads touted low taxes (there were no schools to fund) and constant entertainment.
"That's the beauty of Sun City, boy ... all your favorite activities are available to you, right up the street!"
Today, there are grandchildren of the original Sun City residents moving in.
Rich Hoffer followed his mother, Jan, to Sun City ... who followed HER parents over 30 years ago.
"As soon as we were old enough, I retired and we moved," said Rich. "And love it -- best decision we ever made."
"I couldn't believe it," said Jan. "[When] he told me, I really thought he was kidding."
"Because, typically, when you think three generations, same place, it's because you grew up here," said Knighton. "But by definition, you're not allowed to grow up here."
"Nobody grew up here," said Rich.
The once-revolutionary idea of a development just for seniors has been duplicated across the country. Compared to newer, more modern offerings, Del Webb's 1960 community looks a little dated.
So Sun City is getting a facelift, installing solar panels and updating the rec centers, including the pride of Sun City: a brand new pickleball facility.
"There are people moving here from Sun City West because of the pickleball we have here; it's incredible," said Carol Arinno.
Pickleball, a game played on a shrunken tennis court with paddles and a whiffle ball, has become the fastest-growing sport among retirees. The sun has barely come up in Sun City, and the courts are already packed with players like Larry Klein, who showed Knighton the ropes.
"I was introduced to the game about nine years ago," said Klein. "I lost my first game, just like you did."
"We don't need to say that part," Knighton said.
"It's addictive. I try to play every day. Some things interfere with my pickleball and it doesn't make me happy."
Now faced with the largest generation of retirees in American history, Sun City is attempting to age gracefully.
After all, at 55 years old, Sun City is old enough to live in Sun City.

For more info:
Thanks for reading CBS NEWS.
Create your free account or log in
for more features.