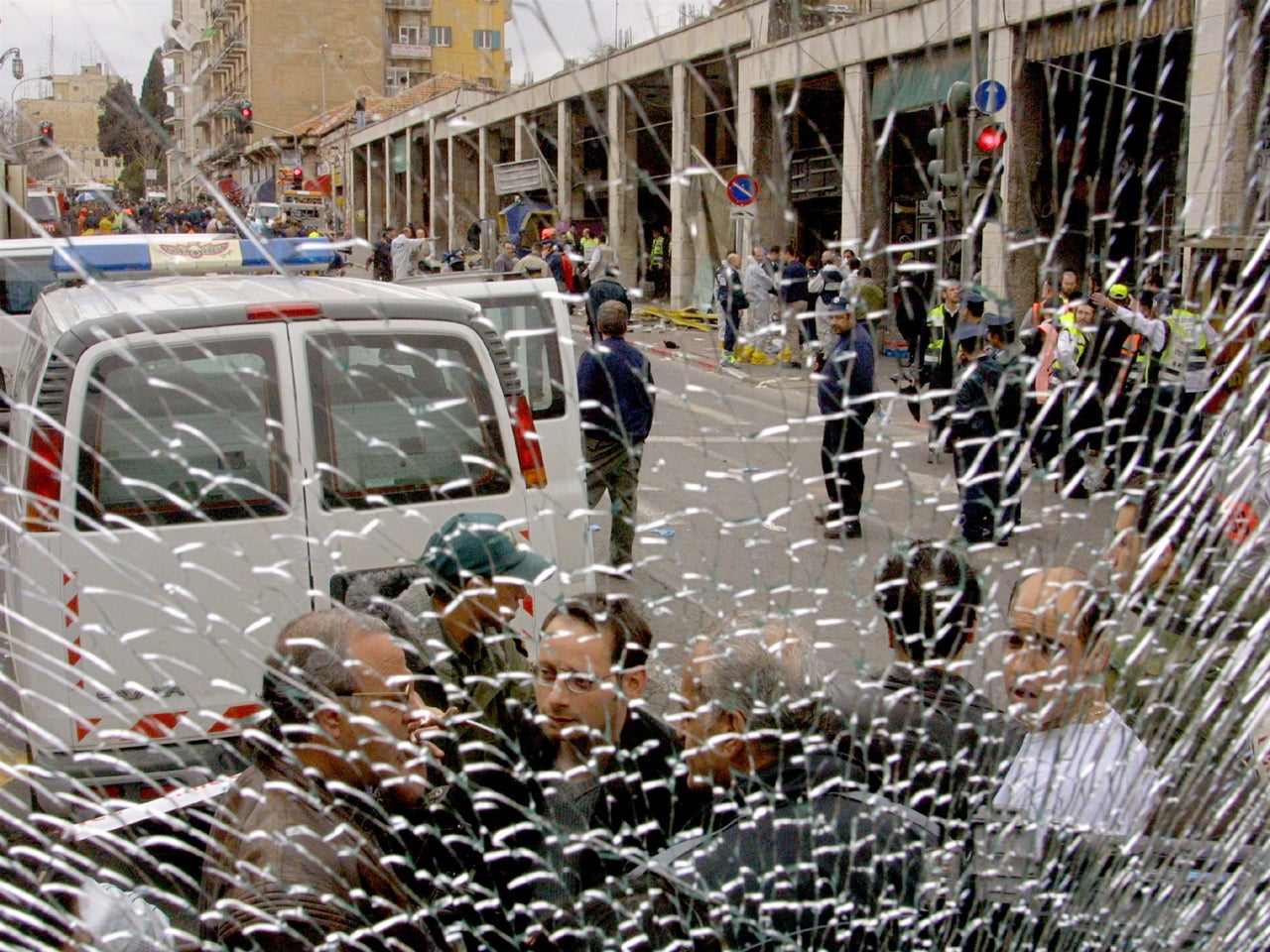 Suing to stop terror funding
(CBS News) Investigators will doubtless follow the money to see what financial help the Boston Marathon bombers may have received. For some victims of earlier terrorists attacks, the money trail has led them straight into federal court. Sharyl Attkisson has their story:
New York attorney Mark Sokolow managed to escape the World Trade Center in the September 11 attacks. A few months later, feeling lucky to be alive, he took his family on vacation to Israel.
"We heard this just horrific blast, and right away I knew that it was it was a bomb, probably a suicide bomber," he said.
In a horrible twist of fate, terror was to strike Sokolow for the second time in four months.
The Sokolows were shopping in a Jerusalem shoe store on January 27, 2002, when the suicide bomber struck.
"Your eardrums burst at the sound of the bomb," recalled Rena Sokolow. "So it sounds like a popping noise. And right away I remember spinning around from the force of the bomb. And I remember it seemed like slow motion. I can't believe this is happening to me. I just can't believe it's happening. And I just thought we were going to die."
The suicide bomber killed one other person and injured 150.
Jamie, the youngest, remembers those terrifying moments. She was 12. "Right when it happened I knew what was going on," she told Attkisson.
Rena Sokolow described the scene: "I looked up and a little girl was looking down at me and she was unrecognizable. Her face was just bleeding, and I had no idea if this could possibly be Jamie, but then I realized that it was."
It was a time of death and destruction on the streets of Israel -- the "Second Intifada," or Palestinian uprising, marked by repeated terror strikes.
Eugene and Lorraine Goldstein were visiting Israel for their grandson's wedding in June 2003 when terrorists randomly opened fire on their Volkswagen.
"I felt the burning sensation of the bullets going into my body," Eugene said.
"Did you see who had shot you?" Attkisson asked.
"I saw two men. I did see them," he replied.
Both Lorraine and Eugene had been shot in the head. Their son Howard was driving.
"The way that his body was weaving back and forth, I knew that he was gone," Lorraine said.
"I was laying there next to my son," said Eugene. "And all kinds of things run through my my mind. The thought of losing a child and being in that kind of horrific situation just, is very overwhelming. It's just, it's beyond words."
The Goldsteins and Sokolows are now part of a group of landmark lawsuits filed in New York federal court. They include 5,000 terror victims globally -- several hundred in the U.S. They're using a novel approach to fight back against the enemy that tore apart their lives: they're suing international banks that they say supported the terrorists.
The lawsuits allege that Arab Bank, Credit Lyonnais, and two other foreign banks with New York offices were key to an intricate system that moved cash to aid terrorists and their families.
Accounts at Arab Bank allegedly were used to pay cash rewards to families of suicide bombers and other so-called Palestinian "martyrs." Records show money was supplied by two groups on the U.S. list of foreign terrorist organizations: Hezbollah and Hamas.
The terrorist who attacked Mark Sokolow's family was Wafa Idris: the first female suicide bomber in the conflict.
"The family of Wafa Idris presented documentation to Arab Bank showing that they are the family of the woman who committed this attack," Sokolow said. "And as soon as the bank was satisfied they made a payment to the family of the equivalent of $5,316."
The suit alleges that a charity called the Saudi Committee for the Support of the Intifada al-Quds organized millions of dollars in payments from Hamas.
"Have you been surprised by how formalized this network was?" asked Attkisson.
"Yeah, I could not believe it," Sokolow said. "It turns out there was a whole system in place. This Saudi Committee would provide lists of terrorists and their families, all sorts of information, to the bank. The Saudi Committee would advertise throughout the West Bank and Gaza that if you want to contribute funds, to help the families of suicide bombers, you can do so by sending us money via the network of branches of our bank and perhaps others.
"It was just shocking to read this and it was done out in the open."
None of the banks would talk on camera. They say they merely conducted routine banking activities not intended to promote terror.
Credit Lyonnais called the allegations "baseless and absurd."
Arab Bank says it "abhors terrorism." It reportedly admits transferring $90 million in what it calls "humanitarian aid" to Palestinians, but says there was no conspiracy to subsidize suicide bombers.
When asked how big of a deal this lawsuit represents, CBS News analyst Juan Zarate (who was the Treasury Department's assistant secretary for terrorist financing under President George W. Bush), told Attkisson, "I think this is a set of cases that are incredibly important, not just for the banking community but also for the counter-terrorism world, because it potentially sends a chilling signal to banks around the world that they run the risk of financial and legal liability if they're doing business with terrorist actors."
"From the bank's viewpoint, the bank may say we didn't know what they were doing. We're simply doing business with a customer," said Attkisson.
"They knew," said Eugene Goldstein. "They had to know. They could not be in business if they didn't know. They didn't become bankers of that magnitude by being stupid. The money that's funneled there to commit terrorism in that part of the world can just as well be done to promote terrorism in this country and finance terrorism in this country. So they have to be stopped."
Mark Sokolow added, "It should be important to every American to try to put an end to the funding of terrorism, which we've all seen can actually happen on American soil as well."
Thanks for reading CBS NEWS.
Create your free account or log in
for more features.