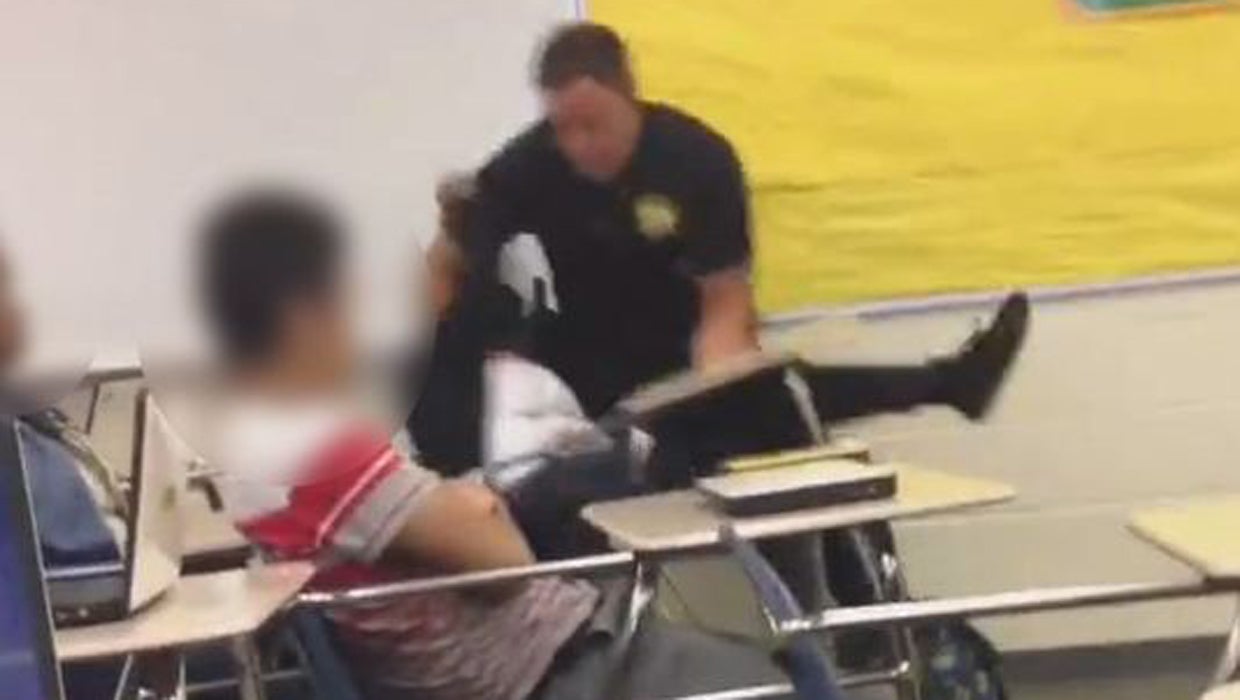 Violent S.C. classroom arrest sparks uproar
COLUMBIA, S.C. -- A South Carolina school district banned a school resource officer pending an investigation after a video surfaced Monday showing him tossing a student across a classroom floor.
The video has since gone viral.
The incident, captured on cellphones of at least two students, occurred at Spring Valley High School in Columbia. School officials and sheriff's deputies said they are investigating what happened.
Richland County Sheriff's Department spokesperson Lt. Curtis Wilson says Sheriff Leon Lott has asked the FBI and U.S, Department of Justice to investigate the incident.
An FBI source confirmed to CBS News Tuesday that the agency had spoken to Lott, adding that the FBI is looking into any possible federal avenues of investigation.
Richland County (school) District Two Superintendent Debbie Hamm said in a prepared statement that, "Pending the outcome of the [local] investigation, the district has directed that the school resource officer not return to any school in the district,"
In a statement to CBS affiliate WLTX-TV in Columbia, spokesperson Libby Roof said on Hamm's behalf that the district is "deeply concerned" about the incident.
"Student safety is and always will be the District's top priority. The District will not tolerate any actions that jeopardize the safety of our students," the statement reads.
Deputy Ben Fields has been placed on administrative duties as authorities investigate his handling of the female student, Lt. Wilson said. Lott said Fields had been sued before, but that juries in those cases found in his favor. He was also named in a lawsuit over the expulsion of a student, but Lott said that did not involve a claim of excessive force.
The video shows Fields asking a girl to rise from a classroom desk. Another adult is standing nearby. The girl stays seated, so the officer wraps a forearm around the child's neck. The officer then tips the attached chair and desk backward until she spills to the floor. The officer then drags the girl several feet across the floor, then tosses her, orders her to put her hands behind her back and applies handcuffs.
Another student taken into custody, Niya Kenny, 18, told CBS affiliate WLTX in Columbia, "I was screaming, 'What the f, what the f is this really happening?' I was praying out loud for the girl. I just couldn't believe this was happening I was just crying and he said, 'Since you have so much to say, you are coming, too.' I just put my hands behind my back."
Kenny was charged with disturbing schools, the station reports.
Her mother, Doris Kenny, asked, "Who was really disturbing schools? Was it my daughter or the officer who came in to the classroom and did that to the young girl?"
Kenny said her classmate was not participating and was asked to leave the room by her teacher. When she refused, an administrator was called in and asked her to leave. She refused and Officer Fields was called in, asking her the same thing. Sheriff Lott gave a similar account of the events.
After the initial video spread across social media, WLTX obtained a second, longer one.
"I've never seen anything so nasty looking, so sick to the point that you know, other students are turning away, don't know what to do, and are just scared for their lives," said Tony Robinson Jr., who made the longer recording. "That's supposed to be somebody that's going to protect us. Not somebody that we need to be scare off, or afraid."
"That was wrong. There was no justifiable reason for why he did that to that girl," Robinson added.
Robinson claimed Officer Fields escalated the incident unnecessarily. At first, Robinson said he told the girl, "you will move, you will move."
"She said, 'No, I have not done anything wrong," according to Robinson. "Then he said, 'I'm going to treat you fairly.' And she said, 'I don't even know who you are.' And that is where it started right there."
Moments later, things turned physical.
Sheriff Lott told multiple media outlets the video shows the officer removing a student who was disruptive and refusing to leave class. "The video then shows the student resisting and being arrested" by the officer, Lott said.
But late Monday night, Lott told WLTX, "It's very disturbing what happened today. It's something I have to deal with and that's what we're going to be doing."
After watching the video, Lott said, he was left asking, "Why?"
"I shake my head and just say ... I ask why, and that's what I want to know. I want to know why something like that happened," he said.
Lott said he is returning home early Tuesday from a conference in Chicago.
Wilson said Lott is asking for public patience during the investigation.
The images captured an "egregious use of force" against the student, ACLU of South Carolina Executive Director Victoria Middleton said.
Thanks for reading CBS NEWS.
Create your free account or log in
for more features.