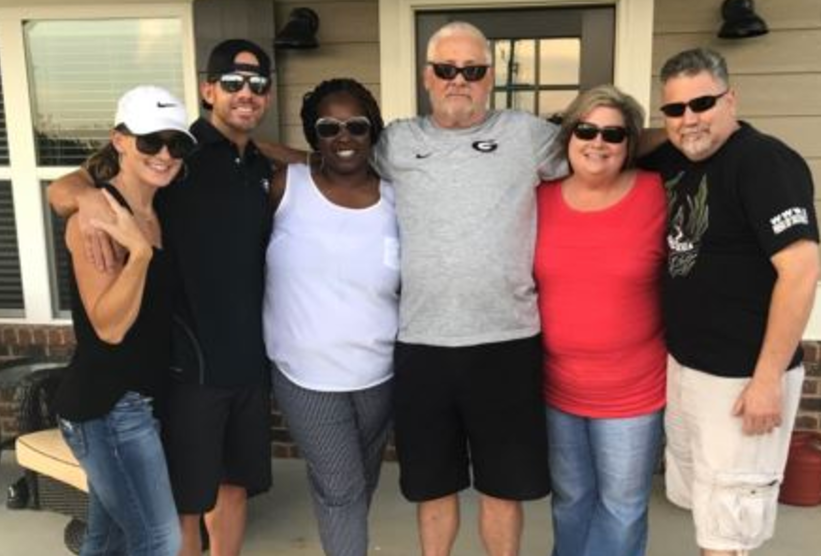 Stranger helps woman down on her luck; years later, she repays the favor
Three years ago, TunDe Hector was down on her luck. Her car had run out of gas, she had $5 in her pocket and a long walk ahead of her in the pouring rain.
But it was that same day Hector met a man who would change her life — and she didn't know it at the time, but she would end up changing his as well.
Chris Wright was driving with his family to church when he spotted the woman walking along the side of the road. He kept driving, dropped his wife off and told her he'd be right back.
"I have to go back. I have to help her," Wright's wife, Carmen, recalled her husband's words.
So he turned around, picked Hector up, filled up her empty gas can and handed her all the cash he had in his wallet.
"You know when you have an urge and a desire something to do good?" Carmen told CBS News. "He was raised that way. He's kind and generous to everyone. He'd never picked up anybody before, but he felt compelled."
Wright never expected to see the woman again.
Years later, Wright's mother, Judy, fell ill with Parkinson's disease and things started going downhill fast.
The family brought in nursing staff to take care of Judy. In June, they were told she only had weeks left to live.
One nurse's aide, in particular, grew close to Judy.
"She cared for her in the most respectful way. She had the utmost respect for human life," Carmen described.
Judy and her husband, Phil, learned about her dreams of going to nursing school. They introduced her to their family, including their son, Chris.
During one of her shifts, the woman told the family about an encounter she had with a stranger back in 2014. She had run out of gas and he circled back to help her.
Wright's jaw dropped. "That was me."
The pair couldn't believe it.
"The encounter that had blessed them both three years ago, came full-circle," Carmen said. "We don't believe in coincidence. We're a family of faith."
Two weeks later, on July 9th, Judy died.
It was Hector's birthday, and she was off that day, but as soon as she heard the news she left her party and rushed to Judy's house.
Even after Judy's passing, Hector continued to visit with Phil. Her dedication meant so much to the family they asked family and friends to donate to the woman's college fund in lieu of sending flowers.
"We overheard her outside talking to an advisor. She owed them money for a few classes," Carmen explained. "She's trying to get to nursing school. We thought we might as well try."
The family created a YouCaring page, hoping to raise at least $1,000. Within 45 minutes, they already surpassed their goal. As of Wednesday evening, the campaign has raised nearly $20,000.
Days later, they shared the good news with Hector.
"Oh Lord have mercy. Lord, you're so good to me," she repeated as Wright told her what they did. "You're kidding me."
Carmen shared a video of Hector's reaction on Facebook and it has since gone viral with nearly 930,000 views.
"I don't know why God chose our two families," Carmen said. "But she's family. It's like she's known us forever."
Thanks for reading CBS NEWS.
Create your free account or log in
for more features.