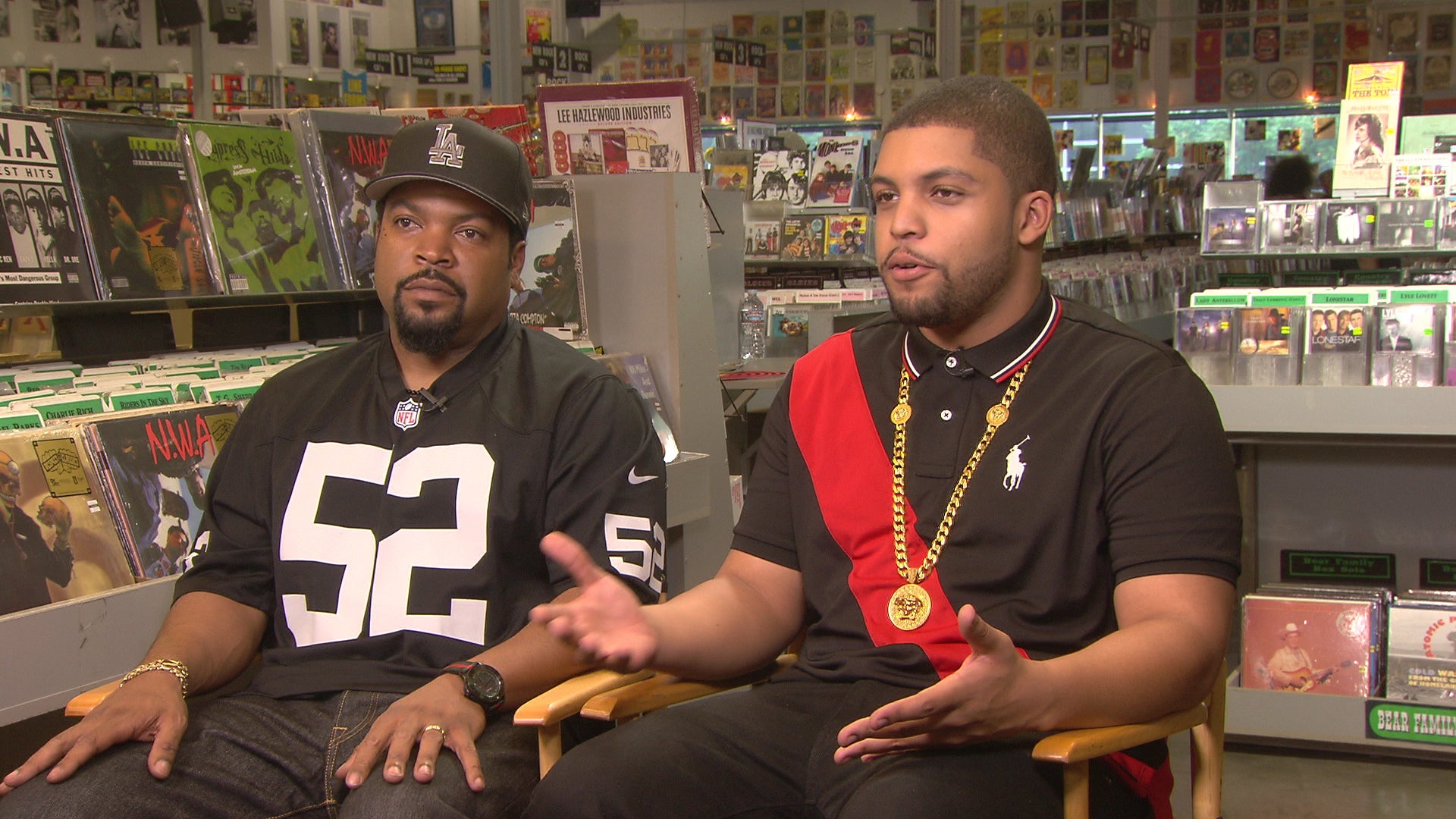 Ice Cube, O'Shea Jackson Jr. on "Straight Outta Compton"
"Straight Outta Compton" tells the story of five friends who formed the hip-hop group N.W.A, and "CBS This Morning" co-host Gayle King spoke with one of its original members, Ice Cube, and his son, who plays him in the film, O'Shea Jackson Jr.
Before the group was formed, five young hip-hop artists were just friends creating music.
"In some songs, we're just having fun. You know, rap-- you know, the art of rap, a lot of it is bravado. You know, I mean, just, being the one with the slickest tongue," Ice Cube said. "It's not really meant to amount to any kind of social, political nothing. It's just a song. And then some records are, you're really getting things off your chest and you really have things to say."
In the late 1980s, the five friends had something to get off their chests, so they formed the group N.W.A
In 1988, they released their debut album, "Straight Outta Compton," which reached certified Platinum status, selling over 3 million records.
N.W.A became hip-hop pioneers, speaking to issues facing young, black men in their Los Angeles community, including strained relationships with the police. Those provocative lyrics received so much attention and controversy, the FBI sent a warning letter to the group's record label.
"But, you know, to us back then, the FBI was somebody you'd seen on TV. You know, the LAPD, Daryl Gates, those was the real villains, you know, that we thought we had to deal with. You know, so we didn't take it as serious as our manager, the record company. You know, they were freaked out. And we were like, you know-- you know, 'Pass the potato chips,'" Ice Cube said.
Now, "Straight Outta Compton" has moved from the record store to the movie theater. After a two-year audition process, the role of Ice Cube went to his son, O'Shea Jackson Jr.
"You know, it's like, I just wanted him to show people the real me and show people what I'm all about," Ice Cube said. "He did a wonderful job. I'm grateful and thankful to my son for doing all that work, you know, it was so much work."
But Ice Cube said he didn't just want to give the part to his son, he wanted him to earn it.
"I couldn't give it to him because we were doing a serious movie. And it's my job as a producer to protect the movie, not to, you know, make it a family and friends hour," Ice Cube said. "You know what I mean?"
Jackson, Jr. said the experience was a dream come true.
The film features songs from other artists, as well as several of N.W.A's. One in particular, "F--k the Police," comes at a crucial time in the movie.
According to Ice Cube, it was important that people know why that song was created.
"Well, you know, that was the whole reason to do this movie. You know, everybody know the where. Everybody know the when. But not too many people know the why. Why do we do this type of music? And we wanted to show our environment forged N.W.A and then N.W.A was affecting the environment," Ice Cube said.
"But the situation at the time was Daryl Gates, who was the chief of police, chief of the LAPD, had declared a war on gangs. Now, to a law-abiding citizen, a war on gangs seems like a good idea. But if the cops think every single black, young male or brown, young male looked like a gangbanger, dressed like a gangbanger, well, now it's a war on young, black males."
Some of those sentiments still ring true for Americans today.
"It's sad. You know, it's real sad, but, you know, it's been going on before us. This has been a constant in our history and it's time to hold these officers, these officials accountable," Ice Cube said.
But he isn't painting all police with the same brush.
"I love good police. I mean, if somebody break in our house, we're gonna call the police. You know, we're not calling the homies. Not calling my friends from the hood," he said.
Jackson, Jr. said the greatest lesson he's learned from his dad is to have confidence.
"Have confidence in everything. No matter what it is that you're doing, know that you can do it better than anyone," he said. "You know, you have to have -- when I was about 11, 12, he told me confidence is how you get girls. When you know, when you're playing basketball, you have to have confidence in your moves if they're gonna work. He's just always building that confidence in all of us, in all of my siblings."
He realized early on his dad was not like many others.
"A lot of parents-- a lot of kids do not think their parents are cool. Oh, no. My dad's cool," Jackson, Jr. said.
And he said that's something he's always thought.
"You know, I was born in 1991. That's when 'Boyz n the Hood' came out," he said. "So I've always see him on TV. I don't see everybody else's dad, you know. So I've always had a sense of, you know, he's cool. He's in the light."
After a career spanning almost three decades, that light continues to shine.
Thanks for reading CBS NEWS.
Create your free account or log in
for more features.