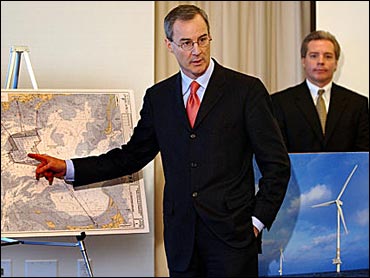 Storm Over Mass. Windmill Plan
It reads like a summer novel. The location is one of the nation's prized resort areas, comprising Cape Cod, Martha's Vineyard and Nantucket -- playgrounds for the wealthy and powerful.
CBS News Correspondent Randall Pinkston reports Jim Gordon has an idea that's shaking things up in these New England communities. He's a developer who wants to use wind power to replace electric power plants and the pollution they cause.
"Wind mills are an icon on the Cape and islands," he says. "So, what we're doing is kind of going back to the future and addressing the present day problems that we have now, such as global warming and climate change, by building a clean, green, renewable energy project."
But the idea has raised a storm among some residents, because Gordon wants to build his windmills in the middle of Nantucket sound.
His vision is to build windmills with 130 wind turbines. Each would reach 400 feet to the top of the propeller — taller than the Statue of Liberty. And they would be spread over 24 square miles, making it the nation's first -- and one of the world's largest -- off shore wind farms.
"Mother Nature dictates where you site a wind farm, and Nantucket Sound has some of the best wind resources in the United States," says Gordon. "[It] is an optimal site to locate a wind farm that can produce at peak output all of the electrical requirements of the cape and islands, without any pollution emissions, without any water consumption and zero waste discharge."
Gordon is a developer who made a fortune building clean-burning natural gas power plants. His proposed Cape Wind project is something environmental-minded Cape Codders would normally support.
State Sen. Rob O'Leary represents the Cape Cod region. He points to a 200-foot weather tower that Gordon built in the middle of the proposed wind farm. It's half as tall as the wind turbines. O'Leary says he support wind power in principle, just not at that location.
"The problem is that they're going to be visible. And they're going to be visible at night and they're going to be visible during the day and they're going to be lit up," says O'Leary. "It's a big problem. Nantucket Sound is a unique place. It's why a quarter of a million people live here on Cape Cod and why people come here by the millions. It's a precious resource. I think this project is just too big and it's in the wrong place."
Gordon says the wind towers would only be a blip on the horizon — barely visible when viewed from the nearest beach.
Opponents paint a very different picture.
"The developers have a financial interest in saying that these are going to be unobtrusive on any number of fronts," says Issac Rosen, who heads an alliance that's fighting the wind farm project.
As much as opponents objects to the size of the project, what really bothers them is the way Cape Wind has taken advantage of existing laws.
"Developers are doing much what 19th century speculators did in the West," says Rosen. "They are finding tracts of land, tracts of water, recognizing that there are no regulations governing usage or development, sticking a shovel in it and saying, 'I'm going to take this and I'm going to make money off of it.'"
Compare the wind farm to offshore oil drilling. The government has put whole sections of the outer continental shelf out of bounds for drilling, but not for wind farms. Oil companies have to bid for leases and face major hurdles before they can explore or develop an oil field, which can take up to 10 years. Cape Wind wants to do it in half that time.
"I've seen grocery stores take longer to get permitted on Cape Cod than this project will take," says Rosen. "That should tell you something."
And then there's the question of money. Last year, oil companies paid the federal government $5 billion to drill offshore. Gordon would pay nothing to build his wind towers in public waters.
"We're different," says Gordon. "We're not extracting a finite resource from the sea bed of the ocean floor. We are putting wind turbines up that are tapping the inexhaustible abundant supply of wind off our shore. But if, in fact, Congress deems that we should pay a royalty payment or a lease payment, we will do it."
Cape Wind isn't the only proposed wind farm off the Atlantic coast. From Massachusetts to Virginia, developers are staking their claims to build more offshore generators. But none of the other proposals have generated as much anger or opposition as Cape Wind. It is the largest and the most controversial.
The campaign to stop the wind farms was started by Cape Cod merchants and wealthy landowners. It's also opposed by almost every town government. Sen. Ted Kennedy, who has a home overlooking the proposed wind farm, also opposes the project. So does one of Martha's Vineyard most famous residents, former CBS anchorman Walter Cronkite.
"Our natural treasures should be off limits to industrialization, and Nantucket is one of those treasures," says Cronkite.
Local environmental groups, which were once united in fighting urban sprawl on land, are now divided over clean energy in the ocean.
O'Leary says some friendships have been lost because of the windmill debate.
Shareen Davis's family have lived and fished near Chatham on the cape for 13 generations. She says the wind towers will destroy her local fishing grounds and endanger birds and sea animals.
"I know that [the windmills] are going to impact all of the different aspects of the environment, of the aesthetics, of the infrastructure, of the business of the cape," she says. "It will be something that will critically change our area. Why should I have to be collateral damage to something like that."
Cape Wind has its local supporters as well.
"I think this wind farm has really made some people decide to what degree they're committed to environmental change," says Rev. William Eddy, an Episcopal Priest who lived there for 30 years. "The wind farm promises to be a visible symbol of the way we're going to preserve the cape for the long term. I mean, we're going to have to face the facts. We already are facing the facts of the consequence of global warming. We're already losing our shoreline here."
Everything is a little murky in the debate to reduce pollution. The federal government offers tax breaks to wind energy projects. So does the state of Massachusetts. But the state's governor opposes the windmill project. He and others want a moratorium on all offshore wind farms until stiffer rules are established. Many national environmental groups say that's a bad idea.
Conservation Law Foundation's Seth Kaplan says the wind farm shouldn't be stopped just because it's in the back yard of the wealthy.
"This is a possibility to start down that path to a new energy future that we can't say no to," he says. "Now, we can't say yes to it either until we finish a good, rigorous environmental review."
More than 17 government agencies are reviewing the Cape Wind project, although only one agency — the Army Corps of Engineers — will make the final decision.
Kaplan says finding an alternative site that wasn't significant historically or ecological would be difficult because "every place is special to somebody."

Thanks for reading CBS NEWS.
Create your free account or log in
for more features.