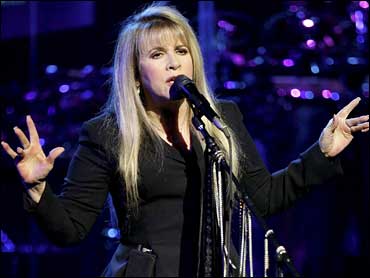 This story originally aired on March 22, 2007.

---
It's hard to imagine when you see Stevie Nicks in action, but at 58, she's been writing, recording and performing for more than 30 years — both solo, and as a member of the legendary rock band Fleetwood Mac. She has more than 20 top-40 hits and more than 80 million records sold.
"To have been in rock and roll, to be a rock and roll woman, and to have lasted since 1973, that is really precious to me," she told Sunday Morning correspondent Rita Braver. "To quote myself, women, they will come and they will go, so the fact that I've been able to still be here after all this time, it blows my mind."
Once dubbed the "Queen of Rock and Roll" by Rolling Stone magazine, Nicks has a new retrospective CD called "Crystal Visions" which is being released this week.
Stephanie Lynn Nicks — she called herself Stevie as a child — grew up in Phoenix, Ariz., and taught herself to play the guitar. In high school she met another musician, Lindsey Buckingham, and two years later joined him in a band.
The two became a couple in life and work. In 1973 they released an album whose cover caused quite a stir.
"That was not a good thing, because I hated it," Nicks said. "I really was cajoled into doing it by Lindsey and by the photographer. It was like, you know, 'Come on, don't be a baby, this is art.'"
---

Photos: Stevie Nicks

---

The cover has become a rock and roll icon, but the record didn't sell. Worried about their future in music, Nicks was working day jobs.

"I was a cleaning lady," she said. "I did kind of whatever it took to make enough money to pay our rent."

One phone call from Mick Fleetwood changed their lives. He had heard about the couple and asked them to join his band. In early 1975, Buckingham and Nicks joined drummer Mick Fleetwood, bass player John McVie and his wife, singer-songwriter Christine McVie in the new Fleetwood Mac.

"We recorded for three months, and that was the record 'Fleetwood Mac,'" Nicks said. "We were on the road at the end of May and by the end of the summer we were closing in on being millionaires."

The band's second album, "Rumours" sold more copies than any previous record. But inside the band, there was trouble. Nicks and Buckingham were having problems and the McVies were getting divorced. Fleetwood and his wife were also splitting up. But the stress produced some remarkable music.

Nicks wrote "Dreams" in response to her breakup with Buckingham, and he wrote "Go Your Own Way" as a message to her. After a while Nicks did go her own way. She was writing more songs than Fleetwood Mac could record so she launched a solo career in 1981. Her album "Bella Donna" went to number one. Despite her success, she stayed with the band because she said she never wanted to be a solo star.

"For me, just for the rock thing, being in a big, elite rock and roll band was way better than being a solo star," she said.

Nicks always returned to Fleetwood Mac, but Buckingham walked out on the eve of a concert tour in 1987 and an argument turned violent.

"The tour was set to go," Nicks said. "Well, he didn't just get violent with me; I did run across the room and attack him."

The band played on, but Nicks' life wasn't easy. First she got hooked on cocaine and then on tranquilizers.

"That nearly ruined my life. At least I can honestly say that through the miserable cocaine days I still worked," Nicks said. "The tranquilizers stopped me from working."

There was one bright spot for Nicks and the band: A dramatic reunion in 1993 when Bill Clinton asked them to play at his Inaugural Gala.

"Basically Fleetwood Mac was broken up," Nicks said. "So I called everybody and said, 'In the scheme of our lives' — and by the way, I'm totally on tranquilizers — 'Hi Lindsey, this is Stevie. We have to do this. We need to go and play for Bill.'"

There would be more Fleetwood Mac reunions and more Stevie Nicks solo performances, like last week at Caesar's Palace in Las Vegas.

"I totally enjoy it. I'm really an entertainer, you know? I mean, I'm not just a rock and roll star. I'm an entertainer. I would be entertaining even if we didn't make it, if Lindsey and I hadn't made it. I'd be at the Baked Potato on Ventura Boulevard, I would be. Because I love to perform."

She admits that devotion to her music has been hard on her personal life. She's had a series of relationships over the years and none of them has lasted.

"I think that my art has been more important to me than settling down and I don't wanna settle down," she said. "I'm not at all interested in having to tell somebody where I'm going and when I'm gonna be back."

And whether she is performing alone or with Fleetwood Mac, Nicks and her music are hard to forget.

"I'm a free spirit and I feel extremely blessed to have become this, you know, and be able to do all the things I get to do," she said.
Thanks for reading CBS NEWS.
Create your free account or log in
for more features.