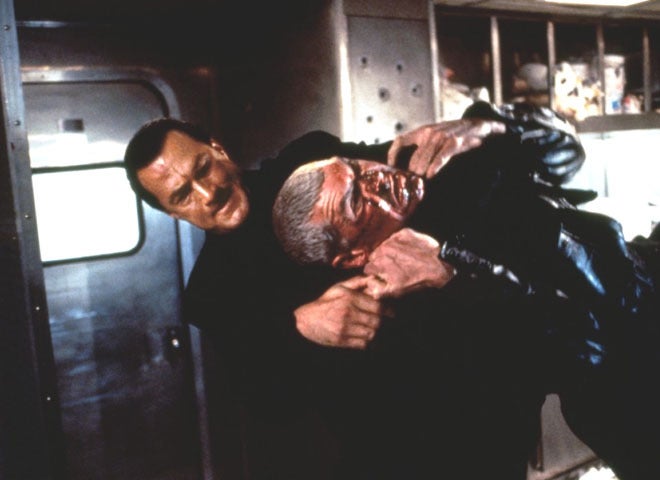 Steven Seagal wanted by Serbia to train special police forces
BELGRADE, Serbia -- Steven Seagal used to overwhelm Russian and Serbian bad guys in Hollywood movies with his martial arts techniques. Now Serbia wants him to share his secrets.
Serbian officials offered the veteran American actor and producer a job Tuesday training Serbian special police forces in Aikido, a Japanese martial art that Seagal is famous for in his blockbuster movies.
"When you have such a famous star coming to Serbia, who loves our country and our people, our desire is to have him back again," the mayor of Belgrade, Sinisa Mali, said after meeting Seagal.
Seagal has received the royal treatment during his three-day stay in the Serbian capital, including meeting with Serbian Prime Minister Aleksandar Vucic and the country's pro-Russian president, Tomislav Nikolic.
The action hero is among the Western celebrities who have socialized with Russian President Vladimir Putin and praised him as well as Russia despite the deep chill in diplomatic relations between Moscow and the West.
Serbia - a traditional Russian ally - has officially sought EU membership but has been struggling to overcome strong opposition from pro-Kremlin nationalists.
While in Belgrade, the 63-year-old Seagal received an award from the Belgrade-based Brothers Karic Foundation for his humanitarian work and said he was proud to get the same honor that Putin once did.
The head of the Karic family, Bogoljub Karic, was given asylum in Russia after he fled Serbia when its previous government charged him with corruption and the embezzlement of millions of dollars in state funds.
Thanks for reading CBS NEWS.
Create your free account or log in
for more features.