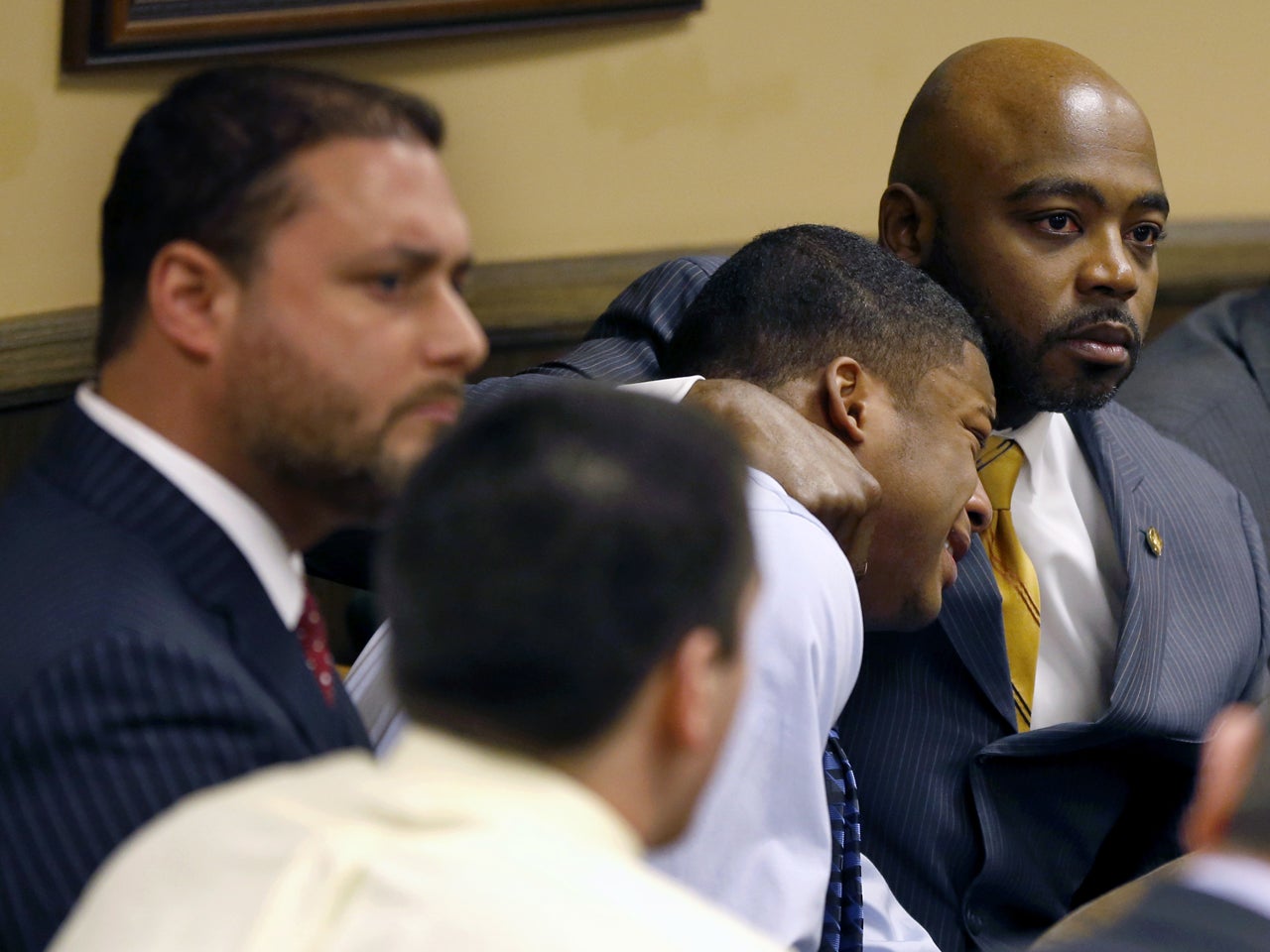 Steubenville Rape Trial Verdict: Judge finds both teens guilty of raping 16-year-old girl
(CBS News) - Two former star high school football players broke down and openly wept on Sunday morning in court after being found guilty of raping a 16-year-old girl during a night of partying last August.
Pictures: Steubenville Rape Trial
Watch: Judge reads guilty verdict
Watch: Guilty teens apologize to court
Ma'Lik Richmond, 16, and Trent Mays, 17, had been charged with digitally penetrating the intoxicated girl twice on the night of August 11, 2012. Richmond and Mays were found delinquent, which is the juvenile equivalent of being found guilty. Mays was also convicted of a second felony charge of using a minor in nudity oriented materials for taking and distributing photographs of the victim in states of undress.
When the verdict was read both defendants began sobbing.
"I'm aware this is the first time they have been in trouble with the law, but these are serious offenses," said Judge Thomas Lipps, who decided the case without a jury. "If they were convicted in an adult court of these charges they would be spending many years in an adult prison."
Judge Lipps sentenced Richmond to a minimum of one year incarceration in a juvenile facility. Mays was sentenced to a minimum of one year incarceration in a juvenile facility for the rape, and one year for the second felony, to be served consecutively. Lipps called Mays' crimes "more egregious" than Richmond's. Both teens were facing a maximum sentence of incarceration until age 21.
After announcing the verdict, Judge Lipps allowed the defendants and their families time to speak.
Mays rose and said "no pictures should have been sent around, let along even taken." Richmond, crying loudly, said "I had no intention to do anything like that."
Ma'Lik's father, Nathaniel Richmond, stood up and said that he had been an alcoholic in the past and was aware of the dangers associated with heavy drinking.
Richmond, who did not raise his son, spoke to the victim's family, saying, "I'm sorry for what you all had to go through. I hope somewhere in your hearts that you can forgive Trent and Ma'Lik for the pain they have caused your daughter."
Mays father said, "We're sorry for putting everybody through this...Ma'Lik's family, the community, the school, everybody else."
Over four long days of testimony, multiple teen witnesses testified that the victim was highly intoxicated, with various witnesses recalling her slurring her speech, stumbling and vomiting. More than one said they saw one or both of the defendants use their fingers to penetrate the girl but didn't recognize that as rape.
The defense attempted to argue that, although she was drunk, she was capable of making decisions and consenting to sexual contact.
On Saturday, the girl at the center of the case testified for more than an hour, saying she did not recall the night in question and only became aware of what had happened to her when she started seeing pictures of herself and postings about the night on social media, reports the Cleveland Plain Dealer.
Complete coverage of the Steubenville Rape Case on Crimesider
Thanks for reading CBS NEWS.
Create your free account or log in
for more features.