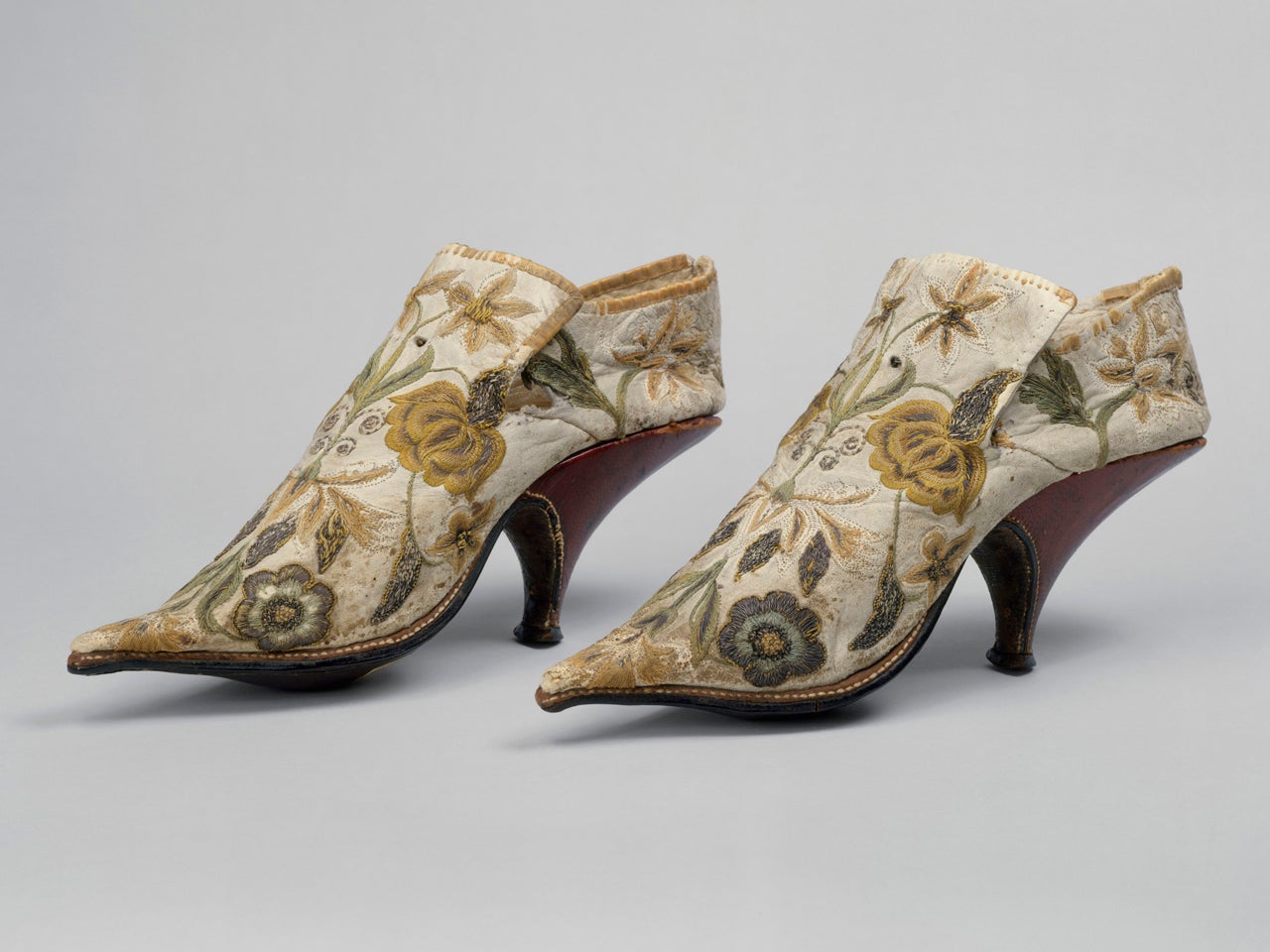 ​Stepping out: A history of high heels
WALKING TALL at the Oscars need not be a challenge for any actress; all she needs is the right footwear. Here's Erin Moriarty of "48 Hours":
Walking the red carpet isn't really about walking at all.
"The night I won the Emmy, I wore a Zuhair Murad sparkly dress and Prada heels," said actress Kristin Chenoweth. "So I kind of look at Prada as my, like, good-luck charm.
At four feet, 11 inches, Chenoweth can stand tall in heels.
"They kill your feet after four hours, but it's worth it," she said. "If you can't hang in a pair of heels doing a red carpet, then you shouldn't be in show business. That's what I think!"
Clearly, high heels have legs. From Marilyn Monroe to Lady Gaga, to celebrities at awards shows, high heels have come to symbolize sexuality and power.
Curator Lisa Small says she would be hard-pressed to think of another women's fashion accessory that has as complicated, polarizing, fascinating and enduring a history as the high-heeled shoe.
Which is why Small helped create an entire exhibit devoted to high heels. Currently at the Brooklyn Museum in New York, the show goes on tour this Spring.

"Women used to wear hats all the time, they used to wear gloves all the time," she said. "And they don't anymore for the most part. But they still wear high-heeled shoes."
But interestingly enough, women weren't the first wore them. High-heeled shoes were first worn by MEN. And these heels weren't as much about mobility as nobility.
One painting in the exhibition show King Louis XIV of France wearing very high, red-heeled shoes. "Height and elevation has always had something to do with indicating class, privilege, power," said Small.
Women began to adopt high heels for many of the same reasons. One of the oldest pairs on display is a 16th century shoe called the chopine.
"The chopine is definitely a platformed shoe," said Small. "They had very, very high platforms, but aristocratic women wore them because the longer your dress was and the more sumptuous fabric that you had to use, the more you were signaling how wealthy you were."

And were they easy to walk in? No, said Small.
That hasn't changed. And yet, high heels have become a constant staple in women's fashion -- except during the late-18th century, when elevated heels became associated with the excesses of Marie Antoinette.
"And for years, it was all about flats," said Small. "Flat slippers, that was the height of fashion! But then slowly, as the 19th century continued, heels inevitably came back into fashion."
Heels reached new heights and proportions in the 1940s and '50s, when technology made the stiletto (or what is also called the killer heel) more stable.
"I think a lot of it had to do even with wartime technologies," said Small. "The use of steel and extruded metals allowed fashion designers and fabricators to think about a way to use metal in the heel. And once that was solved, literally the sky's the limit."
There is even a shoe in the exhibition from the mid-'50s from a company called Skyscraper.
"But even though technology allows us to build these stilettos, that doesn't necessarily mean anybody could walk in them," said Moriarty.
"Well, no, but it was sort of the aspiration to be able to walk in them," said Small.
That's never been a problem for Kristin Chenoweth. If the show demands it, she will even DANCE in heels, as she does in the Broadway musical, "On the Twentieth Century."
"I love this shoe a lot," Chenonweth said. "It's also bendable -- I can point my toe, I can flex my foot."
But at the same time, high heels force women to walk in a way that adds stress to the hips and back. So why do they wear them?
Exactly because of that walk!
"It causes your rear to move, it causes your hips to have to compensate and do the little wiggle, [and] the chest goes out," said Small. "So these are all biologically determined markers of mating attraction."
And it's not just males who notice. In 2013 the journal Evolution and Human Behavior published the results of a study focusing solely on the way women walk. Those in high heels were judged as significantly more attractive by both men and women than those who wore flats.
Has the stiletto been a polarizing part of fashion? "There are some people who think women look great in it, and women who feel empowered wearing these high-heeled shoes, and others who think that it's denigrating to women," said Moriarty.
"Absolutely," said Small. "Women can feel powerful when they wear high-heeled shoes, they can feel more confident, and that's all to the better. But it's a very interesting construction of power. Until men in powerful positions also wear high-heeled shoes, it's always going to be the question of what kind of power a high-heeled shoe really conveys."
That doesn't seem to bother those who know and appreciate a real killer heel.
"There's just something about a heel -- especially for women [in] a man's world -- that makes me feel stronger," said Chenoweth. "I mean, I could gouge your eyes out with my heel if I wanted to, I'm just saying!"

For more info:
Thanks for reading CBS NEWS.
Create your free account or log in
for more features.