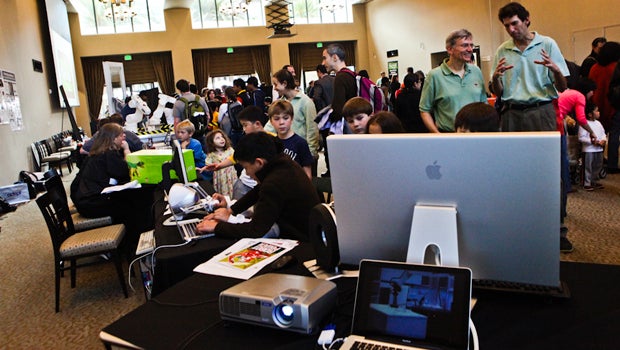 STEM interest declining among teens
The number of job opportunities in science, technology, engineering and mathematics (STEM) fields is expected to increase significantly over the next five years. There are already thousands of well-paid STEM jobs that employers struggle to fill because they say the talent pool is too shallow, and experts at the Partnership for a New American Economy project say that there will be a shortfall of 230,000 qualified advanced-degree STEM workers by 2018.
Given this data, it might seem intuitive that, in a nation still recovering from an economy-crushing recession, teens would pursue career fields where they have the highest likelihood of landing a secure job. But the exact opposite is happening in the United States, according to new research. Rather than increasing steadily, teen interest in STEM fields is declining.
The organizations Junior Achievement USA and ING U.S. Foundation teamed up to survey 1,025 teens about their career plans. This is the 12th year that they have conducted the survey. Nearly half of the students ranked STEM and medical-related fields as their top choice. Forty-six percent sounds encouraging, but that is a 15 percent decline from the 2012 survey, when 61 percent of students considered STEM their top choice.
This study comes out at a time when education experts say that parents and students are starting to take career opportunities into account as they choose which college they or their children should attend.
Each year, the Princeton Review surveys parents and students to gather data on the college application process. When asked how they make their final decision, the most popular response is "best overall fit."
But this answer has been declining over the last eight years, from 55 percent in 2005 to 45 percent in 2013. More people are instead answering "college best for my/my child's career interests." Just 24 percent of those surveyed gave this answer in 2005; this year, it accounted for 37 percent.
While this sounds more realistic than the dubious "best fit," it doesn't mean that they are aligning their career interests with job opportunities. According to the new study, "passion" and "areas of interest" were the main factors guiding teens' choice in major and career field.
In an attempt to steer students towards STEM, the Princeton Review started ranking science facilities at different colleges this year as part of its annual "Best 378 Colleges" list.
"We believed that encouraging students to look to science programs would help the cause," spokeswoman Jeanne Krier told CBSNews.com.
Krier says the people who are most worried are the parents, who often consider return on investment. Seeing the value of the degree their children get, if they will get a better job after graduation, is a growing concern.
Drumming up interest in STEM careers is also a concern in Silicon Valley. According to a report commissioned by Microsoft, "every job in technology that is unfilled also means the loss of as many as five other jobs." Microsoft is among a group of tech companies that are attempting to deepen the talent pool by encouraging immigration reform as well as an increase in domestic STEM education programs. But some experts say that the "shortage" is actually just a myth created by Silicon Valley executives to strengthen their argument for immigration reform.
As reported by Business Insider, a Georgetown Center on Education and the Workforce report showed that unemployment is concentrated in information systems, computer science and mathematics. The Business Insider article concentrated on technology and computer science careers, but it offers in-depth analysis of the supposed shortage.
The article concludes, "We clearly don't have a STEM shortage. If we did, rudimentary economics would kick in and show either low unemployment for new majors or a rising price of computer science labor. People wouldn't say they're out of the industry because of no jobs. What we really have is a 'STEM majors who have the skills that Silicon Valley needs, who are willing to work for a price Silicon Valley wants to pay' shortage."
The other issue, and the reason the companies say there is a shortage, according to Business Insider, is that there are not enough foreign worker visas available for all of the talented foreign students who are being educated in the U.S.
Regardless of whether there is a shortage, the first step in developing a deeper American talent pool is bolster student interest in STEM fields.
"It is crucial that we reinvigorate teens about pursuing opportunities in STEM and medical-related careers," said Jack E. Kosakowski, president and CEO of Junior Achievement USA, in a press release. "These fields drive our economy and innovation; they are not only high-growth career paths but also creative outlets where teens can apply their passions."
Thanks for reading CBS NEWS.
Create your free account or log in
for more features.