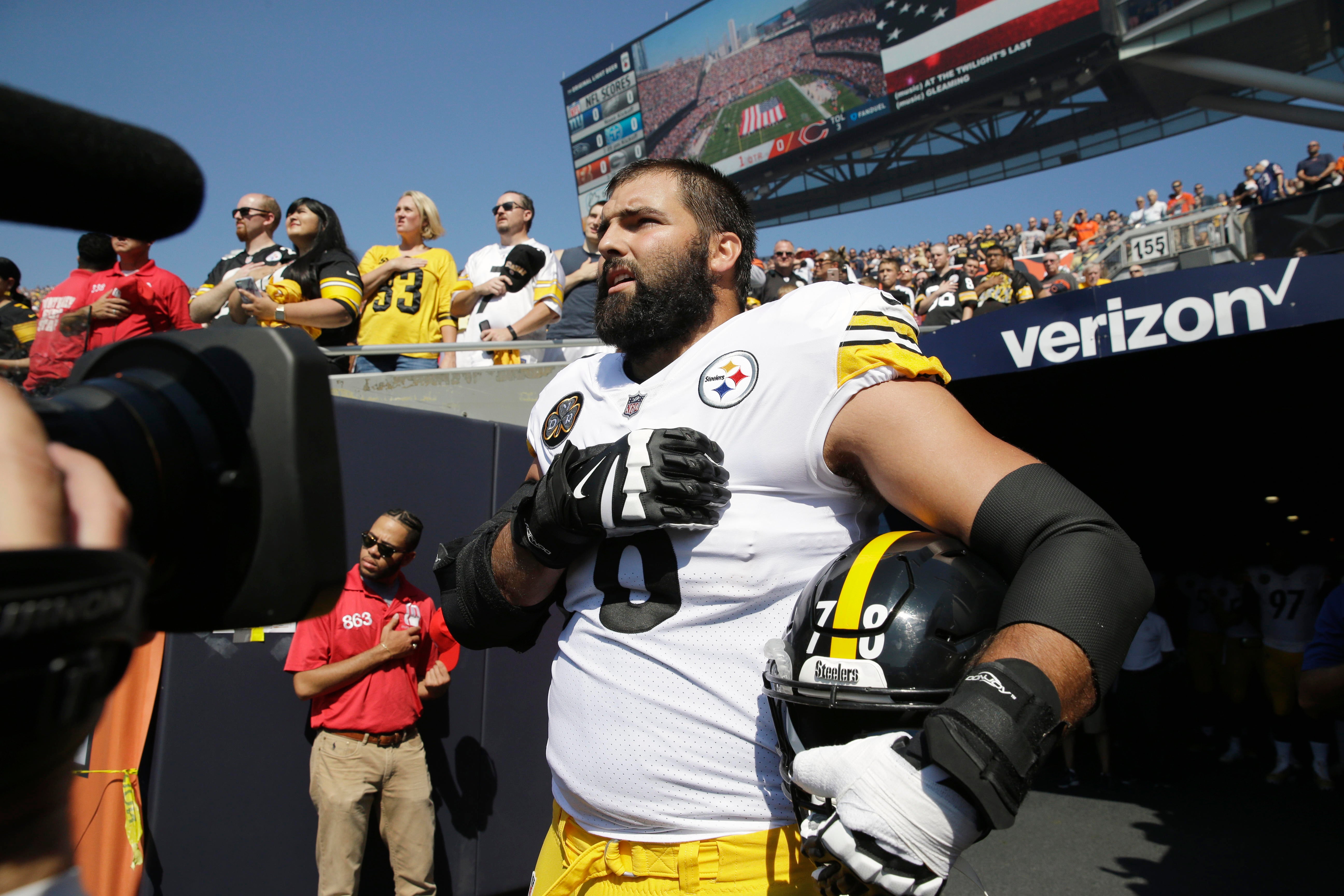 Steelers' Alejandro Villanueva doesn't join anthem protest
CHICAGO -- When the national anthem started at Soldier Field, the visiting sideline was mostly empty. The most prominent evidence of the Pittsburgh Steelers was offensive lineman Alejandro Villanueva standing by himself near the tunnel, holding his right hand over his heart.
It was one strange day for one of the NFL's most revered franchises.
Except for Villanueva, the Steelers stayed off the sideline during the anthem in protest of President Donald Trump's recent criticism of NFL players.
However, the next day Villanueva explained that he did not intend to make any kind of political statement, CBS Pittsburgh reported.
"Unfortunately I threw my teammates under the bus, unintentionally," Villanueva said at a press conference Monday. "Every single time I see that picture of me standing by myself I feel embarrassed.
"I made my teammates look bad, and that is my fault, and my fault only," Villanueva said. "We as a team tried to figure it out, but obviously butchered it."
The Steelers held a players-only meeting Saturday night to discuss their options in the wake of Trump's suggestion that NFL owners fire players who kneel for the national anthem. A handful of NFL players have refused to stand during the "The Star-Spangled Banner" to protest several issues, including police brutality.
"Some guys wanted to take a knee, guys wanted to stand," quarterback Ben Roethlisberger said. "We said whatever we do we need to make sure we're unified as one group because that's what we're about and that's what this should be about is staying together as one unit and one group and one brotherhood, things like that.
"So rather than have some guys kneel and some guys stand, the conclusion was made kind of by everybody that the best thing to do was just to stay in the locker room or in the tunnel if you will."
But Villanueva, an Army veteran, emerged from the tunnel and stood outside for the anthem, holding his helmet by his side.
Villanueva led a platoon in Afghanistan, and in three tours of duty, he earned numerous commendations, including a Bronze Star for valor.
Roethlisberger and several other players said they had no issue with Villanueva -- "As a team we're behind him 100 percent," cornerback Joe Haden said -- but Mike Tomlin, one of seven black head coaches in the NFL, said he was hoping for 100 percent participation, while acknowledging the protest was not his decision.
Villanueva was not available in the locker room after the game.
In 2014, Villanueva, then a member of the Philadelphia Eagles, told CBS News' Don Dahler why he joined the Army.
"I just couldn't stand by the sidelines and watch other people do the work," he said.
Coach Tomlin weighed in on the situation before the game.
"Man, these are divisive times in the United States," said Tomlin. "It's a shame, but it is, but we are not politicians, we're coaches and professional athletes. If those of us or individuals choose to participate in politics in some way I'm going to be supportive of that, but when we come out of locker rooms we come out to play football games. To be quite honest with you, I didn't appreciate our football team being dragged into politics this weekend."
Tomlin called Commissioner Roger Goodell on Sunday morning and told him of the team's decision.
Roethlisberger said no disrespect was intended for the troops and other people who serve the country, and Steelers President Art Rooney II praised his players for staying unified.
"I hope that eventually we will come together as a nation to respect the diverse opinions that exist and work together to make our communities better for all our citizens," Rooney said in a statement.
Former San Francisco 49ers quarterback Colin Kaepernick, who remains unsigned, started the kneeling movement in 2016 to protest racial injustice in America. Activists and critics of the league believe Kaepernick has been blacklisted for his protests. On Sunday, players with the Miami Dolphins wore shirts that read "#ImWithKap" during pregame warm-ups.
Thanks for reading CBS NEWS.
Create your free account or log in
for more features.