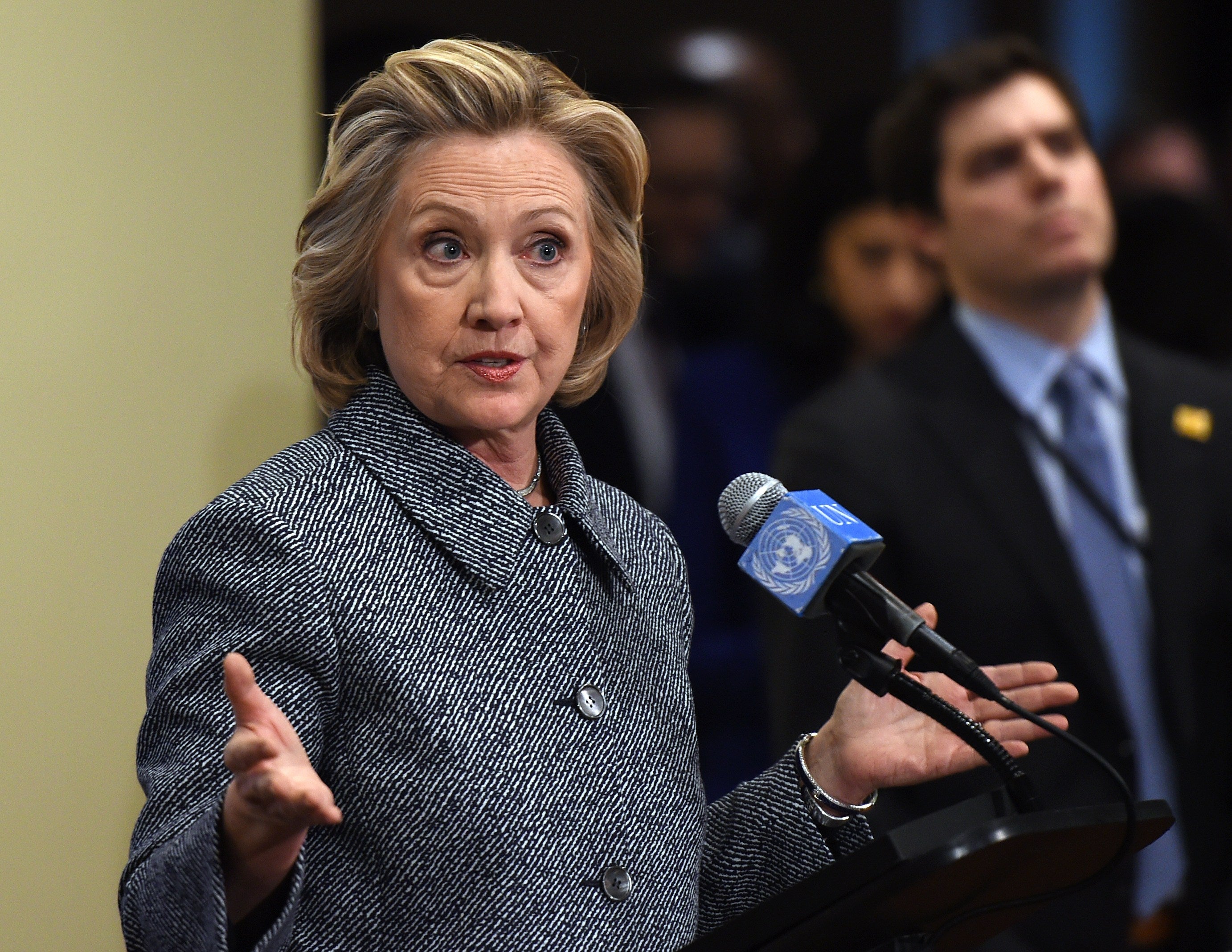 In email, Hillary Clinton tells aide to send talking points "nonsecure"
To comply with a court-ordered goal, the State Department made public about 3,000 pages of emails from Hillary Clinton's private server early Friday morning, including 66 messages that were later marked "classified" on some level.
On the campaign trail, the presidential candidate has insisted that no classified information was sent or received through her private email server.
But in one email exchange between Clinton and staffer Jake Sullivan from June 17, 2011, the then-secretary advised her aide on sending a set of talking points by email when he had trouble sending them through secure means.
Part of the exchange is redacted, so the context of the emails is unknown, but at one point, Sullivan tells Clinton that aides "say they've had issues sending secure fax. They're working on it."
Clinton responds, "If they can't, turn into nonpaper w no identifying heading and send nonsecure."
It's unclear whether the talking points themselves contained classified information. Typically, talking points are used for unclassified purposes (e.g. speaking with the media). But in some cases, the material contained in such memos may still be sensitive -- especially if the report originates from intelligence agencies.
On Friday, the Clinton campaign's press secretary, Brian Fallon, denied that the information was classified.
"It is false that Hillary Clinton asked for classified material to be sent over a nonsecure system," Fallon told CBS News' Nancy Cordes.
And State Department spokesperson John Kirby said Friday that it is not uncommon for non-classified documents to be crafted and shared on the classified system.
Further, according to the Associated Press, the State Department said a review showed that the document in question was sent "apparently by secure fax, after all," and was never was sent to Clinton by email.
In another email conversation, Clinton expressed surprise that a State Department staffer would use a personal email account.
On Feb. 27, 2011, Clinton asked Sullivan where John Godfrey, who had sent an email with the subject line "Libya: Thoughts on post-Qadhafi Assistance & Governance" from a redacted account, currently worked.
Sullivan responded that he worked for the State Department.
Clinton then replied with another email. "Is he in NEA currently? Or was he in Embassy? I was surprised that he used personal email account if he is at State," she wrote.
The department released a total of 1,262 messages in the early morning hours, a week after it failed to meet a court-ordered target to publish 82 percent of emails by the end of 2015. Sixty-five of those emails were upgraded to "confidential," the lowest level of classification, though they were not deemed so at the time they were sent. One document was subsequently marked "secret."
On Thursday, the State Department's Kirby noted that the latest release would "meet the 82 percent mark." In a briefing with reporters, he attributed December's delay to a "variety of reasons," including the holidays.
The Republican National Committee was quick to slam Clinton for the slow email releases, saying the Democratic front-runner's documents were "getting buried by her friends in the Obama Administration."
"In the interest of transparency, Hillary Clinton must call on the State Department to commit to a more open process - releases in the middle of the night and on holidays are an obvious attempt to hide the truth," RNC chair Reince Priebus said in a statement Friday.
All 55,000 pages of emails stored on Clinton's homebrew server from her State Department tenure must be released by Jan. 29, according to the order by U.S. District Judge Rudolph Contreras.
CBS News' Nancy Cordes contributed to this report.
Thanks for reading CBS NEWS.
Create your free account or log in
for more features.