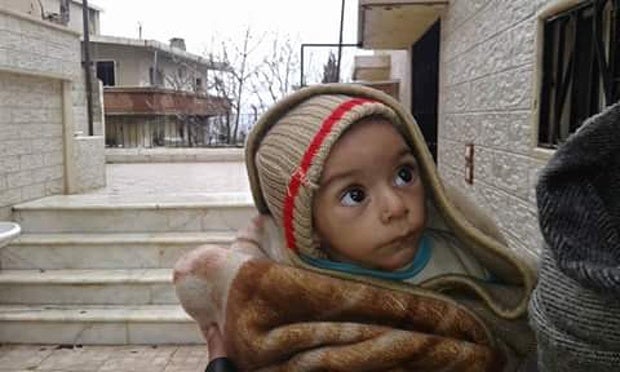 Syrians starved under gov't siege reportedly resort to eating pets
BEIRUT -- Syrian activists have released harrowing video of children they say are starving to death in a southern Syrian town completely cut off by government forces and allied militias.
In retaliation for the siege of the Shiite villages in the country's north, opposition activists say Syrian troops and members of Lebanon's Hezbollah militant group have taken harsh measures against a Sunni area of Syria of about 40,000 people near the Lebanese border.
The mountain border town of Madaya has been besieged since early July, and conditions have worsened with colder weather and dwindling supplies. A snowstorm hit early in the new year, and there has been no electricity or diesel fuel.
Medical workers and activists posted a video this week, showing a toddler and young boy with sunken eyes who were apparently starving, like dozens of others in the town. The video was posted online as a protest, demanding intervention from the international community to stem the crisis.
The activists said starvation was claiming two to three lives each day in Madaya, and that residents had resorted to eating grass, leaves and water flavored with whatever spices they could find. As the cold and snow set in and the last of the foliage disappeared, some residents have purportedly resorted to eating their pet cats and dogs to survive.
Louay, a social worker from Madaya, told Britain's "The Guardian" that the town's residents were "dying in slow motion."
"We had some flowers growing in pots at home. Yesterday, we picked the petals and ate them, but they were bitter, awful," he said. "We used to say nobody could ever die from hunger, but we have seen people actually die of hunger."
People have taken to removing interior doors in their homes and burning them for heat, said a local official who identified himself as Samir Ali. He told The Associated Press via Skype that the cost of goods has soared, with 2.2 pounds of crushed wheat selling for about $250 and 31 ounces of powdered milk for infants going for about $300. A group of people recently killed a dog and ate it, he said.
Of 23 deaths in Madaya in recent weeks, 10 were attributed to a lack of food and the rest were either shot to death or blown up by mines planted by pro-government and Hezbollah forces, said Rami Abdurrahman of the Syrian Observatory for Human Rights, a Britain-based group. At least 25 checkpoints prevent people from leaving, Ali said.
A Facebook page describing conditions in Madaya, to which the video of the starving children was posted, also showed photos of several older men who it said had starved to death. The video and photos could not be independently confirmed due to the intense fighting in the area.
Pro-government fighters recently evacuated from two besieged villages in northern Syria described harsh conditions there, too, with scarce food and medicine, saying some residents were eating grass to survive and undergoing surgery without anesthesia.
The villages of Foua and Kfarya in Idlib province have been under siege for more than a year, but the situation has worsened since September. That's when insurgents captured a nearby air base where helicopters used to take off and drop canned food, vegetables, rice and bread to about 30,000 people in the mostly Shiite area.
"Our life was catastrophic in Foua and Kfarya," said Hussein Mahdi Kazem, a 16-year-old wounded fighter. He spoke from a bed in Hezbollah's Rasoul al-Azam Hospital south of Beirut, where he was evacuated last month from Kfarya.
In a sign that the public outcry over the images of starving children could pay off, the United Nations on Thursday said Syria's government had agreed to let aid into Madaya and two other besieged towns.
"The U.N. welcomes today's approval from the Government of Syria to access Madaya, Fuaa and Kafraya and is preparing to deliver humanitarian assistance in the coming days," a U.N. statement said.
Both sides in Syria's nearly 5-year-old conflict have used siege tactics on towns or villages as a way of getting an area under control.
It's not known how many people died in Foua and Kfarya. The evacuated fighters described how people who need medication in the two villages often must take drugs that are expired, and that mothers must crush grains of rice - when available - and boil the mixture to make baby food.
Pawl Krzysiek, a Syria-based spokesman for the International Committee of the Red Cross, said the situation in the villages of Foua, Kfarya and Madaya "is extremely dire, and winter is making things even more difficult for them."
"For far too long, people were left without basic necessities such as food and medicine," Krzysiek said. "It is the ICRC's utmost priority to deliver in the coming days to people there."
He said ICRC is coordinating the aid to the villages but refused to give further details.
The main Western-backed Syrian opposition group, the Syrian National Coalition, called on the U.N. and the international community to allow aid into Madaya, warning that any delay "will lead to more deaths among innocent civilians."
"Children, women and elderly are dying as a result of hunger and cold," said coalition member Salah Hamawi.
But U.N. efforts to take in food often get disrupted by either insurgents or pro-government fighters, the Observatory said.
A U.N.-backed deal led to the Dec. 28 evacuation of more than 450 people from two war zones in Syria, including 338 people from the two northern villages and 125 people from the Zabadani area near the border with Lebanon.
Madaya, which is near Zabadani, was not part of the evacuation deal, but food was supposed to go in.
In October, the U.N. said it had mistakenly sent hundreds of boxes of expired nutrition biscuits to besieged civilians in Zabadani and Madaya.
Yacoub El Hillo, the U.N. humanitarian coordinator in Syria, said in a statement that human error during the loading process caused the mistake.
Ali, the local official in Madaya, said some people got sick after eating the biscuits. He added that residents were promised more supplies, but nothing has been delivered since then.
In all three besieged areas, residents used to rely on troops or insurgents to bring them food at inflated prices, but the smuggling has recently dropped sharply.
Moamen Haj Ali, another wounded Shiite fighter being treated in Beirut, said water is running out in Foua and Kfarya because of a lack of diesel fuel for pumping stations.
"Life is miserable. People cannot find a pill of aspirin or painkillers," said Mohsen Darwish, a Shiite cleric from Kfarya who lives in Lebanon but is in contact with residents of both. "Their dream is to eat vegetables.
Thanks for reading CBS NEWS.
Create your free account or log in
for more features.