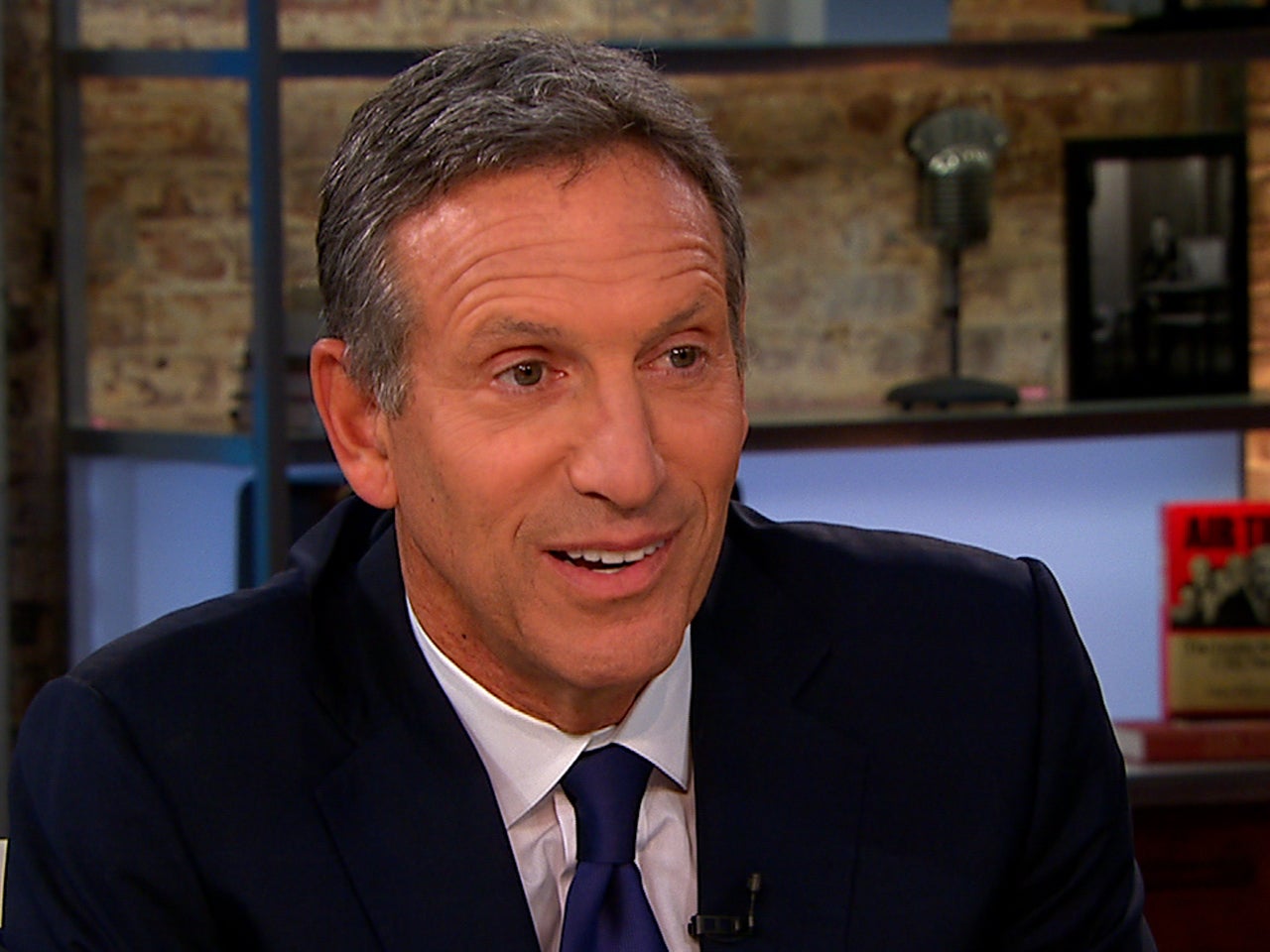 Starbucks CEO touts program to create U.S. jobs
(CBS News) Starbucks Chief Executive Officer Howard Schultz has been known to stir in some social and political responsibility with his status as head of a highly successful coffee company with sales of $9.8 billion.
Most notably, Schultz spoke out last year against political gridlock in Washington, D.C.
Starbucks likely to change controversial drink
Starbucks CEO: "Crisis of leadership" in DC
CEO calls for boycotting campaign contributions
Now, he's trying to bypass the political world entirely to create more jobs in the U.S. Schultz is launching a fund called Create Jobs for USA, designed to help get Americans back to work. The money raised in the initiative, Schultz said, is extended to a network of small banks that offer low-interest loans to small-businesses, start-ups and established businesses that need a boost.
Starbucks CEO Howard Schultz is all abuzz
"There are over 13 million Americans unemployed, a large percentage of Hispanics and African-Americans, 42 out of 50 states are facing budget deficits, 11 might not be able to make pension payments between now and the end of the year. And we're celebrating 8.3 percent unemployment as a victory. I just can't allow that," Schultz said on "CBS This Morning." "So what I'm trying to do is ask the question, 'How can business, and specifically, Starbucks use its skill for good?'"
He added, "What we're trying to do is really show other people that business can make a difference. And, in fact, we don't want to wait for Washington."
Schultz's company has contributed $5 million to the total of $50 million already raised by selling $5 wristbands to its customers, Schultz said.
"One of the fallacies in America is that banks are lending again. They're not, despite all the (Troubled Asset Relief Program) money," he said. "We're getting money in the hands of small banks, (who then) lend it to small businesses, create jobs in start-ups and existing businesses. In fact, 80 percent of the money we've raised has already been (given) out. And we can document with great transparency where the money's going and the jobs that are being created."
Now other companies are joining in. On Tuesday, deal website Google Offers and clothier Banana Republic announced exclusive offers for the Create Jobs for USA Fund. Google Offers will run an exclusive Starbucks offer featuring a $10 Starbucks Card eGift for $5. In support of the Create Jobs for USA Fund, Google Offers will donate $3 for each offer sold to Opportunity Finance Network, a national network of Community Development Financial Institutions, up to $3 million.
Banana Republic will support the program with two special four-day shopping events during the year to raise up to $500,000 per sale (up to $1 million total) for the Create Jobs for USA Fund. During the four-day events, customers will receive 25 percent off their purchases in Banana Republic stores and online. The first event will start Thursday, April 19.
For more with Schultz on his efforts to get Americans back to work and why he decided not to contribute to political campaigns, watch the video in the player above.
Thanks for reading CBS NEWS.
Create your free account or log in
for more features.