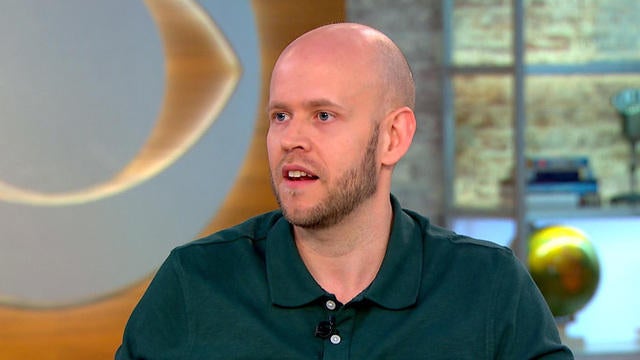 Spotify CEO Daniel Ek took "many, many" Nashville trips to get Taylor Swift back
With Taylor Swift exclusively releasing her new video "Delicate" on Spotify last week, it would appear that her tiff with the music streaming giant is officially over. Spotify CEO Daniel Ek told "CBS This Morning" on Tuesday that ending the feud took some time and travel by both parties.
"I went to Nashville many, many times to talk to her team, spend more time directly explaining the model, why streaming mattered. And the great news is I think she saw how streaming was growing. I think she saw that fans were asking for it. So eventually when the new album came out, she came to Stockholm and spent some time with our team there figuring out a way that made sense for her," he said.
In 2014 Swift pulled her entire catalog of music from Spotify because she felt the company wasn't fairly compensating artists.
"But look, I mean, for me, first off, like I – I should have done a much better job communicating this. So I take full ownership for doing that," Ek said of the controversy.
Spotify, the world's largest music streaming site, went public on the New York Stock Exchange Tuesday morning. It launched with a direct listing of shares, which removes the traditional role of investment banks, meaning existing Spotify shareholders can sell stocks directly to the public. The company says the goal is to make investment in the business more transparent.
Ek, who started the company at 23, said the idea for Spotify came from wanting to find a way to get all the music he wanted, legally and affordably, while compensating the artist.
"So now we're like a decade into that journey, and I really just feel like we're in the second inning. So while this is obviously a big day and I'm very proud of my employees, I really just feel like we're in the early days, not celebrating the end days as so many other companies are doing," he said.
Thanks for reading CBS NEWS.
Create your free account or log in
for more features.