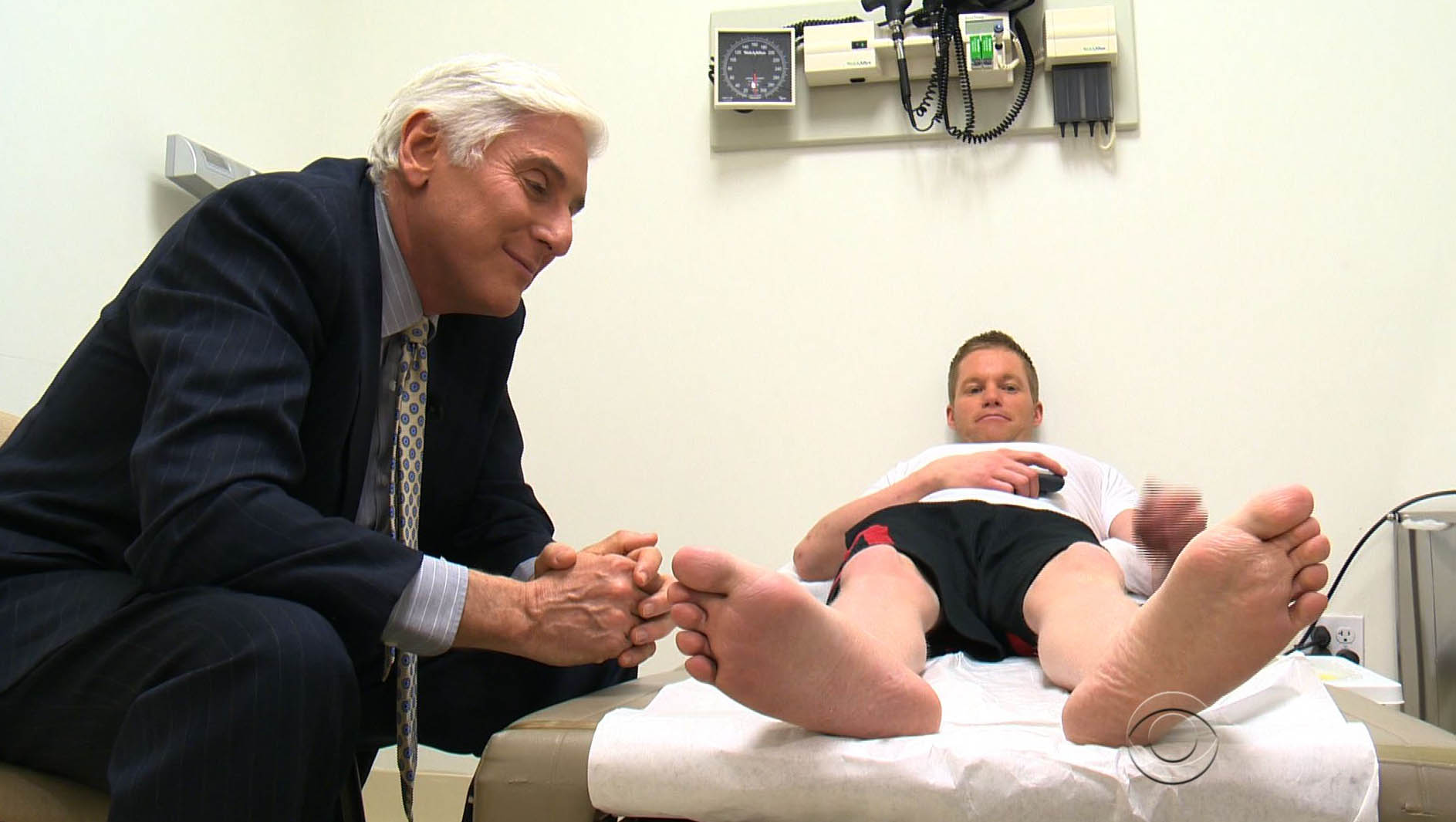 Innovative new therapy offers new hope for paraplegics
Dustin Shillcox was left paralyzed from the chest down after a 2010 car accident. He never showed any hint that he would regain movement, But since the implantation of a spinal cord stimulator more than a year ago, Shillcox can move his legs and wiggle his toes.
"When I think to move my leg, my toe or my ankles, when I'm turned on I can do it. It's really exciting," he told CBS News' chief medical correspondent Dr. Jon LaPook.
The National Institute of Biomedical Imaging and Bioengineering at the National Institutes of Health used spinal cord stimulation to help Shillcox and three other people with lower body paralysis temporarily regain muscle control in their legs, feet, toes, ankles and knees.
The four men who participated in the study each had electric stimulators implanted on their spines, and they were all able to regain some control of their muscles within a few days after undergoing the surgery. The neurostimulator used for the study is made by Medtronic, a medical technology company, and is currently is available as a maintenance therapy to individuals with chronic back pain.

"It's a device that has 16 electrodes," Dr. Grace C.Y. Peng, program director of rehabilitation engineering for the National Institute of Biomedical Imaging and Bioengineering at NIH, told CBS News.
"They implant these electrodes just below the sight the injury and stimulate the motor neurons in the spinal cord that would then lead to controlling the muscles in the leg. Their research is determining the optimal stimulation patterns for these 16 electrode arrays," said Peng, who oversaw the program.

In the study, published April 8 in the journal Brain, researchers found three of the participants were able to change and control the force at which they moved their leg muscles when prompted by various auditory cues.

They followed up with each participant over time and found they achieved further muscle control within a few months, though it's unclear whether this was due to additional physical therapy at home or an overall improvement from the therapy itself.

Each participant in the trial had been paralyzed for more than two years. The researchers say they were most surprised to see the therapy was effective in two of the patients who had complete motor and sensory paralysis, meaning the usual pathways that allow the brain to communicate with the lower body were completely cut off. These results proved the researchers' assumptions wrong that some of the brain pathways would still need to be functional in order for the therapy to work.

Peng said the study is the result of decades of research by the NIH to understand how the spinal cord works. The research was partially funded by the NIH and the Christopher & Dana Reeve Foundation, and is a continuation of a successful pilot trial that examined if one paralyzed patient could gain muscle control and movement from therapy that involved spinal stimulation and daily training on treadmill.

Though spinal cord stimulation currently doesn't allow a paralyzed individual to walk again, the therapy makes it possible for the person to stand without help and also take a few steps. The researchers are also finding neurostimulation can improve a number of other bodily functions.

"I'm able to (make) these voluntary movements and it really changed my life," study participant Kent Stephenson told The Associated Press. "I've seen some benefits of (the device) training even when it's turned off. There have been huge improvements in bowel, bladder and sexual function."

Researchers will need to replicate the study on many more patients with paraplegia to ascertain how exactly the therapy can be used, how to make it more effective, as well as study its long-term effects.
Peng said researchers are in the process of starting several related studies, including one on a device that sits outside of the body and does not need to be implanted, as well as another on a version of the devices that's more user-friendly for patients.

"A lot more work needs to be done," she said.


Shillcox still can't walk and has no movement from the waist down. But he's encouraged by the progress he has made.

"I started having control of my legs again," he said. "It's pretty exciting."

Thanks for reading CBS NEWS.
Create your free account or log in
for more features.