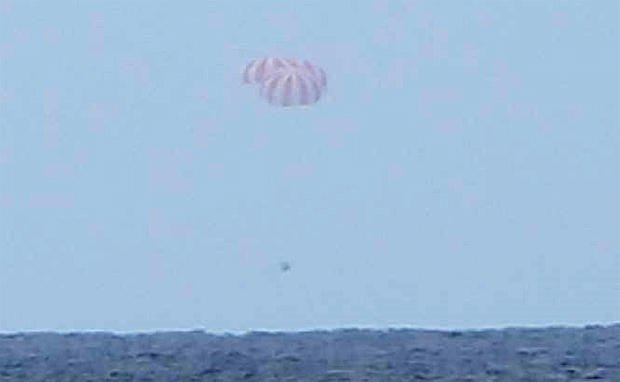 SpaceX supply ship departs station, returns to Earth
A SpaceX Dragon cargo ship loaded with 3,410 pounds of experiment samples, no-longer-needed hardware and trash departed the International Space Station early Friday and descended to a smooth splashdown in the Pacific Ocean to wrap up the company's ninth operational resupply mission.
NASA astronaut Kate Rubins and Japanese crewmate Takuya Onishi, operating the space station's robot arm, released the cargo ship at 6:11 a.m. EDT (GMT-4) as the lab complex was passing 251 miles above the northern coast of Australia.
"Congratulations to the entire team on the successful release of the Dragon," Onishi radioed flight controllers in Houston and at SpaceX's Hawthorne, Calif., control center. "We feel sad to (send) off the Dragon because we had a great time, enjoyed working on all (the experiments) that Dragon brought to us. So thank you very much to all team members."
After moving a safe distance away, the supply ship oriented itself for a de-orbit rocket firing at 10:56 a.m., dropping the far side of its orbit deep into the atmosphere to set up a splashdown 326 miles southwest of Baja, Calif., at 11:47 a.m.
"Good splashdown of Dragon confirmed, carrying thousands of pounds of @NASA science and research cargo back from the @Space_Station," SpaceX tweeted a few moments later.
The science complement was expected to include 12 mice, subjects of an experiment to learn more about the long-term effects of weightlessness, heart cells, an experiment to learn more about how astronaut immune systems are affected by spaceflight and tomato seeds that will be planted later by students.
SpaceX recovery crews stationed nearby planned to haul the capsule to Long Beach, Calif., where time-critical experiment samples will be off loaded and handed over to NASA. The spacecraft then will be trucked to SpaceX's McGregor, Texas, flight test facility for additional processing.
The Dragon, carrying more than 5,000 pounds of science gear, crew supplies and vehicle hardware -- including a new docking mechanism for commercial crew ships being built by SpaceX and Boeing -- was launched atop a SpaceX Falcon 9 rocket on July 18.
After a smooth two-day rendezvous, the Dragon reached the station on July 20 and was berthed at the forward Harmony module's Earth-facing port.
After unloading cargo in the capsule's pressurized compartment, the station crew re-packed it with trash and no-longer-needed equipment. Frozen experiment samples were loaded just before unberthing. The docking mechanism, carried aloft in the Dragon's unpressurized trunk section, was attached to the station during a spacewalk last week.
The Dragon is the only space station supply ship currently flying that is capable of bringing cargo back to Earth. Russian Progress cargo craft, Japanese HTV freighters and Orbital ATK's Cygnus supply ships are designed to burn up in the atmosphere during re-entry.
Thanks for reading CBS NEWS.
Create your free account or log in
for more features.