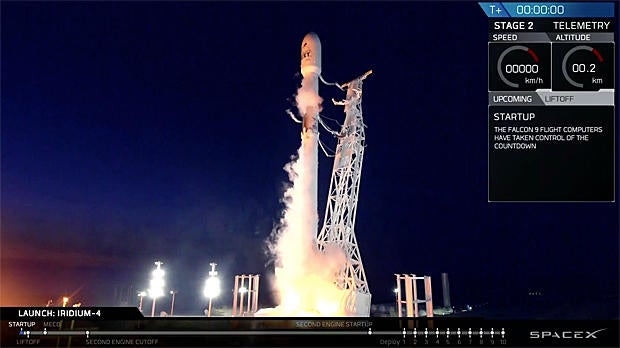 SpaceX launches Falcon 9 rocket, lighting up SoCal skies
SpaceX launched a Falcon 9 rocket from California Friday evening, boosting a fourth batch of 10 Iridium NEXT satellites into orbit in the rocket-builder's 18th launch this year -- a modern record -- and its fourth for the satellite telephone company.
The rocket put on a spectacular sunset sky show across southern California, prompting multiple tweets from surprised residents marveling at the view, including one re-tweeted by SpaceX founder Elon Musk in which a viewer worried she was witnessing a nuclear bomb. Musk titled the tweet: "Nuclear alien UFO from North Korea."
It was the fifth launch of a previously flown Falcon 9 first stage and while SpaceX normally attempts to recover stages for refurbishment and relaunch, the company said before launch no attempt would be made to land the first stage this time around
Instead, engineers carried out a series of tests before the stage crashed into the Pacific Ocean south of Vandenberg Air Force Base.
The second stage, meanwhile, boosted 10 Iridium NEXT spacecraft into a preliminary orbit around Earth's poles. After a second upper stage rocket firing 51 minutes after launch, the 10 spacecraft were released, one at a time, to fly on their own.
It was the fourth batch in a $3 billion 81-satellite constellation intended to replace Iridium's current fleet of aging low-Earth-orbit mobile voice and data relay stations.
SpaceX successfully launched the first 10 Iridium NEXT spacecraft on Jan. 14, a second set on June 25 and a third on Oct. 8. The new satellites are being phased in as first-generation relay stations are retired.
The complete Iridium NEXT network requires 66 satellites in six orbital planes to enable users anywhere in the world to make and receive satellite phone calls. Iridium plans to eventually launch 15 in-orbit spares, using SpaceX to put 75 of the 81 planned satellites into orbit.
With the fourth batch successfully in orbit, SpaceX will turn its attention to readying a new heavy-lift rocket for its maiden flight from historic pad 39A at the Kennedy Space Center early next year.
The Falcon Heavy, made up of three Falcon 9 stages strapped together with an upper stage atop the center core vehicle, will have a liftoff thrust of 5.1 million pounds, making it the most powerful rocket since NASA's space shuttle.
The rocket's long-awaited maiden flight, carrying SpaceX founder Elon Musk's Tesla Roadster sports car as a whimsical test payload of sorts, is expected in January. SpaceX also plans to launch three other missions in January using standard Falcon 9s.
Friday's flight got underway at 5:27:34 p.m. PT when the nine Merlin 1D engines in the Falcon 9's first stage ignited with a burst of flame, generating 1.7 million pounds of thrust. Moments later, the rocket was released from its firing stand to begin the climb to space.
Racing away to the south over the Pacific Ocean west of Los Angeles, the first stage engines burned for about two minutes and 33 seconds to boost the rocket and its payload out of the thick lower atmosphere.
The engines shut down on time, the stage fell away and the second stage's single Merlin engine then ignited for the first of two "burns" needed to get the Iridium satellites into a roughly circular polar orbit. The first stage, meanwhile, fell back to Earth, crashing into the Pacific Ocean after a series of tests.
Each satellite in Iridium's constellation is able to communicate with up to four others to provide a global network that services hand-held phones, machine-to-machine devices and ship- and aircraft-born data transmitters.
The new spacecraft carry equipment provided by Harris Corp. to track ships at sea on a minute-by-minute basis and another Harris-built device, provided by a multi-agency consortium known as Aireon, that can track aircraft anywhere in the world.
The 1,896-pound Iridium NEXT satellites were designed by the European aerospace giant Thales Alenia Space and built by Orbital ATK in Arizona.
Thanks for reading CBS NEWS.
Create your free account or log in
for more features.