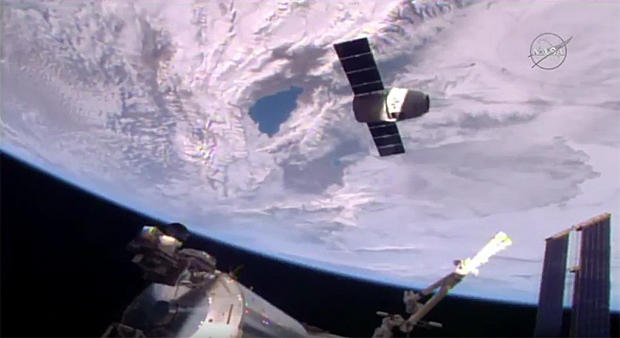 SpaceX cargo ship finally reaches space station
Running a day late because of a navigation glitch, a SpaceX Dragon cargo ship loaded with nearly 5,500 pounds of supplies and equipment was captured by the International Space Station's robot arm early Thursday, four days after launch from the Kennedy Space Center.
With the cargo ship flying in formation 30 feet below the lab complex, European Space Agency astronaut Thomas Pesquet, operating the robot arm, locked onto a grapple fixture at 5:44 a.m. EST (GMT-5) to wrap up a picture-perfect automated rendezvous.
"Looks like we've got a great capture," Expedition 50 commander Shane Kimbrough called down to mission control in Houston. "Thomas did an awesome job flying it in."
"Congratulations, Thomas, Shane, Expedition 50, great job with Dragon capture, and sorry about the delays," astronaut Mike Hopkins replied from the control center. "Now the real work starts."
With the Dragon firmly in hand, flight controllers at the Johnson Space Center in Houston took over arm operations and pulled the spacecraft in for berthing at the forward Harmony module's Earth facing port. Sixteen motorized bolts in the port's common berthing mechanism then drove home, locking the spacecraft in place and clearing the way for hatch opening.
During a rendezvous attempt Wednesday, the Dragon's on-board computer aborted the approach because of incorrect navigation data defining its orbit and trajectory. The spacecraft backed off while SpaceX flight controllers in Hawthorne, Calif., assessed the issue, figured out what was wrong and rescheduled a second attempt Thursday. There were no problems the second time around.
"Dragon is now officially arrived to ISS," Pesquet radioed. "We're very happy indeed to have it on board, and I'm very much looking forward to putting to good use the two-and-a-half tons of science and cargo it carries.
"We'd like to congratulate all the teams that took part in the mission in Hawthorne, California, Houston, Texas, and all over the world. Such a strong partnership between agencies and commercial entities, together with international partners, is without a doubt the future of space exploration."
While the Dragon capsule was completing its rendezvous, a Russian Progress supply ship was continuing its own approach to the space station. The Progress MS-05/66P spacecraft was launched from the Baikonur Cosmodrome in Kazakhstan on Wednesday and if all goes well, it will dock at the Russian Pirs module around 3:34 a.m. Friday.
The Dragon was launched atop a SpaceX Falcon 9 rocket last Sunday from the Kennedy Space Center, the company's first Florida launch since a spectacular explosion Sept. 1 at the Cape Canaveral Air Force Station that destroyed another Falcon 9 and its communications satellite payload.
The cargo ship's pressurized compartment, the section accessible to the crew inside the station, is packed with 3,150 pounds of supplies and equipment, including 580 pounds of food and clothing, 842 pounds of spare parts and other vehicle hardware and more than 1,600 pounds of science gear.
Twenty mice are housed in a rodent habitat, part of research to help scientists learn more about what processes govern bone regeneration and healing. Also on board: methicillin-resistant Staphylococcus aureus, or MRSA, in an experiment to learn more about designing more effective drugs by studying how the deadly bacteria mutate.
Mounted in the Dragon's unpressurized "trunk" section are another 2,100 pounds of equipment: a $92 million ozone monitoring instrument, a $7 million sensor to monitor lightning strikes and experimental gear designed to help engineers perfect autonomous rendezvous and docking software.
The station's robot arm will be used by flight controllers to extract the cargo from the trunk so the devices can be mounted on the station's main power truss for long-term operation.
Reloaded with science samples, trash and no-longer-needed equipment, the Dragon is expected to return to Earth in about one month.
Thanks for reading CBS NEWS.
Create your free account or log in
for more features.