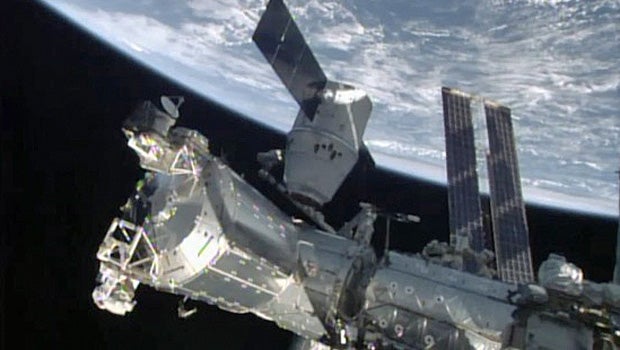 ​SpaceX cargo ship captured by space station crew
Approaching from directly below, a SpaceX cargo ship loaded with more than 5,000 pounds of equipment, supplies and belated Christmas gifts, caught up with the International Space Station early Monday, and then stood by while commander Barry "Butch" Wilmore, operating the lab's robot arm, snared a grapple fixture to complete a two-day rendezvous.
Working from a robotics work station in the multi-window cupola compartment, Wilmore -- assisted by European Space Agency astronaut Samantha Cristoforetti -- guided the arm's latching end effector over the Dragon's grapple fitting and locked it in place at 5:54 a.m. EST (GMT-5), as the two spacecraft sailed 262 miles above the Mediterranean Sea.
"Congratulations, Butch and Samantha, we'll call that one an OK three-wire," astronaut Randy Bresnik, a Marine test pilot, radioed from Mission Control at the Johnson Space Center in Houston. "Everybody says not bad for a Navy guy. The folks in Mt. Juliet ... could not be more proud than they are right now."

"We're pretty thrilled up here, too," replied Wilmore, a native of Mt. Juliet, Tenn. "Hey, thanks for that, and like you mentioned, you cued it, so 'fly Navy.'"
Originally scheduled for launch in December, the cargo ship's flight was delayed into the New Year by problems with its Falcon 9 booster and temperature constraints related to the space station's orbit. The mission finally got underway Saturday with a picture-perfect pre-dawn launch from the Cape Canaveral Air Force Station, followed by a series of rendezvous rocket firings to catch up with the space station.
It was the fifth of 12 planned SpaceX resupply flights under a $1.6 billion contract with NASA, and the first flight of a U.S. resupply ship since an Orbital Sciences Antares rocket exploded seconds after liftoff Oct. 28, destroying a Cygnus cargo ship.
"And we apologize for Santa and his Dragon sleigh to be a little bit more on the Eastern Orthodox schedule and calendar," Bresnik joked, referring to Christmas gifts packed aboard the Dragon. "But definitely a huge congratulation, and thanks to our friends at SpaceX for bringing to ISS such a beautiful vehicle."
"We concur," Wilmore replied. "It's been a couple of days getting here, and we're excited to have it on board. We'll be digging in soon."
Flight controllers at the Johnson Space Center in Houston then took over arm operations and guided the Dragon capsule to the Earth-facing port of the station's forward Harmony module. Wilmore and Cristoforetti the monitored the common berthing mechanism as motorized bolts drove home to lock the spacecraft in place.
If all goes well, hatches will be opened later today or early Tuesday, clearing the way for the astronauts to collect their gifts and begin the process of unloading the tightly-packed spacecraft.
Getting the Dragon capsule into orbit was the primary goal of the mission, but SpaceX also attempted to land the Falcon 9 first stage on a barge stationed off the coast of Jacksonville, Fla., a key step in company founder Elon Musk's drive to lower costs by recovering, refurbishing and reusing rocket hardware.
But the landing attempt was only partially successful. The booster made it through re-entry and followed a precise trajectory to reach the "autonomous spaceport drone ship." But the rocket crashed onto the deck and was destroyed.
The landing try took place in darkness, and SpaceX has not released any pictures or video. But reporters awaiting the support ship's return to Jacksonville said the barge appeared to suffer relatively minor damage. Cranes were used to offload a few pieces of what appeared to be wreckage after the ship reached the dock.
Musk summed up the landing attempt by tweeting:
But the primary goal of the flight was delivery of needed supplies and equipment to the space station, and that part of the mission went off without a hitch.
The pressurized section of the cargo ship is loaded with food, clothing and personal items for the station crew, research equipment and spare parts, along with high-priority items intended to replace cargo lost in the Antares launch failure, including a variety of student experiments.
Among the science gear is a fruit fly lab for studies of the immune system; an investigation to learn how proteins clump together in fibrous structures (like those believed to play a role in Alzheimer's disease); and an experiment to learn more about how flatworms regenerate damaged cells.
Housed in the Dragon's unpressurized trunk section is an atmospheric research instrument that will be extracted by the robot arm later and mounted on a deck attached to the Japanese Kibo module.
If all goes well, the Dragon will be reloaded with 3,600 pounds of research samples, no-longer-needed equipment and trash, and detached from the station Feb. 10 for re-entry and splashdown in the Pacific Ocean southwest of San Diego.
Thanks for reading CBS NEWS.
Create your free account or log in
for more features.