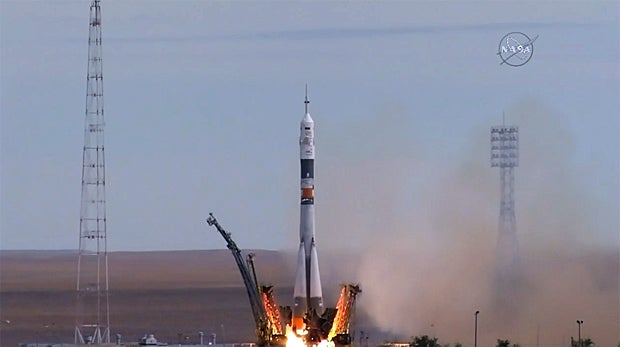 Soyuz rocket blasts off on space station flight
A Russian Soyuz spacecraft streaked into orbit Wednesday carrying a crew of three on a two-day flight to the International Space Station. Their mission: to deliver a fresh ferry craft to the lab complex that will be needed next March to carry two station crew members back to Earth after nearly a year in orbit.
With veteran cosmonaut Sergey Volkov at the controls, flanked on the left by European Space Agency astronaut Andreas Mogensen and on the right by Kazakh cosmonaut Aidyn Aimbetov, the Soyuz TMA-18M spacecraft lifted off from Yuri Gagarin's launch pad at the Baikonur Cosmodrome in Kazakhstan at 12:37:43 a.m. EDT (10:37 a.m. local time).
Putting on a spectacular show, the rocket majestically climbed away to the east, launching directly into the plane of the space station's orbit just a few moments after the lab complex passed 250 miles above the launch site. But it will take two days, or 34 orbits, for the Soyuz to catch up with its quarry.
While shorter four-orbit approaches have been employed since 2013, a recent debris avoidance maneuver changed the lab's orbit slightly, requiring the longer two-day rendezvous.
In any case, all three crew members appeared relaxed in live television shots from the Soyuz command module as it thundered toward orbit, monitoring cockpit displays and occasionally flashing thumbs up at the camera.
Volkov, a second-generation cosmonaut, is making his third spaceflight while Aimbetov and Mogensen, the first Dane to make trip to orbit, are space rookies. Aimbetov, the third Kazakh to fly in space, was added to the crew after singer and would-be space tourist Sarah Brightman withdrew from training earlier this year citing "personal" issues.
The climb to space appeared to go smoothly and the Soyuz TMA-18 ferry craft was released from the booster's upper stage to fly on its own about nine minutes after launch. A few moments after that, the spacecraft's navigation antennas and solar arrays unfolded and locked in place as planned.
"We're doing great, and everything is in order on board," Volkov reported.
If all goes well, Volkov will oversee an automated approach to the space station, moving in for docking at the lab's upper Poisk module around 3:42 a.m. Friday.
Standing by to welcome them aboard will be the station's six-man Expedition 44 crew made up of commander Gennady Padalka and his two Soyuz TMA-16M crewmates, Scott Kelly and Mikhail Kornienko, and Soyuz TMA-17 crew members Oleg Kononenko, Japanese astronaut Kimiya Yui and NASA astronaut Kjell Lindgren.
Padalka, Kelly and Kornienko were launched to the station March 27 while Kononenko, Yui and Lindgren arrived at the outpost July 22.
With the addition of the TMA-18M crew, the station will be hosting nine crew members for the first time since November 2013 when the Olympic torch for the Winter Games in Sochi, Russia, was delivered to the space station.
In this case, Volkov and his crewmates are delivering a fresh Soyuz to the station to carry Kelly and Kornienko back to Earth next March after nearly a year in orbit participating in experiments to learn more about the long-term effects of weightlessness and the space environment.
Soyuz spacecraft are certified for about 200 days in orbit and the TMA-16M ferry craft is nearing the end of its orbital lifetime.
Padalka will turn over command of the station to Kelly on Saturday, marking the end of Expedition 44 and the beginning of Expedition 45. Padalka then will return to Earth Sept. 11 aboard the TMA-16M spacecraft with Mogensen and Aimbetov. Volkov will remain aboard the station as a long-duration crew member, joining Kelly and Kornienko aboard the TMA-18M spacecraft for the return to Earth next March.
Thanks for reading CBS NEWS.
Create your free account or log in
for more features.