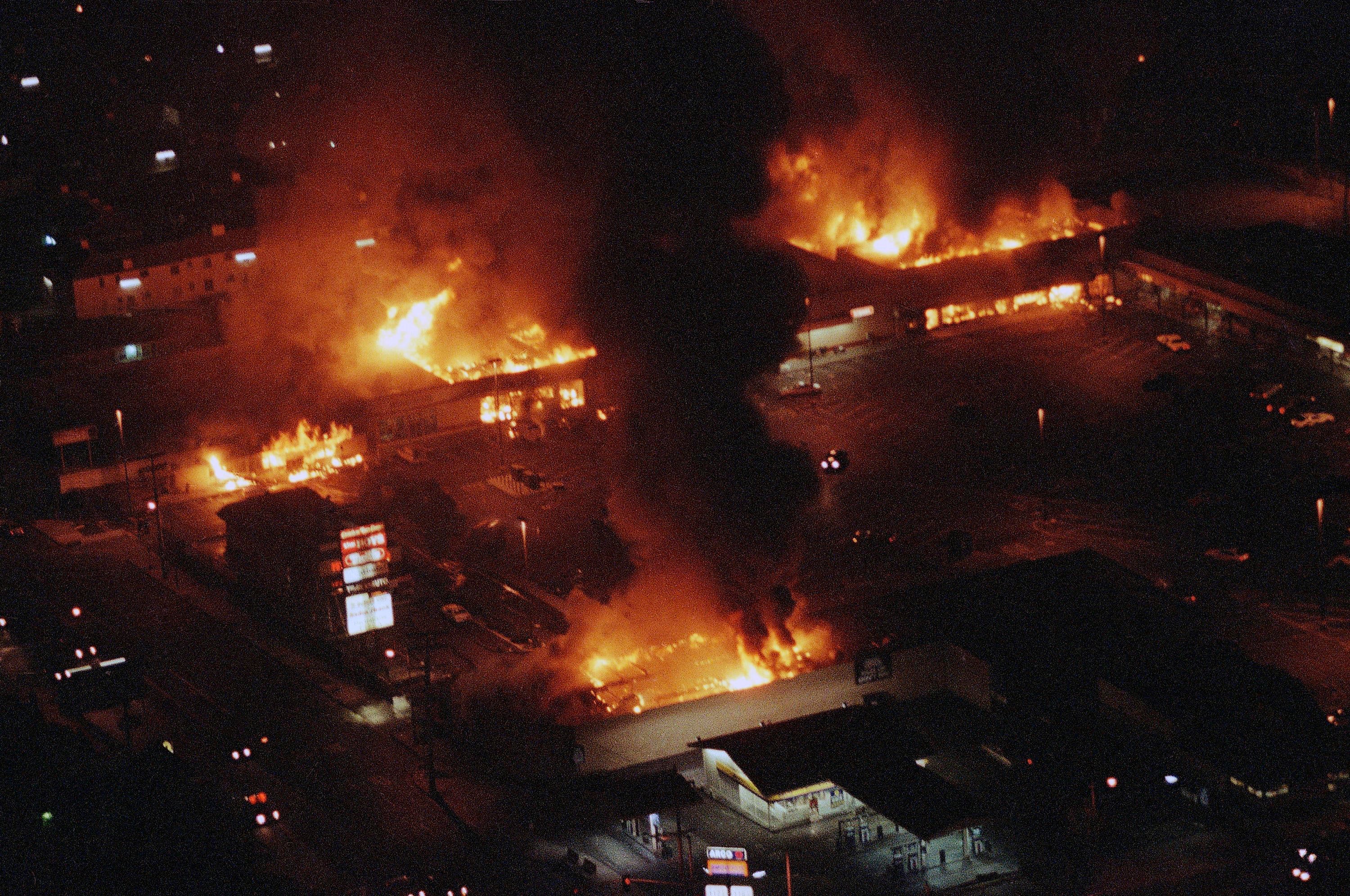 South L.A. reflects on Rodney King riots 25 years later
LOS ANGELES -- Saturday marks the 25th anniversary since the start of the Los Angeles riots. The mostly African-American community of South L.A. erupted after a jury acquitted four white police officers in the videotaped beating of Rodney King -- a black motorist who had been stopped for speeding.
Six days of violence left 55 people dead, 2,000 wounded and 11,000 arrested.
"These people are angry and they have every right to be," one man said amid the chaos in 1992.
"Terrible, and there's no police presence down here," reporter Bob Tur said from his helicopter, reacting to the beating of Reginald Denny.
Police were accused of standing by and letting it happen, and while the city was on fire, KJLH radio was in the middle of it.
"You're seeing buildings being burned down, and you're seeing people running for their lives in the streets," DJ Lon McQue says. "Not everybody was looting, people were running for dear life -- that's a war zone."
For four days, Aundrae Russell and McQue stopped playing music and let callers vent.
"I'm hurt that the verdict was what it was," one caller said in 1992, "but this certainly isn't what you call a damn revolution!"
Russell says at first callers were furious. "And then, it turned more into, 'Don't burn our community.'"
Karen Lane was 12 years old when the riots broke out. She's now a lawyer with Community Coalition.
"You know what rose from the ashes of 1992 were really people-driven, community-driven solutions and calling for more accountability," Lane says.
Over time, murder rates plummeted in the area. According to police, over 1,000 homicides were reported in 1992, but in 2016, there were just under 300 cases.
Authorities say recent construction of a new NFL stadium and concert venue in Inglewood has brought jobs and increased real estate prices.
Aqeela Sherrils -- who was once a member of the infamous gang the Crips -- now owns a restaurant with celebrity chef Roy Choi, called Locol.
"I have hired 40 people, livable wage jobs, 80 percent of our staff walk to work," Sherrils said. "I've been knowing these people in here that worked in the kitchen all my life."
Twenty-five years later, many people in South Los Angeles can see past the pain and view the riots as an uprising that ignited change.
While parts of the neighborhood have changed, some of the hardest-hit pockets have stayed the same, including the vacant lots that burned in 1992.
Construction crews are working to renovate the area, and locals say it's a perfect example that not all is lost -- reinvestment just takes time.
Thanks for reading CBS NEWS.
Create your free account or log in
for more features.