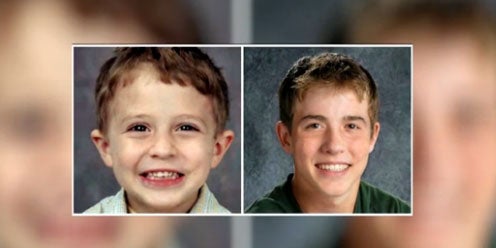 Teen kidnapped by dad in 13-year ruse: "I forgive him"
CLEVELAND - Just before an Ohio judge sentenced his father to four years in prison Wednesday, 19-year-old Julian Hernandez said he has forgiven the man who kidnapped him as a child and raised him under a new identity.
"Even if other people can't, I forgive him for what he's done," the teen said of his father, Bobby Hernandez. "I love him and I want him to be a part of my life."
Julian Hernandez asked the judge to keep his father out of prison, saying the man pushed him to succeed in school and is the reason why he gets good grades and plans on attending college.
"The time I've spent with him is the only time I've ever truly felt at home and at peace," Julian Hernandez said.
Growing up without a mother was painful, he said, "but taking him away from me is doing the same thing all over again," Julian Hernandez said.
Bobby Hernandez, 53, apologized and broke down as he tried to explain why he took his son in Alabama nearly 14 years ago, when the boy was 5.
"Julian was the most important person in my life," he said.
Cuyahoga County Prosecutor Tim McGinty, however, described Bobby Hernandez as a con man who led his son to believe he was "abandoned by an unloving mother, when in fact the opposite was true."
McGinty had asked for a lengthy sentence because he said Hernandez deprived the boy of a relationship with his mother.
"He lived a life of lies for 13 years," McGinty said.
Calling the crime "a horrible thing to do to a mother or any parent," Cuyahoga County Common Pleas Court Judge Cassandra Collier-Williams sentenced Hernandez to serve four years in prison, followed by five years of supervised release.
The deception was uncovered last fall after discrepancies with a Social Security number arose when Julian Hernandez, an 18-year-old senior at a Cleveland high school, started the college application process. A school counselor subsequently discovered that he was listed as missing by the National Center for Missing and Exploited Children.
He was reported missing in August 2002 after his father went to the Birmingham, Alabama-area home of the boy's mother to babysit. Bobby Hernandez instead left a note saying that he'd taken the child. It was the last time the boy's mother saw him until last year.
McGinty said Bobby Hernandez had threatened to take the boy from his mother if she ever broke up with him. Bobby Hernandez and the woman, who still lives in the Birmingham area, weren't married.
Bobby Hernandez ended up in Cleveland where he established new identities for himself and his son. Bobby Hernandez obtained a driver's license and a Social Security card using the name Jonathan Mangina. A neighbor in Cleveland said Julian Hernandez was known as J.J.
Bobby Hernandez was working at a factory in Cleveland when he was arrested last November. He's been in jail ever since.
The boy's mother said in a statement read by noted attorney Gloria Allred that the day he went missing was the worst of her life.
"During my darkest moments I considered suicide," her statement said. "I wanted to die." The woman said she "never stopped searching" for her son.
In a statement also read by Allred, the teen's maternal grandmother asked for a sentence "as long as our suffering has been."
The grandmother described Bobby Hernandez as an "angry, controlling and vengeful" person.
"Bobby Hernandez kidnapped him because he wanted to get even with Julian's mother for leaving him - this is not the sign of a good father," the statement said.
Bobby Hernandez pleaded guilty last month to charges that included kidnapping, interference of custody, tampering with records and forgery.
Julian Hernandez visited his mother and her family in Alabama last Thanksgiving and at Christmas. Bobby Hernandez's attorney, Ralph DeFranco, said the son had not spoken to his father since a judge issued a no-contact order in early December.
DeFranco has said Bobby Hernandez was a "model" father to his son, a straight-A student and athlete. DeFranco also has said that Bobby Hernandez knew he'd be caught someday. It hasn't been explained how he managed to create new identities and Social Security numbers for himself and his son, and details about their lives in Cleveland haven't been revealed publicly.
An Alabama prosecutor, Shawn Allen, has said authorities would meet with Julian Hernandez's relatives after sentencing to determine whether to extradite Bobby Hernandez to Jefferson County, where he could face prison time for interfering with custody.
Thanks for reading CBS NEWS.
Create your free account or log in
for more features.