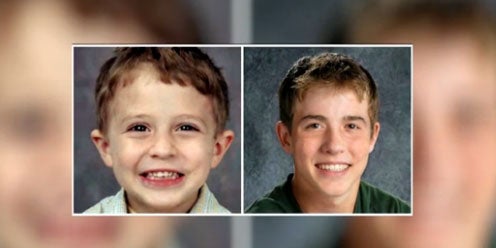 Dad pleads guilty to abducting son after 13-year ruse unravels
CLEVELAND -- A man accused of taking his 5-year-old son from his mother in Alabama more than 13 years ago and creating new lives for them in Ohio pleaded guilty Monday to kidnapping and other charges.
Bobby Hernandez, 53, pleaded guilty in a Cleveland courtroom to two counts of kidnapping, two counts of interference with custody and 10 counts of tampering with records. Hernandez's ruse fell apart last fall when his son Julian, then 18, discovered discrepancies with his Social Security number when he began applying for college.
Hernandez gave brief replies to a judge's questions Monday but otherwise didn't speak. His attorney, Ralph DiFranco, said after the hearing that he'll ask that Hernandez receive probation or a minimum prison term when he's sentenced April 13. DiFranco said Hernandez has been a "model" father to Julian, a straight-A student and an athlete.
DiFranco has said that Hernandez knew that someday he'd be caught. It hasn't been explained how Hernandez managed to create new identities and Social Security numbers for himself and Julian; details about their lives in Cleveland haven't been revealed publicly, either.
"He's very remorseful, and I think he's relieved that it's all over with," DiFranco said.
Julian Hernandez's mother, who hasn't been identified by name, issued a statement Monday through her California attorney, Gloria Allred.
"I have hoped that my son would be spared from having to testify at trial and the plea this morning means that his testimony will not be needed," the statement said. "Resolving the criminal case will help us to rebuild our lives together."
Julian visited his mother and other relatives in Alabama for Thanksgiving and Christmas. He hasn't spoken to his father since a judge issued a no-contact order at Hernandez's arraignment in early December.
An Alabama prosecutor, Shawn Allen, said authorities would meet with Julian's relatives after Hernandez is sentenced in Ohio to determine whether to extradite him to Jefferson County, where he could face additional prison time for interfering with custody.
In Ohio, Cuyahoga County Prosecutor Tim McGinty called Hernandez's actions a "horribly cruel crime" and said he'd recommend a lengthy prison sentence. Hernandez deprived Julian of a relationship with his mother and family, McGinty said.
Julian learned from a school guidance counselor last fall that his name was listed on the National Center for Missing & Exploited Children website. Over the years, police investigated hundreds of possible sightings across the country.
"This is a pain the mother and the family had to live with every day," McGinty said. "What kind of thing is that to do to a child? That's not a good parent."
McGinty said after the hearing that Hernandez had told the boy's mother that he would take him away if she ever broke up with him. Hernandez vanished with the boy in 2002 after leaving a note saying he'd taken the child, authorities have said. Hernandez and the boy's mother weren't married.
Thanks for reading CBS NEWS.
Create your free account or log in
for more features.