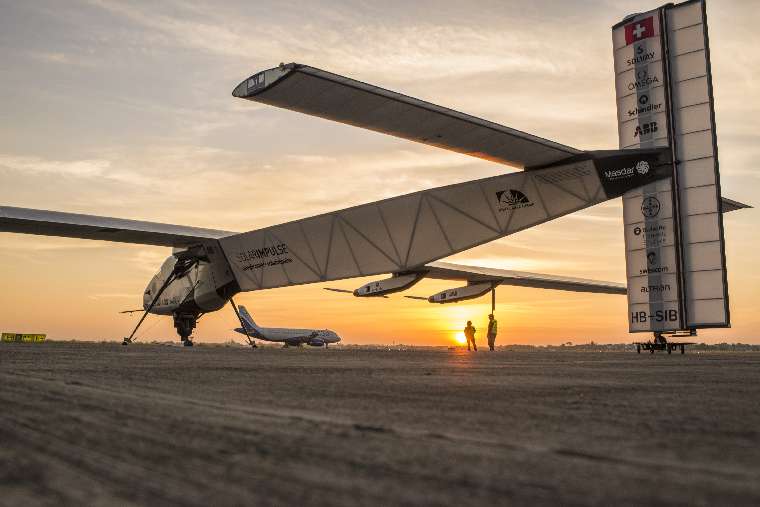 Could a solar plane's journey make clean energy "sexy"?
Andre Borschberg and Bertrand Piccard aren't looking to revolutionize aviation with their solar-powered aircraft.
Rather, the Swiss duo told CBS News Tuesday they want to raise the profile of a suite of technologies on their Solar Impulse 2 aircraft - many commercially available today - that are critical to helping them attempt a historic, around-the-world journey without any fossil fuels.
"To be very honest, I don't care so much about the airplane industry. My goal on this project is to bring these technologies and the spirit of innovation to the world on the ground," said Piccard, who was speaking from Myanmar, on the fourth leg of their 21,700-mile journey, which began in Abu Dhabi March 9. Their next stop is China.
"I want to change the perception that people have about clean technologies," he said. "We want to show people that we can achieve the impossible with clean technology and with renewable energy, make it sexy, make it fashionable, make people enthusiastic about it."
Borschberg was less dismissive of the aviation industry. But he acknowledged any breakthroughs they gain on this trip are more likely to benefit such things as unmanned solar aircraft that could be replace costly satellites or other industries such as housing or home appliances.
"If you look the aviation dimension, we are between the Wright brothers and Charles Lindbergh, the time of pioneers," said Borschberg, who is piloting the plane with Piccard. "It will take another 25, 30, 40 years until we will be able transport 200 people over the ocean. It's not for tomorrow."
Still, Borschberg was hopeful their success could motivate the industry to overhaul the technology of airplanes, which has changed little since the 1950s. "If you look at the 777, it's a bit more silent and uses less fuel. But in the end, it's the same technology," he said.
This plane definitely has plenty on board to inspire even the most jaded aviation buff.
For starters, the single-seat, Solar Impulse is made of entirely of carbon fiber - meaning it is tough as nails and 10 times lighter than the best glider. Weighing only about the size of a small van truck, it still provides enough ample living space for two pilots who could spend days at a time in the air.
Then, there are the lithium polymer batteries similar to those found in electric cars and computers, which store the energy collected by 17,248 ultra efficient solar cells built into the wings, fuselage and horizontal tailplane. They allow the plane to fly around the clock. As a result, the team is confident it can make the journey, which includes five-day-and-five-night crossings of both the Atlantic and Pacific oceans.
"It's not something that is completely crazy which comes from the space world and cost billions," Borschberg said. "Everything is affordable and everything you can use everywhere."
And then there are several features that make it a model of efficiency. It has a 72-meter (236-foot) wingspan that would rival a Boeing 747 and a 70-horsepower engine that is almost three times more efficient than a traditional engine. And to save energy, the plane has extra insulation to reduce the need for heat.
It will reach an altitude of around 28,000 feet during the day to catch the sun's rays and at night dip to around 5,000 feet.
"This has a wingspan like a jumbo jet but with the weight of a car. If you make it that big and that light, it is so energy efficient that the little energy you get from the sun is enough to stay in the air day and night," said Piccard, the project's initiator and chairman of Solar Impulse.
Borschberg, the co-founder of Solar Impulse, said the plane reflects "a project that is more about energy than about building an aircraft."
"We thought about energy consumption, how to make everything extremely efficient," he said. "This efficiency can be applied everywhere. Instead of trying to produce more and more energy, could we not think more about how to use better the energy we have today available?"
It is early days in a journey that is expected to take around five months and is expected to return to Abu Dhabi in July. But already the team has made history crossing from Oman to India on its second leg, setting a new world record for a flight in a piloted solar-powered plane.
And on the ground, they insist their message is getting through in places like Oman where oil is king, in India that is among the biggest coal consumers and is home to some of the world's most polluted cities and in Myanmar, an impoverished nation which is just emerging from decades of isolation.
When they landed in Ahmedabad, India March 10, nearly 20,000 people came out to see the plane, they said.
"These countries that don't have the technologies we have can take short cuts, " Borschberg said. "These countries don't need to have telephone lines. They have mobile phones. They don't need the grid. They can go with decentralized solar power generation. That is what our partners are slowly trying to do in Myanmar."
But the duo's message could take a hit should they fail to complete their journey. So far, they have only had a few hiccups with weather delays. The real test of their high-tech plane will come with their first ocean crossing, which will take place in the next few weeks as they scale the Pacific from China to Hawaii.
"This is the challenge. This has never been done," Borschberg said, adding that even failure will have its benefits.
"If this was easy, it would have been done for a long time," he said of their journey. "It's the first time. If you don't start today, you won't be ready tomorrow. We know it's difficult. We may fail. That is part of trying."
Thanks for reading CBS NEWS.
Create your free account or log in
for more features.