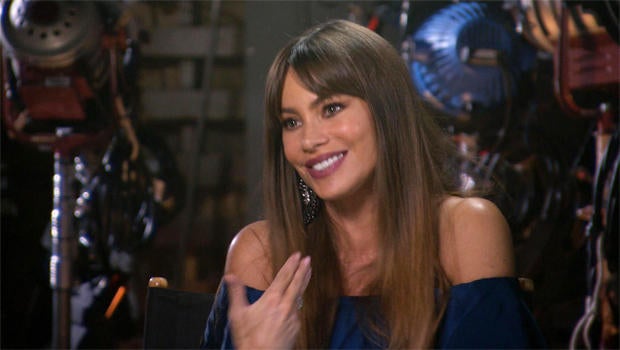 Sofia Vergara: The accent is on business
As you're about to see, the QUESTIONS AND ANSWERS come thick and fast when actress Sofia Vergara sits down with our Lee Cowan:
Sofia Vergara, the star of ABC's "Modern Family," doesn't so much butcher the English language as she collides with it, like a Colombian meteorite:
Gloria: "Do you know how frustrating it is to have to translate everything in my head before I say it? You should try talking in my shoes for one mile."
Jay: "I think you..."
Gloria: "I know what I meant to mean."
"It's like it comes out completely different than what they just told me to do it!" she said.
"Does it sound right in your head?" asked Cowan.
"No, I think I understand it, but when it comes out, it comes out however it wants to come out," she laughed. "I can't control it. You think I would sound like this after 25 years in this country if I could control it?"
You don't have to understand her to understand her appeal. Last month's cover of Women's Health magazine says it all.
But while her beauty may have gotten her in the stage door, it's her sense of humor that's kept her there.
Cowan asked, "Do you ever get tired of people talking about how unbelievably gorgeous you are?"
"No, go on! I know that you know there's much more to me than that -- I mean I'm 45, I've been working for more than 25 years. If it had only been beauty, by now I would have been gone. They're younger and prettier than me now!"
As Gloria Delgado Pritchett on "Modern Family," she elevates "trophy wife" to new, Emmy-nominated heights.
"Some people have said that it is a bit of a stereotype of a Latin woman," Cowan said.
"When I think of Gloria, I think of my aunt and my mom," replied Vergara. "They're intense, they're passionate. They dress sexy and colorful. They're loud. So, what is wrong with that stereotype if it's a stereotype?"
"So Gloria isn't an exaggeration?"
"I don't think it is an exaggeration. Of course, it's a comedy!"
And she's laughing all the way to the bank. Forbes estimates she made $41.5 million last year alone, making her the highest-paid actress on TV.
But not all of that comes from acting.
She is business first, lending her name to all manner of products, from perfumes to Pepsi and beyond.
"It has to be something that I believe in, something that I've used my whole life," she said. "It has to be something real for me."
Part of her empire includes Latin World Entertainment, which she co-founded with business partner Luis Balaguer. It is now a Hispanic marketing and endorsement powerhouse.
"For the last 15 years, our company has done probably 85% of all endorsement deals done in Spanish in this market," said Balaguer.
"It's all me!" Vergara laughed.
"It's all her, she sells everything. She sells everything she likes."
These days, she's looking for more than just profit; she wants profit with a purpose, which is what slipped her into a new line of underwear. Vergara partnered with fellow Colombian Renata Black.
"We love the underwear. I'm wearing it right now. I mean I would show you, but …" Vergara laughed. "She's wearing it too, so you show them!"
They call their brand EBY, which stands for Empowered By You, because 10% of the duo's sales will go to a nonprofit that provides micro-loans to women trying to start their own small businesses.
"We are the 1% in the world," said Black. "And if it's not us doing something about the world, then who's going to do it?"
Vergara added, "You know, I was a single mother. I divorced when I was very young. So I always had to think about money, always business."
Her marriage to her high school sweetheart lasted only two years. But out of it, came her son. Manolo is now 25 and an actor himself, often appearing in many of his mom's Head and Shoulders commercials.
Cowan asked, "How does she have time to do it all?"
"That's the thing, I never know," Manolo replied. "Like, half of the time they're talking about this new venture, and I'm like, What? When did this happen? I'm sorry, what? You own half of what? You're launching what?"
It all started before Manolo was born, when Vergara was a senior at a strict Catholic high school in her home town of Barranquilla, Colombia.
When asked if it were true that she was plucked off the beach by someone who saw her, Vergara said, "Yeah, I was with my family, like, at the beach and some casting agent saw me and said, 'We're doing this commercial, do you want to do it?' And my mom is like, 'Yes, yes, she wants to do it.' And I'm like, 'No, the nuns are gonna kill me, I can't be in a bathing suit on a commercial!'"
"That's what you were worried about, the nuns?" Cowan asked.
"Yeah. They're not gonna let me do it. They're gonna throw me out of school!"
The ad came out after she graduated; the nuns could only pray for her at that point.
She soon found herself in Miami, where she became a household name on Univision -- and then it was off to Hollywood, with her son right there with her, often helping rehearse her lines for auditions.
"It was a little awkward, because I'm like ten, 11, 12," said Manolo, "and they're talking about, like you know, romantic and sex things? I'm like, Mmmm, I think you should get someone else to do this!"
She's been a U.S. citizen now for three years, and in 2015 married actor Joe Manganiello, a Pittsburgh native.
But none of that has erased her accent -- the one that has both made Sofia Vergara famous, and yet a little self-conscious.
"I think it's become more horrible," she laughed.
"It got worse, or thicker?"
"Yes, because I started to learn that it's funnier when I would say ye-aas, like yes, so now, it's like I don't even know what my accent is anymore."

For more info:
Thanks for reading CBS NEWS.
Create your free account or log in
for more features.