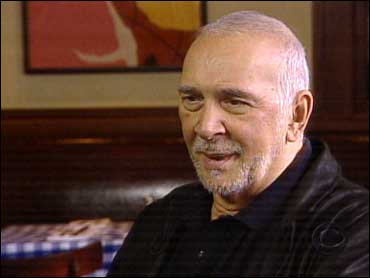 "Smith/Langella": The Actor Interview
Frank Langella chilled audiences by playing the vampiric Count Dracula on stage and screen. This year, he's won kudos - and an Oscar nomination - for his portrayal of a President. But, as Tracy Smith now tells us, it's been a long road for this stage and screen veteran ...

---
If a 71-year old actor can have a breakout performance, well then this might be it: Frank Langella, as a troubled president in "Frost/Nixon."

"There's been a lot of talk of a Frank Langella renaissance, that you are hot. Do you feel hot?" asked Smith.

"Yes, the simple answer is yes," he said. "And having been cold, cool, medium, warm, lukewarm, hot, cold again, lukewarm again … this is a hot period."

When he played Richard Nixon on Broadway, he won a Tony Award in 2007. And he's now nominated for an Oscar for the film version, even though he says he wasn't the producers' first choice.

"What were the names they floated?" Smith asked.

"The usual: Jack Nicholson, Warren Beatty. I heard all sorts of names for a long period of time, for about a year. And one by one they faded away."

In a career that's spanned more than four decades, Langella's gone from white hot to whats-his-name and back again.

He was at his hottest, in more ways than one, in the 1970s when he played a seductive Count Dracula on Broadway and in the movies.

"Whether he came across sexy or not wasn't on my mind," Langella said. "But then I grew to understand when women fainted, and when they were carried out of the theatre, I thought, 'Oh, I'm onto something here.'"

"Women literally fainted?" Smith asked.

"Yeah, they did."

"How'd that make you feel?"

"Oh, I loved it!"

In fact, Langella sought out the spotlight, almost from the time he was born. He grew up Bayonne, New Jersey, the middle child, always competing for his parents' attention.

"I was emotionally very fragile," he said. "Extremely. And easy to cry, easy to be hurt. Easy to feel unloved and unwanted."

Langella started acting in elementary school and by the time he went to college at Syracuse University he knew it'd be a career.

He found early success in theater, and then in 1970 with his first movie, "Diary of a Mad Housewife." When Carrie Snodgress did a nude scene for the film, Langella was asked to perform nude as well.

"And you said, 'No way'?" Smith asked.

"It was in the days when I thought mine was different than everybody else's, so I didn't want to show it," he said.

Even without a naked Langella, "Diary" was a hit.

"You became, as a young actor, a bit 'self-absorbed,' I think was the word you used," Smith asked.

"I did," he laughed, "a bit!"

"Not a bit?"

"No, a lot. Yeah, a lot."

And how can you blame him? He won his first Tony Award for his performance in 1975's "Seascape." And just a couple of years later, he was making those women faint. But for nearly a decade after "Dracula," film offers were few and far between.

"My career has been like a Chekhov play," he said. "You know, it's gone up and down, little hills and valleys. But it's never really gotten to some desperately bad place."

When movie pickings were slim, Langella turned back to theater, steadily building his reputation as a stage actor in more than 20 plays.

He was never a Hollywood habitué, either.

"You never lived in Hollywood?" Smith asked.

"No, there was a brief period for about 2 1/2 years, and that was it. And I came back to America!" he laughed.

And if Hollywood occasionally seemed to turn its back on him, Frank Langella never fully embraced the role of movie star, either.

Even though his film "Frost/Nixon" is all about television interviews, Langella himself has never been one for talk shows or gossip mags: He flat-out refuses to discuss his personal life.

"You've really made that a rule. Why?" asked Smith.

"It's just none of your business," Langella said. "And it's none of the public's business. What I owe the public is a great performance, and I hope and I give my absolute all to the public."

"You watched David Frost try to interview Richard Nixon, and get at the heart of Richard Nixon. Did that give you any sympathy for people like me who have to ask these tough questions?" Smith asked.

"No. I have no sympathy for people like you, none at all," Langella said. "I know you have to do what you have to do. And I do what I do. But I don't have any sympathy for you."

So we get to know Frank Langella in glimpses and hints. For instance, after meeting on the movie "Eddie" in the mid-'90s, he and Whoopi Goldberg reportedly lived together for several years. We also know that at one time he was married, and that he has a son and daughter.

And fatherhood helps explain one rather un-Langella-like role, a comic book villain who was pure evil.

"So if you chose your roles carefully, why do Skeletor in 'Masters of the Universe'?"

"Oh, why not? That's one of my favorite parts," he laughed. "Oh, I loved that. My son was four years old. And he was He-Man running around with a sword. And when they offered me Skeletor I couldn't resist. I couldn't wait to play him."

He played evil again in 1993's "Dave," a scheming chief of staff to president Kevin Kline. For audiences who knew him as a dashing leading man, it was a shock.

"When I came on screen the woman went, 'Oh my God, that's Frank Langella!' Like, 'That's not the Frank Langella I remember.' It was the first time I'd been on film in four or five years, and I had changed. She was basically saying, 'He's an older man now. He's grey. He's thicker. He's not what I remember.'"

"And that was okay?"

"Sure. What can you do about it?"

Those days of self-absorption long behind him, Langella says he's comfortable with getting older. So comfortable, in fact, that in the 1997 film "Lolita," nearly three decades after 'Diary of a Mad Housewife," he decided finally it was OK to bare it all.

"If at that time of life you haven't accepted the fact that it's just what it is, if you don't lose that preciousness, something's wrong, you know? After a while I got to be ridiculously silly. I just walked all over the set totally naked, and sat around naked. I was quite comfortable with it."

"I guess so!" Smith laughed.

"Yes. Quite."

When the time came to cast "Frost/Nixon," Langella didn't let talk of bigger names bother him.

"Somewhere inside of me I knew that this part was mine. I just knew it."

Now its tough to imagine anyone else in the role.

"And I wanted those jowls, you know. That wasn't makeup. I wanted that heavy jowly look that [Nixon] had."

"Those were your jowls?" Smith asked.

"Yeah. Those were mine."

"How do you get those? What do you eat?"

"You eat jowl food!" he laughed.

"What is jowl food?"

"I don't know. You just eat whatever makes you fat. And then you hold your head in a certain way. And you, you know, you let that fat sort of hang on you."

And while he's won critical praise for his acting, he says he's most proud of one small moment in the film: Playing the piano, which he learned at age 70.

"I learned it. And then promptly forgot it! Once I got it on film, it then disappeared."

"But what the piano should teach you is there are still possibilities ahead, right?"

"Oh yes. There are lots of them for me. I'm very pleased."
Thanks for reading CBS NEWS.
Create your free account or log in
for more features.