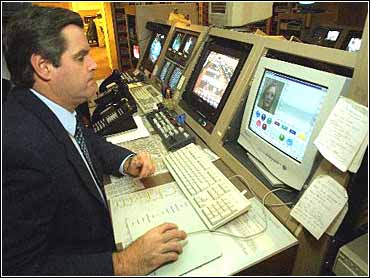 Smile! You're On Casino Camera
Taking photos of customers and then checking the images against those in criminal files didn't start at Super Bowl XXXV.
Casinos have used facial recognition technology for years as part of their never-ending quest to identify and catch cheaters. Three of Atlantic City's 12 casinos — Trump Marina, Trump Taj Mahal and Trump Plaza — use it as part of their casino surveillance units.
"It's a tool for us to identify people who could possibly come in and take advantage of our casino," said Trump Marina surveillance director Charles Guenther.
The technology's popularity could likely spread as the result of media coverage about its use on fans entering Raymond James Stadium in Tampa, Fla., for last month's championship game.
The revelation after the fact that Tampa police used facial recognition software triggered a furor among civil liberties experts, who called it intrusive.
Law enforcement officials defend the use of the technology by saying it's similar to what American consumers are subjected to in banks, stores, apartment buildings and some public places.
The system, known as biometrics, was created at the Massachusetts Institute of Technology. It focuses on the eyes and translates the image of a face into a numerical code that is then compared against other faces.
When used in conjunction with casino surveillance cameras and databases on cheaters, the system can quickly recognize a known cheater, list his modus operandi and call up photographs of associates or co-conspirators all in a matter of seconds.
"We have about 10,000 photographs of cheaters, people who have been arrested, evicted or ejected from this or other casinos. We put no people in here who are honest customers or good players. This is specifically for people who could harm us," Guenther said.
The photographs are provided by law enforcement agencies, other casinos, companies that sell databases on cheaters and Trump Marina's own records.
First marketed commercially in 1996, the system was installed at Trump Marina in 1997. Three days later, it helped the casino nab eight baccarat cheats.
In a demonstration of the system last week, Guenther sat in the surveillance room of Trump Marina and used a keypad at his work station to aim a concealed overhead surveillance camera at a blackjack player.
The man wore a San Francisco 49ers football jacket and had a mustache. Guenther zoomed the lens for a tighter shot of the man's face, then froze the frame.
Next, he transferred the image to another computer monitor and began manipulating category codes race, sex, game and style. He typed in "white," "male," and "21."
In two seconds, his computer identified 386 potential matches. Photographs of the people were displayed on a computer screen nine at a time to be compared with the man's image.
There was no exact match.
If there had been, the casino would have decided either to eject the gambler or watch his every move, prearing to arrest him if he were spotted cheating.
Quick and efficient, facial recognition software brings casino surveillance into the 21st century, according to James Pepin, vice president of sales for Biometrica Systems Inc., of Mont Vernon, N.H., which leases the system to casinos for $675 a month.
"The average casino is very unsophisticated," he said. "They have a few VCRs, some 15-inch (TV) monitors and some mugshot books. They're about as low-tech as you can imagine."
By the time officials begin thumbing through the pictures, a cheater may have already made his kill. "Speedwise, it's unbelievable," said Joe Anselmo, a Trump Marina surveillance supervisor.
Deborah Jacobs, executive director of the New Jersey chapter of the American Civil Liberties Union, said such security is an invasion of privacy but not a civil liberties issue because it's being used in a public place.
"If you went up to someone in a casino and told them `Guess what, there's cameras rolling,' people would say, 'Oh, big surprise.'
"But when you say the cameras are taking pictures of you and matching them against these other ones, that's an added element that's particularly offensive," she said.
Guenther said the system is only for identifying crooked gamblers.
"An honest person has absolutely nothing to worry about. It's the cheaters, the people who are being watched, they have a different take on it. Their way of life is compromised."
©MMI The Associated Press. All Rights Reserved. This material may not be published, broadcast, rewritten, or redistributed
Thanks for reading CBS NEWS.
Create your free account or log in
for more features.