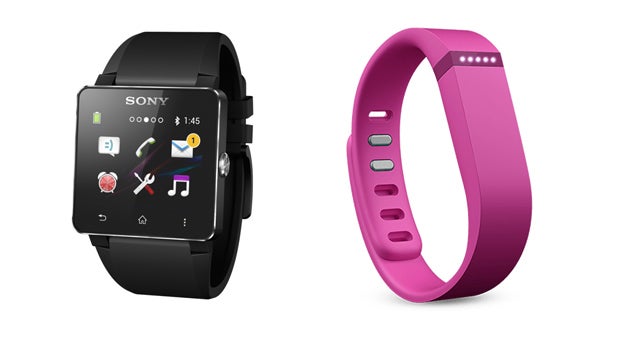 Smartwatches: Eat your heart out, Dick Tracy!
It was ALL IN THE WRIST when comic strip artist Chester Gould first outfitted Dick Tracy with that two-way radio-watch back in 1946. And it's still all in the wrist today, as manufacturers try to dazzle us with new gadgets. Yahoo tech columnist David Pogue takes their measure:
The history of computers has been a steady march towards smaller. Computers were once the size of rooms, then the size of TV sets, then the size of phones.
In fact, computers are now so small, they can nestle quite nicely on your wrist. Eat your heart out, Dick Tracy!
"One good way to think about it is a companion for your smartphone," said Mark Spoonauer, the editor-in-chief of Laptop magazine, "'cause a lot of us look at our phone up to 100 times a day. So a smartwatch could actually save you time."
Spoonauer has reviewed most of the first smartwatches. He showed Pogue the Pebble Steel, to which you can directly download apps from the Pebble AppStore or iTunes.
"There are some big names behind it, like CNN, ESPN and Yelp," said Spoonauer.
You can receive texts (but not send them). "That's why it's more of a companion and not a replacement to your smartphone," said Spoonauer.
There are currently 300 apps available for the Sony SmartWatch 2, including Facebook.
You probably haven't seen a lot of smartwatches on real people's wrists. So far, there's been more hype around smartwatches than sales.
Maybe that's because they're still so bulky -- it's like wearing a VCR on your arm -- or that they need charging every couple of days.
Or maybe because they're unnecessary. I mean, your phone is right here. How much effort do you really save having its functions on your wrist?
But in one area, wrist electronics make tremendous sense: monitoring your health. The FitBit band tracks your activity during the day, and your sleep at night; it sends graphs to your phone, wirelessly.
It's a constant reminder to move more and sleep better -- more psychology than technology.
Bob Troia is part of what's called the Quantified Self movement -- using gadgets to monitor your own health, stress, sleep and fitness.
He showed Pogue his watch which was measuring his galvanic skin response. "I just want to understand all the components that are what constitutes me, and what's going to help me become a better person."
Troia has embraced this idea of self-tracking in a big way. He has devices that monitor his posture ("You'll feel a little vibration, like, 'Hey, sit straight up!"), his body fat, his breathing, and his brainwaves during sleep, among other things.
"Over the last five years or so, I've spent probably in the range of $25,000 on devices related to tracking and monitoring and optimizing all aspects of my life," he said.
Clearly, there's big money in health-tracking gadgets -- and that may be the key to building a hit smartwatch.
Samsung's first smartwatch, the Gear, was clunky and complicated. But its sequel, the Gear Fit smartwatch, has a secret weapon: There's a heart rate monitor built into the bottom of the device, and it'll read it right from your wrist.
Samsung isn't the only tech giant with plans for your wrist. Google just announced a new operating system for smartwatches. Motorola just announced the first round smartwatch.
And then there's Apple. Its watch plans are secret, but it's been hiring fitness and fashion experts.
This technology battle has just gotten underway. Analysts expect us to buy 500 million wearable gadgets in the next four years.
In other words, this is a battle for much more than a place on your body; it's a battle for your loyalty, your data ... and your dollars.
For more info:
Thanks for reading CBS NEWS.
Create your free account or log in
for more features.