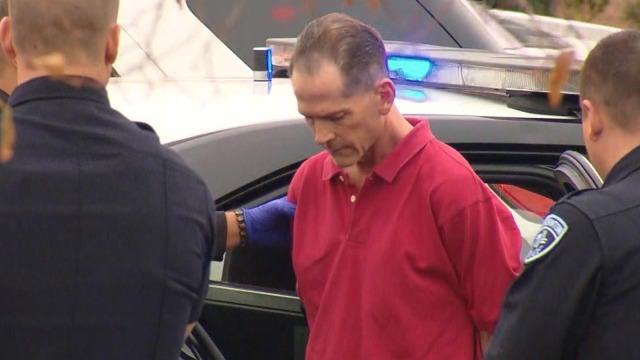 Sister: Walmart shooting suspect heard voices after drug trip
DENVER — The stepsister of a man charged with fatally shooting three people at a Colorado Walmart said he has been tormented by voices in his head since taking LSD nearly 30 years ago - an event she said radically changed his behavior and personality.
"When he came home, he was terrified. He had voices in his head. Demons," Michelle Willoughby told The Denver Post in an interview posted online Monday.
Prosecutors filed multiple counts of first-degree murder and attempted-murder charges Monday against Scott Ostrem, 47, Willoughby's stepbrother.
Ostrem is accused of walking into a Walmart in the Denver suburb of Thornton on Wednesday and fatally shooting a woman and two men. Prosecutors still have not offered any clues into possible reasons for the attack.
"Can't talk about a motive yet, thanks," Adams County District Attorney Dave Young said Monday.
Willoughby, who lives in Cocoa Beach, Florida, said she does not know what might have triggered the shooting because she has not been able to speak with Ostrem.
But she said he had been outgoing, sociable and athletic before taking LSD at a party in 1988, and afterward he became a recluse haunted by voices saying the devil was after him.
The family contacted a hospital, and Ostrem underwent a drug intervention but did not get psychological treatment, she said.
Ostrem was frequently counseled by a Catholic priest who placed a crucifix on his forehead, commanded demons to leave his body and asked God to silence the voices, Willoughby said.
She said the priest has since died and she does not recall his name.
The National Institute on Drug Abuse says the long-term effects of LSD and other hallucinogenic drugs can include mood disturbances, paranoia, disorganized thinking and hallucinations. But such effects are rare, the institute said on its website, and they are more likely to occur in people with a history of psychological problems.
Charles Grob, a psychiatry professor at UCLA, said it is unlikely that LSD would be the cause of a decades-long psychosis. It was more likely that Ostrem had "some severe disturbance to begin with," he said.
"I don't think LSD is the right culprit," Grob said.
Willoughby said she is bothered by the way Ostrem has been characterized on social media.
"My brother is not this monster," she said. "He is not cold-blooded. He hears these voices. Honestly, in my heart, I believe there is only so much a person can take."
Willoughby said she is heartbroken for the victims, Pamela Marques, 52, of Denver; Carlos Moreno, 66, of Thornton; and Victor Vasquez, 26, of Denver.
All were Latino, and Ostrem is white.
While declining to discuss a potential motive, Young said hate-crime charges have not been ruled out.
At the court hearing in Adams County District Court, Ostrem sat quietly, occasionally answering "yes" when the judge asked him a question.
He appeared thin, hunching forward slightly. He wore a yellow- and white-striped jail jumpsuit with "Adams County Jail" in large black letters on the back. His wrists and ankles were shackled.
Ostrem did not enter a plea. He is being held without bail.
The murder charges carry a sentence of life without parole or the death penalty. Young has not said whether he will seek the death penalty.
The attempted-murder charges carry a sentence of eight to 48 years.
The judge scheduled a Feb. 5 preliminary hearing for prosecutors to lay out their case. The judge will decide if the evidence is sufficient for a trial.
Thanks for reading CBS NEWS.
Create your free account or log in
for more features.