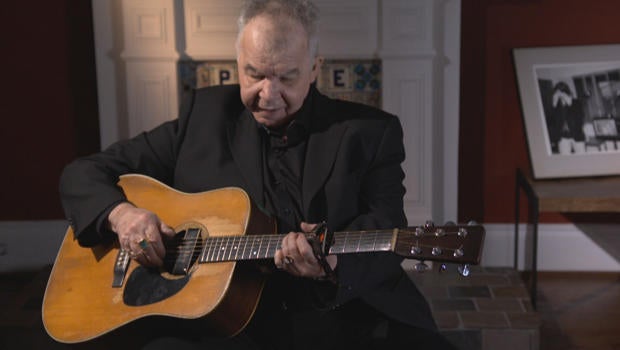 Singer-songwriter John Prine: Still alive and kickin'
Sometimes my ol' heart is like a washing machine
It bounces around 'til my soul comes clean
And when I'm clean and hung out to dry
I'm gonna make you laugh until you cry.
Radio City Music Hall was sold out this past Spring for John Prine. The 72-year-old singer is experiencing a late-career renaissance. "My audience has almost doubled in the last ten years," he said.
And he's just been nominated for both the Songwriters' Hall of Fame and the Rock and Roll Hall of Fame.
Anthony Mason asked, "Are you enjoying this resurgence?"
"It took some of 'em 45 years to get the joke!" he laughed. "And some people are getting it now. And I'm still around to reap the benefits."
A songwriter revered by other songwriters, like Bob Dylan and Bruce Springsteen, John Prine's tunes have been sung by Bette Midler ("Hello In There"), Johnny Cash ("Sam Stone"), and Bonnie Raitt ("Angel From Montgomery").
The Radio City date was a milestone: Prine was releasing his first album of new songs in 13 years – on Friday the 13th! "It's always been kinda lucky for me," he said. "After a couple bouts with cancer and everything, black cats are nothin', you know?"
John Prine has survived cancer, twice. "I called it neck cancer, but there's a fancy name for it," he said.
"It affected your voice?" Mason asked.
"I couldn't sing for a year after the surgery, 'cause I just didn't have the power."
"That has to be really scary for a singer."
"Well, all I really wanted to do was live."
Prine is certainly a survivor. He's also something of a hustler, playing pool with Dan Auerbach, of the stadium-filling rock band The Black Keys, and Sturgill Simpson, last year's Grammy-winner for Best Country Album, two of his biggest fans.
"We're just here to make you look good, John," Simpson said, as Prine began clearing the table.
"You hold all these guys in such a light," Simpson told Mason, "and then you meet 'em. And then, right, it's like hanging out with your dirty uncle!"
When asked what he hears in a John Prine song, Auerbach replied, "You hear everything. He can run you through the wringer, you know? You can be, like, laughin' and cryin' and feel satisfied at the end. He's magic."
And Prine sinks another ball. "Perfecto!"
John Prine grew up on the outskirts of Chicago. After a stint in the Army, he became a mailman, writing songs as he delivered letters.
He was just 23 when he performed at a local coffee house one night in 1970, and got really lucky. "Roger Ebert from Chicago Sun-Times stopped by," Prine recalled. "And instead of writing about the movie that he walked out on, he wrote about me. 'Singing Mail Man Delivers The Message.'
"And from that day on I didn't have an empty seat!"
"He appears on stage with such modesty he almost seems to be backing into the spotlight. He sings rather quietly, and his guitar work is good, but he doesn't show off. He starts slow. But after a song or two, even the drunks in the room begin to listen to his lyrics. And then he has you." – Roger Ebert, Chicago Sun-Times, 10/09/1970
Prine's 1971 debut album became an instant classic, with songs like "Sam Stone," the story of a Vietnam vet:
There's a hole in Daddy's arm where all the money goes,
Jesus Christ died for nothin' I suppose.
Little pitchers have big ears,
Don't stop to count the years,
Sweet songs never last too long on broken radios.
"He writes beautiful songs," Bob Dylan said. "Midwestern mind trips to the nth degree."
Broken hearts and dirty windows
Make life difficult to see
That's why last night and this mornin'
Always look the same to me.
Mason said, "You've never written a song about cancer."
"I wouldn't!" Prine laughed. "I think people would run the other way. I mean, 'Here's a great song about cancer …'?"
In 1996, Prine discovered a lump in his neck while shaving. Fiona Whelan Prine, John's wife of 22 years, said, "I immediately thought, 'Well, that means he's gonna die.' I had just had two kids, gotten married, had moved from Ireland. It was a lot."
"The doctors'd say, 'What do you wanna do about it?'" Prine recalled. "And I said, 'I want you to go in and cut it out, come back and tell me I don't have cancer anymore!'"
It cost him a chunk of his neck, but gave him new perspective:
I been thinking lately about the people I meet
The carwash on the corner and the hole in the street
The way my ankles hurt with shoes on my feet
And I'm wondering if I'm gonna see tomorrow.
"Everything just looks better to you," Prine said. "You're more grateful for smaller things. And it feels pretty darn good."
Prine once said "I'd rather get a hot dog or a doughnut than write a song." On Mason's visit to Nashville, where Prine lives, it was meatloaf at Big Al's. "Holy cow!" Prine exclaimed as his portion was served. "You all must think I'm skinny!"
But after a 13-year writing layoff, he was coaxed back to work
"The Tree of Forgiveness," the highest-charting album of Prine's career, proves the songwriter is alive and kicking.
Fiona said, "I couldn't understand why he was so reluctant to be the superstar that I think he is, that I know he is, that his fans know he is. But now I do."
"What's the answer?" Mason asked.
"He wants to be able to go to Krogers in his dirty black T-shirt!" she laughed. "Right? Is that the right answer?"
"Yeah, as we're doing a national TV show," Prine laughed.
John Prine's never been the kind of artist to chase acclaim, but it's finally catching up to him again.
When I get to Heaven I'm gonna shake God's hand
Thank him for more blessings
Than one man can stand
Then I'm gonna get a guitar and start a rock 'n' roll band
Check into a swell hotel
Ain't the afterlife grand!

For more info:

Story produced by Richard Buddenhagen.
Thanks for reading CBS NEWS.
Create your free account or log in
for more features.