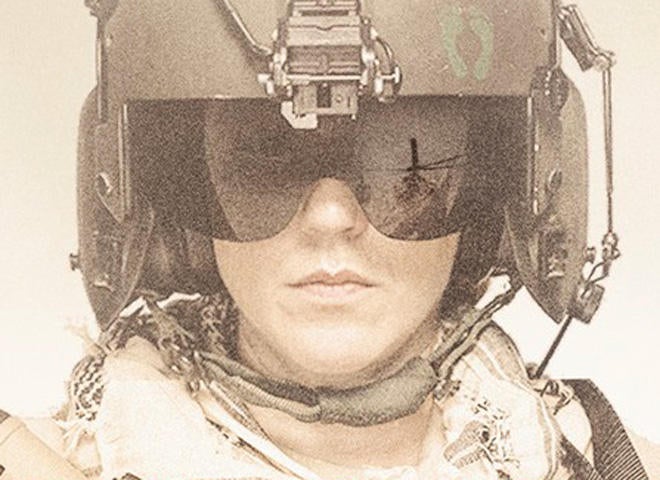 "Shoot Like a Girl": Mary Jennings Hegar on possessing a warrior's heart
U.S. Air Force helicopter pilot Major Mary Jennings Hegar and her crew were shot down by the Taliban in July 2009 during a rescue mission outside Kandahar in Afghanistan. Despite her wounds, she fought back and saved the lives of her crew and patients. Major Hegar received the Purple Heart. She also became the second woman ever to receive the Distinguished Flying Cross for her valor and heroism.
She returned home and joined a lawsuit that barred women from joining ground combat positions. "My gender has never been a factor in accomplishing my unit's missions, and it should not be a factor when selecting personnel to serve in combat roles," she said in 2012. That rule, the Combat Exclusion Policy, has since been reversed.
Hegar discusses her battle in and out of the military in her book "Shoot Like a Girl" (Berkley).
Appearing on "CBS This Morning" Monday, Hegar said she was inspired to be a pilot from a young age thanks to watching films like "The Perfect Storm," which depicted off-shore helicopter rescues.
"I didn't want to crash into the ocean, but from watching Han Solo navigate an asteroid field to watching movies like 'Perfect Storm,' it would always kind of get my adrenaline up, and I knew it was something I wanted to do," she said.
But she faced resistance along the way, such as a teacher who told Hegar that her ambition was not fit "for a girl."
"That was the first experience of many where I realized the vast majority of people that I encountered along the way were very supportive and only cared about whether or not I was competent, but every now and then you got somebody who didn't give you a chance."
"How do you push past that when you get that kind of resistance?" asked co-anchor Anthony Mason.
"To be honest with you, even from a young age it just motivated me. It really did. It motivated me. It was almost like a dare."
Commissioned into the Air Force in 1999, Hegar was later selected for pilot training by the Air National Guard. She would serve three tours in Afghanistan, flying Medevac and Combat Search and Rescue missions.
She flew a Sikorsky MH-60 Pave Hawk, a rescue version of the Blackhawk helicopter, pulling wounded soldiers from the battlefield.
"How many women are flying those helicopters?" asked co-anchor Norah O'Donnell.
"More than you might think, [but] fewer than there should be!" Hegar said. "I had probably two or three in my unit."
When asked to describe her experience of being shot down in Afghanistan, Hegar said, "At the time it wasn't really that scary. It was what we were trained to do. We were just doing our jobs."
"You say 'trained to do.' You were wounded and bleeding," remarked co-anchor Gayle King.
Hegar replied, "It happened so fast, you know?"
"You say battle readiness has nothing to do with gender and everything to do with capability."
"Right. I've seen men and women who were fit for combat that I wanted to fight beside, and men and women who I really wouldn't want to go back into combat with. It really doesn't have anything to do with gender. I feel I have a warrior's heart, and it doesn't have to do with anything —"
"What is a 'warrior's heart'?" asked Mason.
"Just a drive to protect people and to run toward the emergency when everybody else is running away," Hegar explained. "You know, I think that that's not something you can choose to do. It's just something that you reflex-do, or you don't."
When asked to describe the backlash she experienced for speaking out in support of women in combat positions, Hegar said, "It was significant, but I think it's a very vocal minority. The vast majority of the messages that I receive are, 'Please keep doing what you're doing, you're inspiring my daughter or you're inspiring my son, you're fighting for us.' But there are some really determined people out there who see it very threatening that a woman can do these jobs."
Does she think the military needs to do more?
"Absolutely. They're doing a lot, more than they're getting credit for. I think we have some amazing leaders. But then we have some leaders who turn a blind eye to things that contribute negatively to a really difficult culture for women," she said.
King noted one scene in her book, after the crash, involving a briefing: "People are patting themselves on the back, you're the only one in the meeting, M.J., that says basically, 'Where the hell were you guys?' Because you thought you'd been left stranded by another group. You're the only one who said that."
"That gets me into trouble a lot!" Megar laughed. "Yeah, I kind of looked around and I can't understand why nobody else is speaking up. Later when I faced the backlash of speaking up, I realized why nobody did. But at the time I kind of looked around, like, 'Why isn't anyone saying anything? I guess I will.' And that's been my whole life."
Hegar's book is being developed for the big screen by TriStar Pictures, with Angelina Jolie slated to star. Oscar-nominated screenwriter Jason Hall ("American Sniper") is attached to the project.


For more info:
Thanks for reading CBS NEWS.
Create your free account or log in
for more features.