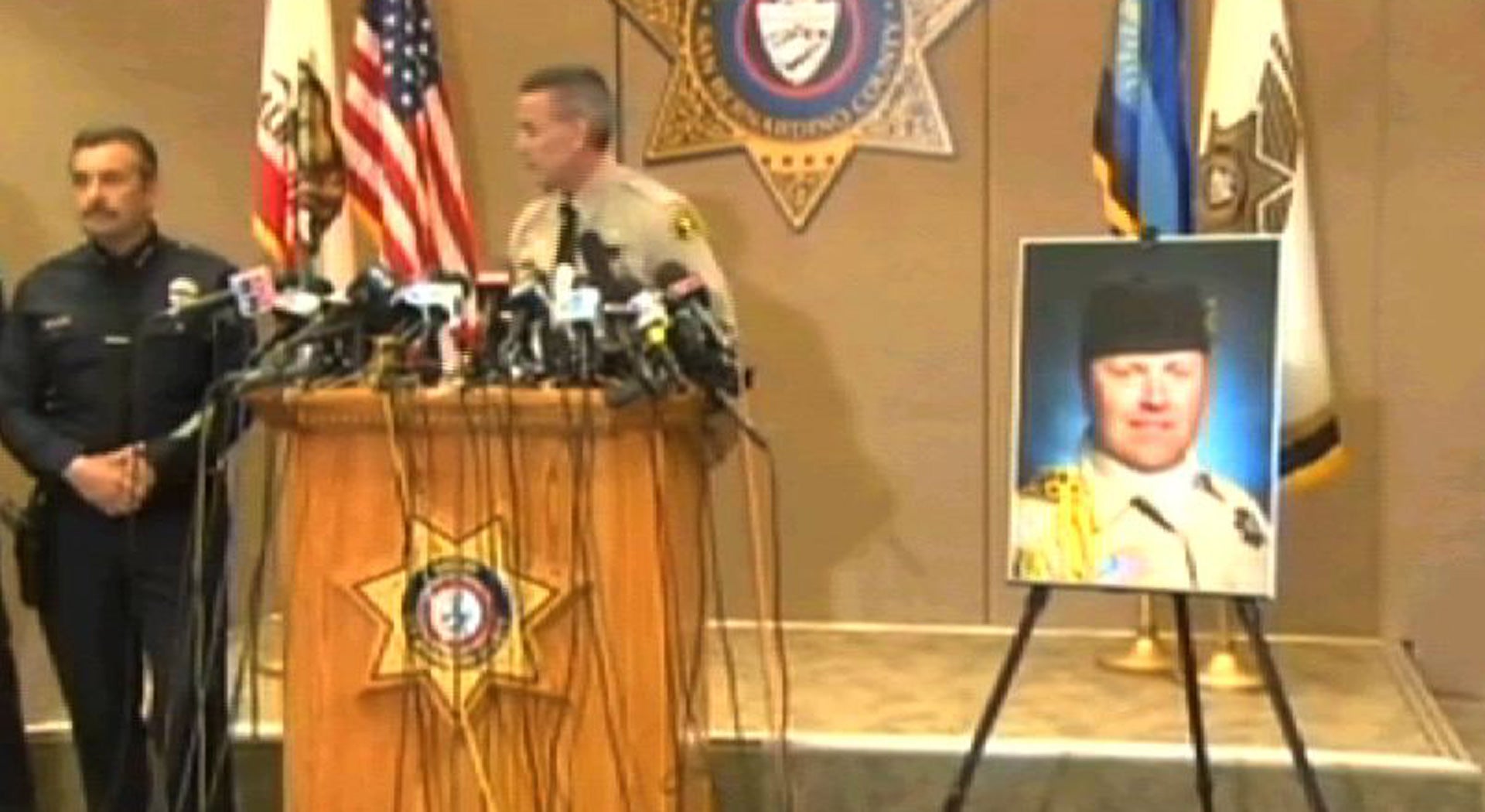 Sheriff: Fire in cabin not set intentionally
California authorities have not positively identified Christopher Dorner as the body found in a burned out cabin in the San Bernardino mountains, but did release the name of the sheriff's deputy killed in a ferocious gun battle with accused multiple-killer Dorner in Big Bear, Calif., Tuesday.
San Bernardino County Sheriff John McMahon said Detective Jeremiah McKay, 35, was shot and killed as police closed in on Dorner. He had served in the department for 15 years and was married with two children: a 7-year-old daughter and a 4-year-old boy.
McMahon also told reporters that the fire in the cabin where Christopher Dorner presumably died was not intentionally set by authorities. He said tear gas canisters fired into the cabin apparently set the blaze.
A second San Bernardino County sheriff's deputy, Alex Collins, was also wounded in the firefight and was still being treated in the hospital Wednesday afternoon. He is in expected to make a good recovery.
"Absolutely true heroes," McMahon said of the men, describing the final shootout with Dorner similar to a "war zone."
The coroner's office is working to make a positive identification on remains recovered from the ruins of cabin - from a fire that police said was not intentional on their part.
While the remains are believed to be those of Dorner and McMahon said they are not engaged "in a man hunt any longer," the body still hasn't been officially identified. CBS News reporter Carter Evans reports all 400 LAPD officers assigned to protect families on the fired cop's revenge list have now gone back to regular duty.
Dorner's firing by the LAPD allegedly sent him on a killing spree that began ten days ago and left four people dead. He was targeting police officers and their families.
When the manhunt came to a sudden, violent end, Evans and his crew were on the side of the road when they decided to follow an unmarked police truck less than a mile away. They came to a dead stop right in the middle of a firefight.
The man believed to be Dorner was cornered in a cabin. He was shooting at police with a high-powered sniper rifle.
Police scanner made it clear that two sheriff's deputies had been shot: "Officer down! Officer down!"
Deputies couldn't get to the wounded because the gunfire was so intense. They used smoke grenades to cover their rescue of the deputies. One survived.
CBS News witnessed at least half a dozen police say the suspect had a sound suppressor on his rifle, so they had difficulty figuring out where to direct their fire.
As Dorner hid in the cabin, authorities, SWAT teams and armored vehicles could be seen from about 100 yards away, preparing to move in.
The shootout was the climactic manhunt that involved every law enforcement agency in Southern California. The Big Bear Mountain resort became the focus after Dorner's burned-out truck was found nearby. Sources tell CBS News that weapons, cold-weather survival gear, and a gas mask were found inside the truck.
Police went door to door, forest rangers scoured the mountains. They now believe Dorner was hiding in plain sight in a vacant condo overlooking the police command post. Police are not sure how long he was there -- they sent deputies to check 600 cabins, and apparently that one was not on the list. Deputy authorities said in a press conference the deputies were told to look for signs of break-ins, but it was still unclear on how they could have missed Dorner.
The final act of the drama began Tuesday morning when a couple, Jim and Karen Reynolds, who are the owners of the Mountain Vista Resort, walked in on Dorner inside the condo. They say Dorner tied them up and stole their car. One was able to get free and call 911.
Police spotted the stolen car 25 miles away, but lost it. Authorities say Dorner then ditched that car and carjacked a man.
"He had his gun aimed at me," said Richard Heltebrake, the man in that silver truck. "And he said, 'I don't want to hurt you. Just get out and walk up the road and take your dog.'"
Dorner crashed that truck soon after another police chase and gun fight. It appeared the cabin was his last stand. After nearly a four-hour standoff, police prepared for the final assault.
The decision was to use a powerful form of tear gas and ram the house in with an armored vehicle. Flames engulfed the cabin. The cause is unclear.
Within minutes, there was a gunshot, then the sound of ammunition exploding inside the burning building. At least six more hours passed before police felt sufficiently safe enough to approach the ruins and look for a body.
Thanks for reading CBS NEWS.
Create your free account or log in
for more features.