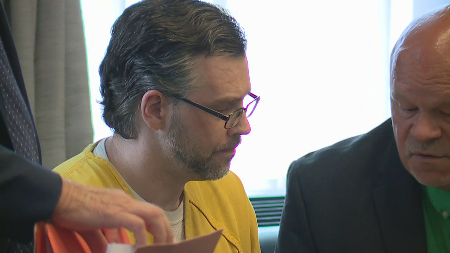 Serial killer sentenced to death for strangling women found in vacant home
ASHLAND, Ohio -- An occasional drifter described as a charmer with a dark side was sentenced to death Friday for strangling two women whose bodies were found underneath piles of clothes in a vacant home. An Ashland County judge accepted a jury's recommendation that Shawn Grate, who is also suspected in two more deaths, should get the death penalty.
Grate, 41, was convicted nearly a month ago of killing two women in 2016. Their bodies were found after a third woman called 911 and said she was being held captive. Jurors convicted Grate on aggravated murder and kidnapping charges.
He apologized on Friday before the sentencing, telling the victims' families that he wished he could have changed what happened. "Not for me, but for you guys," he said.
"I can't say I am normal, but I know right from wrong," he said. "I ask you to forgive me, find it in your heart someday. I know not today, someday."
He said "today is a good day" and "justice has been served" for his victims.
Many of those who were in court clapped loudly when the judge issued the sentence in the deaths of 43-year-old Stacey Stanley and 29-year-old Elizabeth Griffith. Stanley's family sat in the courtroom gallery wearing purple T-shirts with the hashtag, #StanleyStrong.
Stanley's brother, Scott Adams, called Grate a monster.
"There's so much anger built up inside of me for you," he said. "You deserve much more than you'll get."
Stanley's son Kurtis Stanley said he couldn't forgive Grate.
"You took my mother, my daughter's grandmother, all that stuff, and I can't get that back," Stanley said.
He said he is hurt the most that his daughter won't get a chance to know his mother.
"These women deserved to live," Stanley said. "You didn't have the right to choose when they were going to go."
Grate, described by those who know him as a charmer with a dark side, moved from place to place in Ashland and Mansfield - two cities that sit between Cleveland and Columbus.
He sometimes lived with women he had met or squatted in abandoned homes.
Grate was arrested in September 2016 after a woman he kidnapped called 911. In the call, the woman said that she had been tied up, but managed to partly freed herself to make the call from her captor's phone while he was asleep. She is heard whispering to a dispatcher, terrified that she will wake him up.
"I've been abducted," the woman said in the call, begging, "Please hurry."
The woman said she was afraid to leave because "the bedroom is closed and he made it so it would make noise." She said the man could "catch me, and he's strong."
When asked if she was bleeding, the woman said, "Not anymore."
Authorities have said that Grate confessed after his arrest to killing Candice Cunningham at a vacant Richland County home. Her body was found in a nearby ravine.
Grate also has been linked to the 2015 slaying of Rebekah Leicy. Her body was found in Ashland County.
The Richland County prosecutor has said he will pursue charges against Grate in the slayings of those two women.
Thanks for reading CBS NEWS.
Create your free account or log in
for more features.