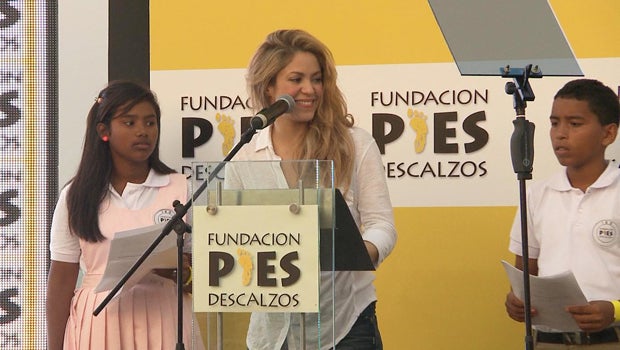 Pop star Shakira, a Latin American sensation with fans around the world, is known in her native country of Colombia not just for her chart-topping singles, but also for how she spends her money -- working to help the country's poorest children. Our Lee Cowan followed her home to South America, where she unveiled one big surprise:

She's sensual with a capitol S . . . a mainstream star with Latin roots who can bend where most of us just don't.
Those hips (from "Hips Don't Lie") made Shakira famous enough that she doesn't need a last name. And her unique mix of worldly rhythms has made her a true crossover sensation.
She was eight years old when she wrote her first song: "Yeah, I was quite dramatic," she told Cowan. "I was in love with this kid called Jose. So I wrote this love song that was like (laughing), you know, when I was only 8 years old, yeah, yeah, yeah!"
She's still writing love songs -- just a lot more steamy.
After a four-year hiatus, she's out with a new album this week that includes a duet with superstar Rihanna.
You can see why Shakira turns a lot of heads. Forbes Magazine counted Shakira as the fourth-richest woman in music back in 2008 -- and that was before her lucrative contract with NBC to be a celebrity coach on "The Voice."
But fame and fortune weren't enough.
"I wanted to become relevant," Shakira said. "I always felt that I could make a change, a difference, even if it was a small difference, I knew that I could do something."
That "something" started in her home country of Colombia, a place never far from her heart, and a place she invited us to show us something special.

Cowan met Shakira in Cartagena. Like many places in Latin America, it has two distinct faces. There's the tourist-friendly old city, with its colorful street vendors and street performers.
But then not far away is a slum. There is little in the way of proper plumbing or reliable electricity there, and for the children, school is often seen as a luxury -- something Shakira saw every day in her home town of Baranquilla, just 90 miles away.
"There's just so many kids growing up abandoned without any chance to get a fair start in life," she said.
"It seems like it almost makes you angry," said Cowan.
"It's crazy! What do we expect from these children then in the future? Where are they going to end up? In prisons? In gangs? Why don't we, you know, use our heads and our efforts intelligently? And to me, the only way to do that is with our own kids."
That determination was about to become very concrete. As she made her way through the dirt streets, fans cheered -- not for a concert, but for a brand new, state-of-the-art school, one Shakira helped build from the very first bricks.
"It is like an oasis," she told Cowan, "where the kids can actually grow up, feeling protected, healthy, away from drugs, away from trouble. Where kids can be kids."
Architecturally, it's a wonder, like a castle on a hill overlooking Cartagena.
There's enough room here for 1,700 kids who will be educated and fed while their parents get support and training.
It was impossible during our tour not to notice Shakira beaming with pride. It was pretty clear this is what being "relevant" means to her.
"It's a dream come true," Shakira said, two years after laying the first brick. "I put a lot of effort, and a lot of time, and convincing, but it's finally happened."
Early childhood education has been her passion ever since Shakira started her own charity, the Barefoot Foundation, named after her first major label album.
She was only 18 at the time, and a brunette, but the young pop star was as passionate about her music as she was about education.
Her foundation would build not one, but six new schools here in Colombia, as well as funding one in Haiti and another in South Africa.
"This fulfills me in another way, a deeper set of ways -- just gives purpose to my life," Shakira said. "I always ask myself, what was the real purpose to my life? I knew it was not to shake it endlessly, you know what I mean? There had to be more to it."
She's also a UNICEF global ambassador, and three years ago she was appointed to President Obama's Commission on Education for Hispanics.
"Does it ever get to the point where you just think, you don't have to do this?" Cowan asked. "Does it ever get overwhelming?"

"Yeah, it does get overwhelming, and sometimes I do want to simplify my life. And now I have a baby at home, and a man at home, so I have to kind of simplify things and let go of the reins a little bit."
It was her son Milan's first visit to Colombia. Shakira's boyfriend, Spanish soccer star Gerard Pique, was back home in Barcelona.
"Think you guys will get married?" Cowan asked.

"If I have to marry because someone said, 'Shakira, this is the only way you can be in a relationship,' I would marry him in a second. He's the one."
For sure? "Oh my God, yes," she laughed. "Have you seen him?"

It's clear family comes first, but her music and her charity work are tied for second.

While Shakira has proven she's a global superstar, it's that quest to make herself relevant that keeps driving her to new heights.

"There are a lot of people still that are not on board," she said, "so there's a lot of work to be done. Still a lot of convincing, a lot of talking, a lot of doing as well -- and many more schools to open."




For more info:
Thanks for reading CBS NEWS.
Create your free account or log in
for more features.