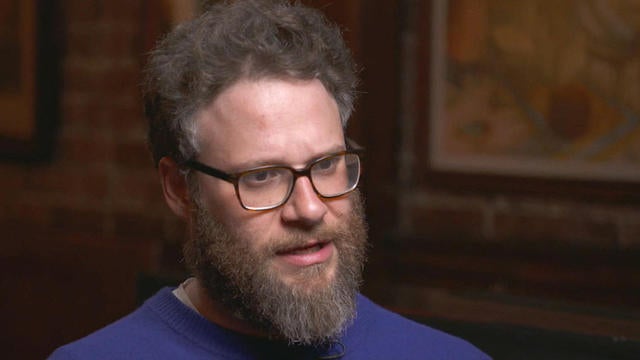 Seth Rogen doesn't think North Korea was behind the Sony hack
Seth Rogen is known for blockbuster comedies like "Knocked Up" and "The 40-Year-Old Virgin." But nothing got him more attention than when he took on North Korea and its leader in the irreverent comedy, "The Interview," which is about two tabloid journalists assigned to kill North Korean leader Kim Jong Un. The rogue nation was not amused.
Rogen spoke to CBS News contributor Jamie Wax about that "stressful" time in his life, his annual fundraiser for Alzheimer's research, "Hilarity For Charity," and his career.
"There was a few things that were upsetting about it," Rogen said of "The Interview," which sparked something of an international incident and triggered threats against movie theaters. "The way Sony was handling it was not good in my opinion. ... They wanted to pull the movie from theaters, I think, before it was a correct decision to do that. They were not backing us up."
The film was also widely-seen as sparking the Sony hacking scandal, when the corporation's private emails and other data was posted online. Many blamed North Korea. Rogen isn't so sure.
"Honestly, if you ask me, I don't think North Korea hacked Sony. I think it was someone who hated the Sony Corporation. And I honestly think for Sony, it's probably a better story that North Korea hacked them than someone who just hates them hacked them," he said.
"The Interview" was eventually released for home viewing through streaming services. Despite the stress it caused, he has no regrets about making the movie.

"If anything, I regret how I was convinced to talk about the film when it came out by Sony, who kind of tried to make us seem as though we weren't trying to make a controversial movie. And that it wasn't something that we intended to be incendiary, which is completely untrue. We knew exactly what we were doing. It was incredibly well-researched," he said.
What Rogen is perhaps less known for is the comedy-variety event he started with his wife back in 2012 called "Hilarity For Charity," which has raised millions to fight Alzheimer's disease. This year, the star-studded affair is available to stream on Netflix. It's a joint venture with his wife, Lauren Miller Rogen, whose mother Adele was diagnosed with Alzheimer's at just 55 years old.
"We really wanted to make a show where you don't know what's going to happen, where it's completely kind of unexpected from one moment to the next," Rogen said. "You know, we put a lot of thought into how to not make it feel like ... some, like, uptight, stuffy charity event."
"I was 25 at the time and felt very alone and scared and didn't feel like I had anyone to connect to who really understood what I was going through. And a few years into it we decided along with some friends to start this event. ... Doing this work has given us hope," Lauren said.
Seth added: "The charity really provided that. It made it feel like we were going from just watching terrible things happen to actively taking steps to try to stop those things from happening."
Rogen's story in the world of comedy began in Vancouver, Canada, where he started performing stand-up comedy when he was just 13 years old. It was around that time when he met his writing partner, Evan Goldberg, and the two started working on what would 11 years later become the movie "Superbad."

"A lot of the jokes, honestly, that we wrote when we were 13 were in the finished movie and are some of the funnier jokes in the movie. ... You know, it was written from such, like, a pure emotional place. Like, we were living it. ... Almost all of it was based on a party we went to one night, something that happened some weekend, something that happened at a dance," Seth said.

Seth's big break in front of the camera came when he himself was still in high school, landing a role in Judd Apatow's 1999 TV series "Freaks and Geeks." They continued to work together as his film career blossomed. The projects he's known for have pushed the boundaries of Hollywood standards.
"'Knocked Up' came out in the beginning of the summer. And then 'Superbad' came out at the end of the summer ... and basically, I went into that summer just being, you know, a guy who was really tryin' to make it in Hollywood. And I came out of it being a guy who had starred in an incredibly successful movie and written an incredibly successful movie."
"It completely changed my career," he said.
Despite his success, he remains surprised by the popularity of his animated film, "Sausage Party," which is about the lives of food items in a grocery store.
"I'm amazed any time anything we do does well. It's not lost on me. ... If there was, like, one movie I could have chosen to have that happen to, it's that one because we spent, like, 10 years making it. Which is way too long to make a talking hot dog movie, but that's what happened," Rogen said. "You should not spend more than six months making a talking hot dog movie. So I went 20 times longer than you should have."

Thanks for reading CBS NEWS.
Create your free account or log in
for more features.