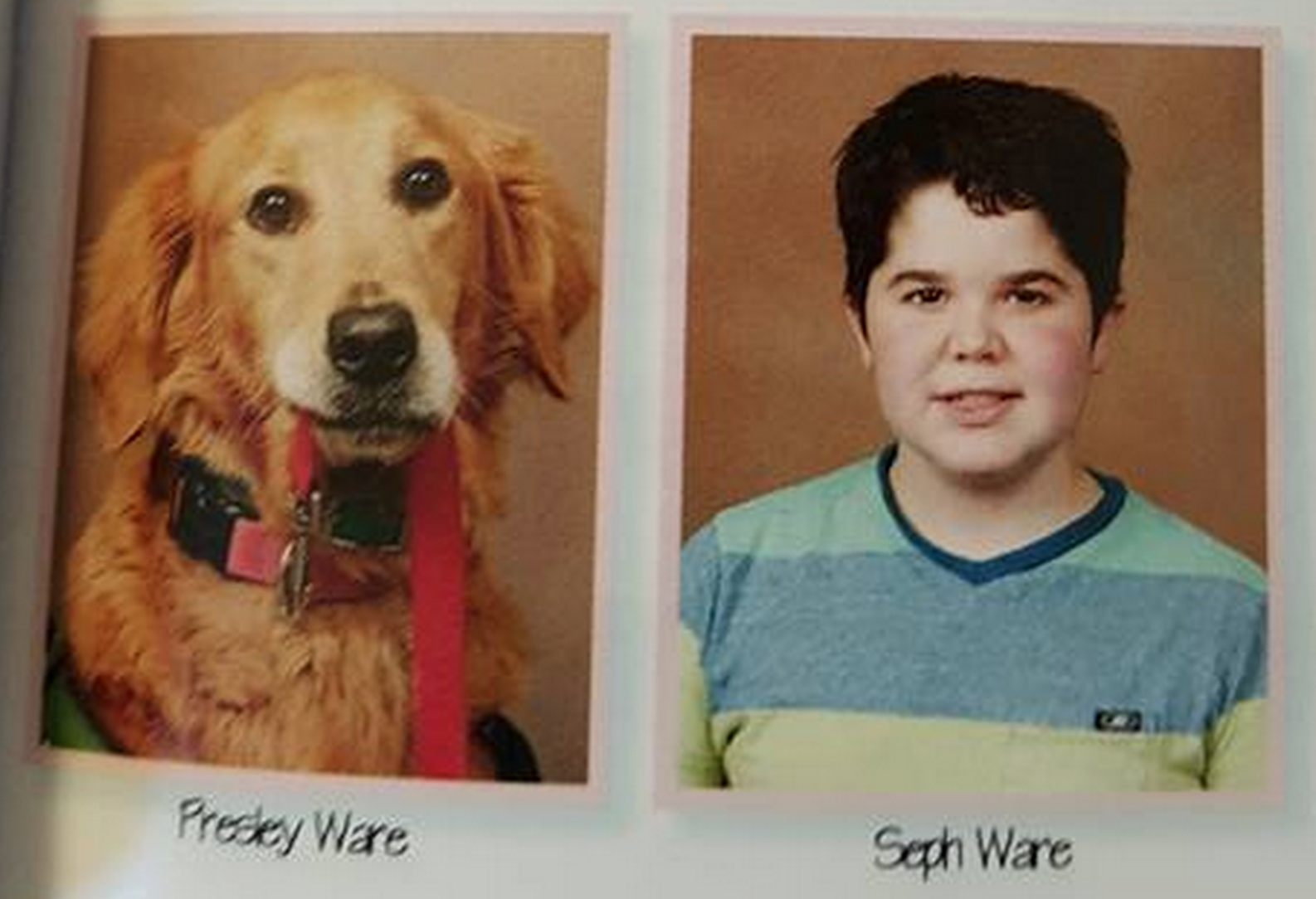 Service dog snags spot next to 7th grade owner in school yearbook
Presley may look like Air Bud, but you're more likely to find her lending a helping paw inside a classroom than on a basketball court.
The service dog goes to Good Hope Middle School in West Monroe, Louisiana, with seventh grade owner Seph Ware, who suffers from Duchenne muscular dystrophy. As the first and only service dog in both the school and the entire Ouachita Parish School District, Presely has quickly managed to fit right in.
"She's part of the school," Seph's mother, Lori Ware, told CBS News. "She makes him happy every day; she's sweet, loving and just a wonderful, wonderful best friend."
So, it's only fitting that Presley be included in the school's yearbook alongside her best friend.
When Seph finished posing for a school photo in September, the yearbook sponsor asked if she could feature the pup, too; Seph agreed.
"It took them about 10 minutes to get the picture right," his mom joked.
The dog proudly posed with her red leash in her mouth -- a gesture that is "so Presley."
Last week, the published yearbook was handed out to students ahead of summer break. In "typical" 14-year-old boy fashion, Seph shoved the yearbook inside his backpack and forgot to show his parents.
But it didn't take long for the picture to make its way to them -- and thousands of others -- via social media.
Another parent at the school posted a screenshot of the boy and his furry friend on Facebook and it went viral with more than 22,000 shares.
"A friend of mine sent me a link to it; I had no clue it was even posted," Seph's father, Joe Ware, said. "It just made me happy."
Ware was so tickled that he printed out a copy of the photo for his office.
One of Presley's main jobs is to help Seph with socialization, his mother explained.
With muscular dystrophy, a genetic disorder that causes muscle weakness, Seph moves a little slower than everyone else.
"Some people shy away from kids who are different," Lori said. "[With Presley,] instead of not having friends, they all flock to him."
Over the past three years, Presley's role in Seph's life has changed. As the disease causes more muscle weakness, Seph has trouble getting out of chairs or picking things off the floor. That's when Presley steps in.
"Some of the teachers have seen when Seph becomes unstable Presley will get up next to him and stabilize him," Lori said. "Not only has she helped from an emotional standpoint, but a physical standpoint as well."
Luckily, as the yearbook picture proves, Presley will always be by her boy's side.
Thanks for reading CBS NEWS.
Create your free account or log in
for more features.