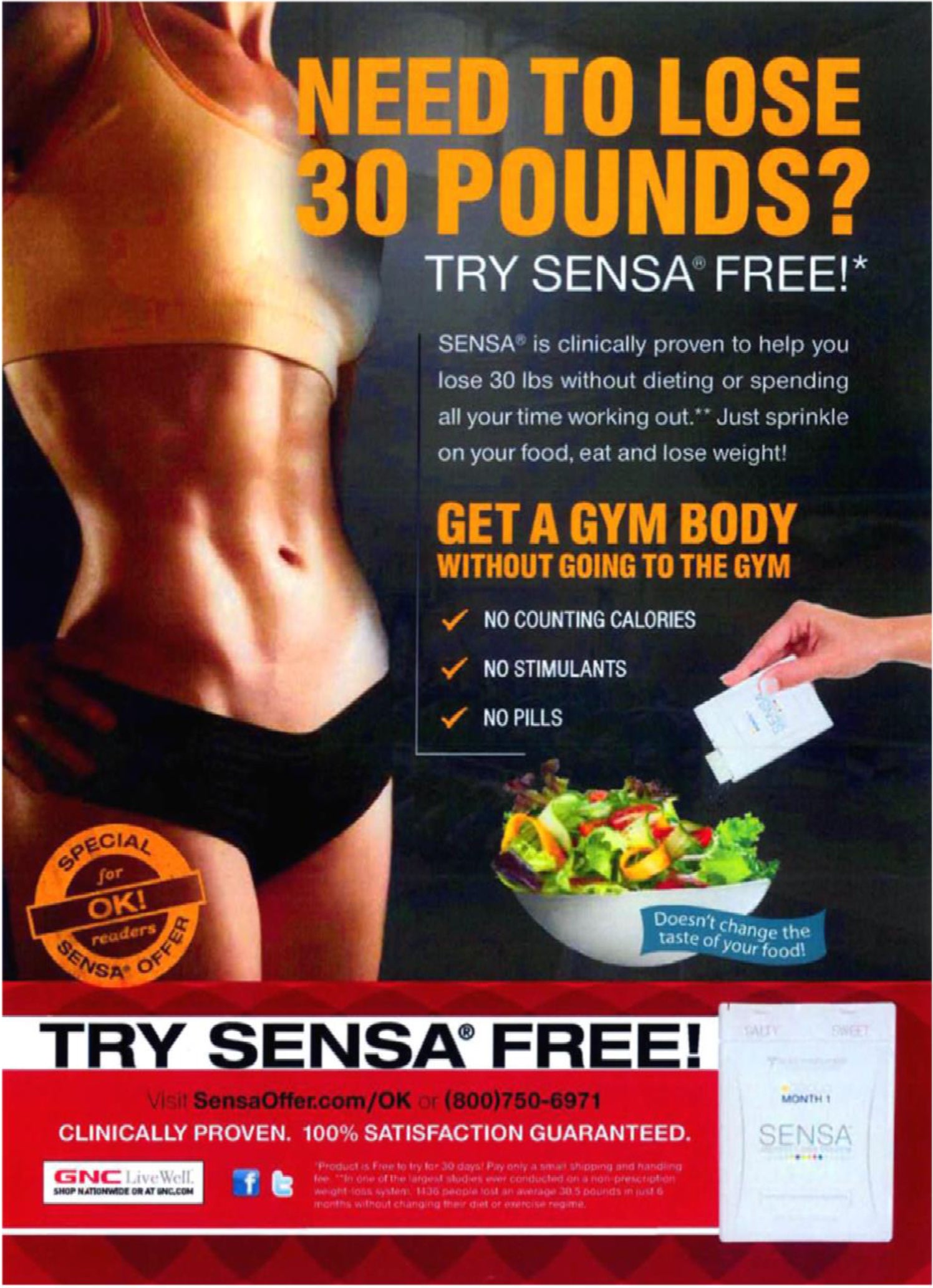 Sensa, L'Occitane, LeanSpa, HCG Diet Direct fined by FTC for false advertising
The Federal Trade Commission (FTC) is fining four companies that the agency claims used false advertising to sell weight-loss products.
The FTC said on Tuesday that the marketers of Sensa, as well as L'Occitane Inc., LeanSpa LLC, and HCG Diet Direct will face enforcement actions.
"The chances of being successful just by sprinkling something on your food, rubbing cream on your thighs, or using a supplement are slim to none," Jessica Rich, director of the FTC's consumer protection bureau, said in a statement. "The science just isn't there."
The action was part of "Operation Failed Resolution," FTC's campaign to stop false advertising of weight loss and slimming products. In total, all four companies will have to pay a total of $34 million toward consumers who bought their products.
The marketing company behind Sensa was ordered to pay $46.5 million, but was only determined to have the ability to pay $26.5 million to settle with the FTC. Sensa is a weight-loss supplement that comes in "salt" and "sweet" forms that its makers claim will reduce cravings if added to food.

The FTC said the company "exhorted consumers to 'sprinkle, eat, and lose weight'" but didn't have the scientific evidence to support these claims. The funds will go towards refunds for consumers who bought the product.

On average, they were charged $59 plus shipping and handling for a one-month supply of Senas. The company made $364 million between 2008 and 2012, according to FTC.
Sensa Products, LLC was also cited for compensating consumers who endorsed Sensa. The consumers received between $1,000 and $5,000 and free trips to Los Angeles for their statements. Sensa Products part-owner and creator Dr. Alan Hirsch, who provided expert opinion, was also said to make statements that were not backed up by scientific evidence.
Hirsch and company CEO Adam Goldenberg are banned from making any future weight-loss claims about dietary supplements, foods, or drugs unless it is supported by two controlled, human clinical studies. They cannot make any health-related claims unless they have scientific evidence, and must disclose any connection they have with any product they promote.

LeanSpa LLC promoted an acai berry and "colon cleanse" weight-loss supplement called LeanSpa through sites that were made to look like news organizations. LeanSpa's principal Boris Mizhen and three companies will give up $7 million worth of cash and assets, while Mizhen's wife, Angelina Strano, will be responsible for $300,000. Strano accepted money from the company, but did not participate in selling the product.
The company allegedly charged $79.99 for trying LeanSpa, and made it difficult to cancel recurring monthly shipments. The company can no longer bill consumers for products or services on a recurring basis unless they opt into that option.

They cannot also claim in the future that any of their products can cause fast and significant weight loss unless they have at least two clinical trails to make any claims.
Cases are still in the process against LeanSpa's affiliate network and two other defendants.
L'Occitane is being fined for a skin cream called Almond Beautiful Shape that allegedly would slim a person's body "1.3 inches in just 4 weeks," and another cream called Almond Shaping Delight that supposedly was clinically proven to slim the body as well. The company did not have scientific evidence behind these promises, however.

L'Occitane settled for a fine of $450,000. The company cannot claim any of its products have slimming qualities unless they are backed by two reliable scientific human clinical studies. They cannot also claim their products reduce cellulite, body fat or weight unless there is competent scientific evidence.
Lastly, HCG Diet Direct sold a human hormone that allegedly worked as a weight-loss treatment, but the claims have not been proven. The FTC's judgment against the company was initially for $3.2 million, but it was suspended because HCG Diet Direct has shown it cannot pay any fines.
HCG Diet Direct charged $35 for a 7-day supply or $200 for a 40-day supply of their HCG Diet Direct Drops. They made more than $3 million.
The company provided advertisements through YouTube videos, product packaging and videos on the company website with health claims that consumers could lose up to 1 pound a day if they took the product and ate a low calorie diet. The company also claimed the product was Food and Drug Administration-approved, and did not say that the people endorsing the product were paid or related to company members.
As part of the settlement, HCG Diet Direct cannot make any health claims about any dietary supplements, foods or drugs without reliable scientific evidence, and must disclose people who endorse the product and are related in some way to the company officials or that they are being paid for their statement.
The FTC said that consumers should always make sure that a company's weight-loss claims are true. For more information, see the FTC's Weight Loss & Fitness section.
Thanks for reading CBS NEWS.
Create your free account or log in
for more features.