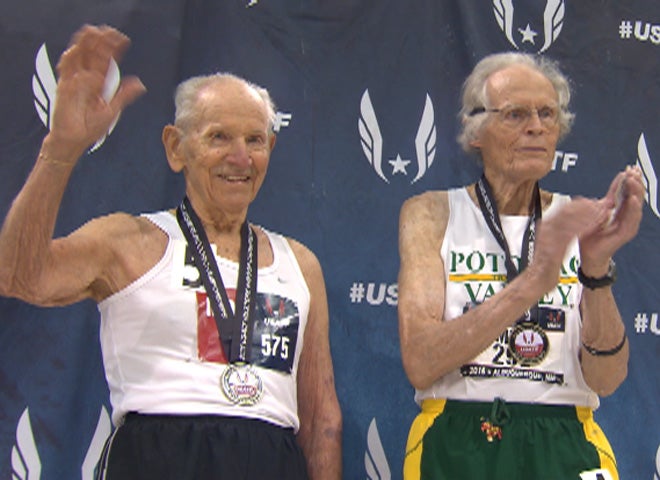 ​Senior athletes: Going the distance
The Olympics are in full swing in Rio this weekend with athletes getting faster and stronger it seems all the time. But as Lee Cowan explains in our Cover Story, it's not just Olympic athletes who are GOING THE DISTANCE:
If you're sitting on your couch, maybe after an extra waffle or two, and you haven't worked out in a while, this story may make you feel a little inadequate. But it may also inspire you -- after all, how could you NOT be inspired by someone like Dottie Gray.
On the day of her race, she was 90 years old -- says so, right on her leg.
"I race about 50 times a year, 50 runs," she said.
When Cowan caught up with her, she was competing in the World Senior Games in Southern Utah. Over the years she's more than once ended up being the fastest runner in her age group -- fastest in the world, that is....
She's won so many medals she jangles! And around almost any track she's a silver-haired celebrity.
"Keep moving, that's the main thing," she said. "And it doesn't matter how old you are. You can always start. You're never too old to start."
Orville Rogers didn't start running until he was in his 50s. He's now 98, just two years shy of a century, and still works out up to 10 hours a week.
Cowan asked, "What do you consider old?"
"Five years older than I am!" Rogers laughed.
He's broken 15 World Records -- shattering them the way most people his age might shatter a hip.
"To this day, Lee, I'm the only man in the world who's run a 10-minute mile after age 90," he said. "And I'm the only man in the world who has run a 15-minute mile after age 95. I'm bragging, aren't I?"
"You have every reason to brag!"
A pilot during World War II who later flew for Braniff Airlines, Rogers knows he's been pretty blessed with good genes. But he's not superhuman, either. Heart troubles have led to bypass surgery -- he even had a stroke not too long ago.
But his consistent level of physical activity and his unfailingly positive outlook on life have made Rogers a true-life man of steel.
"I have a determination to hang in there. Keep going. Never give up."
There are perfectly rational reasons to NOT want to exercise as you get older; it hurts, you're worried about falling, perhaps some of your friends aren't around to work out with. And yet it's pretty hard to argue with the results."
Take, for example, Dixon Hemphill, by far the oldest person at George Mason University's field house in Virginia.
He's 91. Pushing himself to stay active, he says, isn't always fun: "Sometimes these races I run, it's not easy. And I feel like quitting when I'm halfway through."
"But you don't."
"I don't, no!" he laughed.
He was an undefeated pole vaulter in high school, but that was way back in the 1930s. Other than golf and a little tennis, he didn't do much as he got older -- until one day he went to a track meet.
"I tried the mile, and I got about halfway through and started walking, and I looked around and saw these other people and figured, well, if they can do it I can."
He hasn't stopped running since.
And we wanted to see just what effect that determination has had on his body.
With his doctor's permission, Cowan brought him to the Department of Exercise and Nutrition Sciences at George Washington University, where a machine scanned just how much body fat Hemphill has been carrying around.
He was deemed a "perfect specimen." His 14% body fat matched that of an athletic 20-year-old.
Loretta DiPietro, professor and chair of the Exercise and Nutrition Department, wanted to give Hemphill a VO2 Max test.
The test, one of the best indicators of physical fitness, measures how efficient his body is at using oxygen. He has to push himself to his breaking point -- and remember, he's 91 years old!
Not surprisingly, he scored better than many people thirty years younger.
We all can't be Dixon Hemphill, or Orville Rogers, or Dottie Gray -- they are all exceptions.
"I was hoping to compete until I was 90," said Gray. "Well, now I've made that. So, I'll go on maybe, hopefully a few years."
But for the rest of us, as we lose muscle mass, the effects of low physical activity are increasingly pronounced.
"Much of the aging-related decline in physical function is similar to what we observe from astronauts when they come down from extended space flight," said DiPietro.
"Do your muscles start essentially atrophying and wasting away?" asked Cowan.
"Absolutely, yes."
DiPietro says almost anybody -- even as late as their 70s or 80s -- can not only cheat old age but may also substantially reduce their risk of Alzheimer's and dementia by doing something as simple as walking.
"What we've noticed with two decades of aging research is those people who remain active, their rate of decline is much slower," she said.
At the USA Track and Field Indoors Masters Championships in Albuquerque, New Mexico, this past March, the best of the oldest came out to prove age is just a number. Hemphill and Rogers wouldn't miss this for the world.
"It's hard not to get excited," Rogers said.
His excitement was infectious, as was his performance. In the 1500-meter he broke another World Record. Truth is, he SET the record -- no one 95 or older has ever raced it.
In the 400-meter race for men over 90, it was just Rogers and Hemphill alone competing.
By their last lap they had the crowd on their feet.
Dixon, seven years Rogers' junior, beat him -- and was waiting for him at the finish line with a handshake.
Cowan exclaimed, "But you don't even seem winded!"
"Well, now I'm okay, but well, I wasn't that winded because it's not that long of a distance," said Hemphill. "I can handle that pretty well."
You can't help but be around the two of them and not feel empowered. Rogers and Hemphill took the medal stand side by side -- nearly 200 years of life experience between them.
For them there is no finish line ... just the next race, and their ageless desire to run it.

For more info:
Thanks for reading CBS NEWS.
Create your free account or log in
for more features.