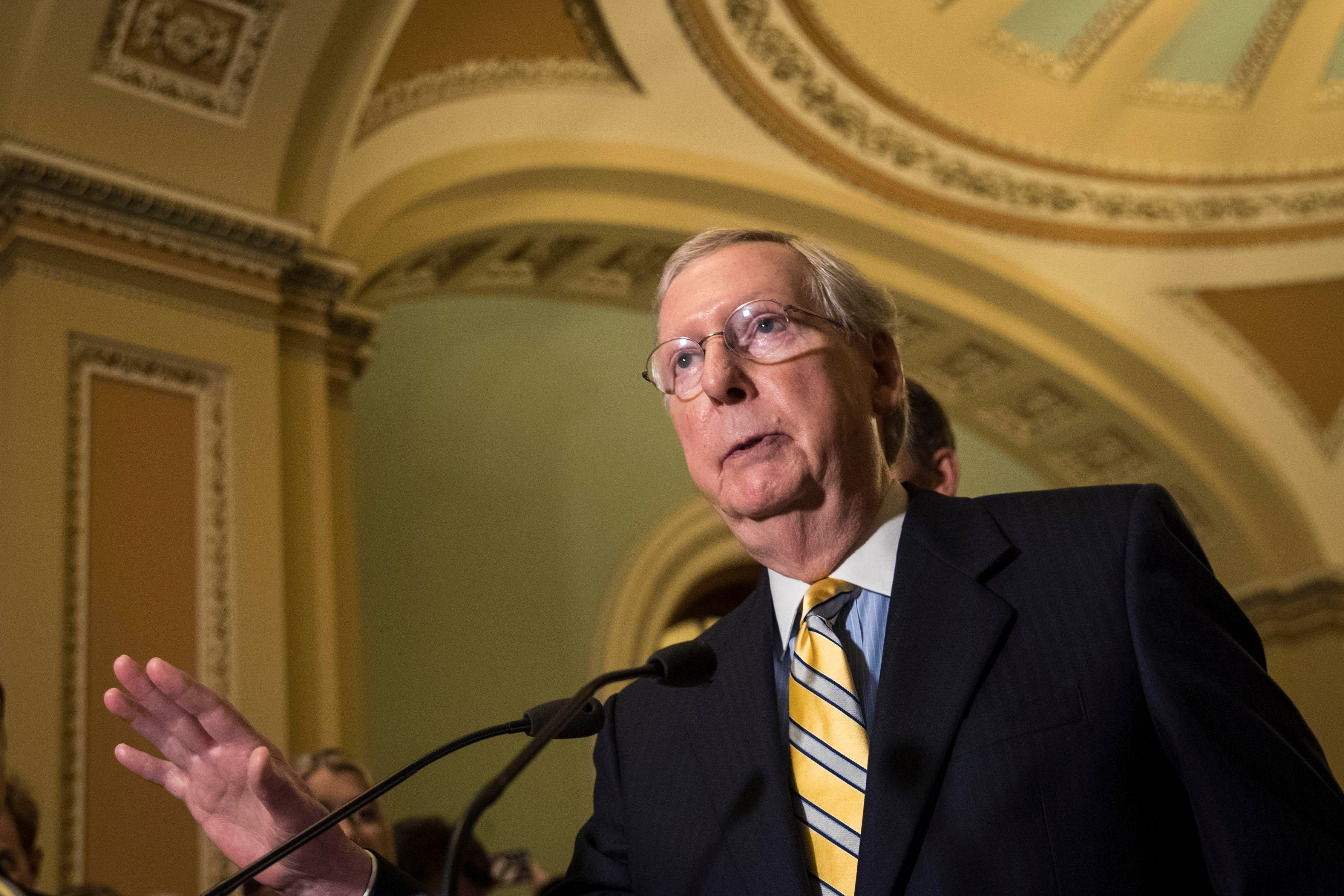 Senate Republicans delay August recess to tackle unfinished agenda
Senate Majority Leader Mitch McConnell announced Tuesday that he is canceling the first two weeks of a scheduled August recess in order to tackle the GOP's unfinished agenda.
"In order to provide more time to complete action on important legislative items and process nominees that have been stalled by a lack of cooperation from our friends across the aisle, the Senate will delay the start of the August recess until the third week of August," the Kentucky Republican said in a statement.
McConnell announced the schedule change during a closed-door lunch with the Senate GOP Conference that both Vice President Mike Pence and Kellyanne Conway, an adviser to President Trump, attended. Speaking to reporters afterward, he blamed Democrats' "obstructionism" for the recess decision.
Congress is typically scheduled to be on break and back in their districts for the entire month of August. The Senate was originally set to leave Washington at the end of this month. In addition to health care, McConnell pointed to a defense authorization policy bill, the debt ceiling deadline and nominations as items to tick off of their agenda before they leave Capitol Hill.
A small but vocal group of Senate Republicans had been calling on McConnell to cancel all or a portion of their recess. It's unclear what this means for the House and if Speaker Paul Ryan, R-Wisconsin, will follow the Senate's lead. The conservative House Freedom Caucus applauded the Senate's move Tuesday, and said in a statement, "We call on House leadership to do the same."
Senate Republicans have struggled to coalesce around a plan to repeal and replace Obamacare. McConnell was forced to postpone a vote on their original health care bill before the July 4 recess. This Thursday, two different health care measures will be unveiled -- one with a proposal from Sen. Ted Cruz, R-Texas, that's been endorsed by the White House and one that excludes it, according to Sen. Bob Corker, R-Tennessee.
"We'll be on health care next week. We'll be laying out a revised version of the repeal and replace effort -- the text of that -- on Thursday morning," McConnell told reporters Tuesday, adding that he hopes to have a Congressional Budget Office (CBO) score at the beginning of next week and a vote to proceed to debate the bill.
Corker said he's "all for voting" even if leadership lacks the votes at first, adding, "I just can't imagine not voting to proceed to a bill when you have an open amendment process."
Sen. John Thune, R-South Dakota, admitted to reporters that it's a tricky line to walk as leadership tries to cater to both conservatives and moderates.
"Every time you move the dial in one direction ,you maybe add some new members and maybe you lose a couple over here and I think right now we're trying to find the sweet spot," he said.
Asked if Cruz's amendment is the sweet spot, Thune suggested that the CBO's score of the proposal will be an important factor in lawmakers' decisions.
"The goal is to try to get some governors involved who have been critical and to see if they can be supportive. You get supportive governors, the next thing you'll know you'll have supportive senators," said Sen. Lindsey Graham, R-South Carolina, who added, "I think the best we can do is not on the table right now."
Thanks for reading CBS NEWS.
Create your free account or log in
for more features.