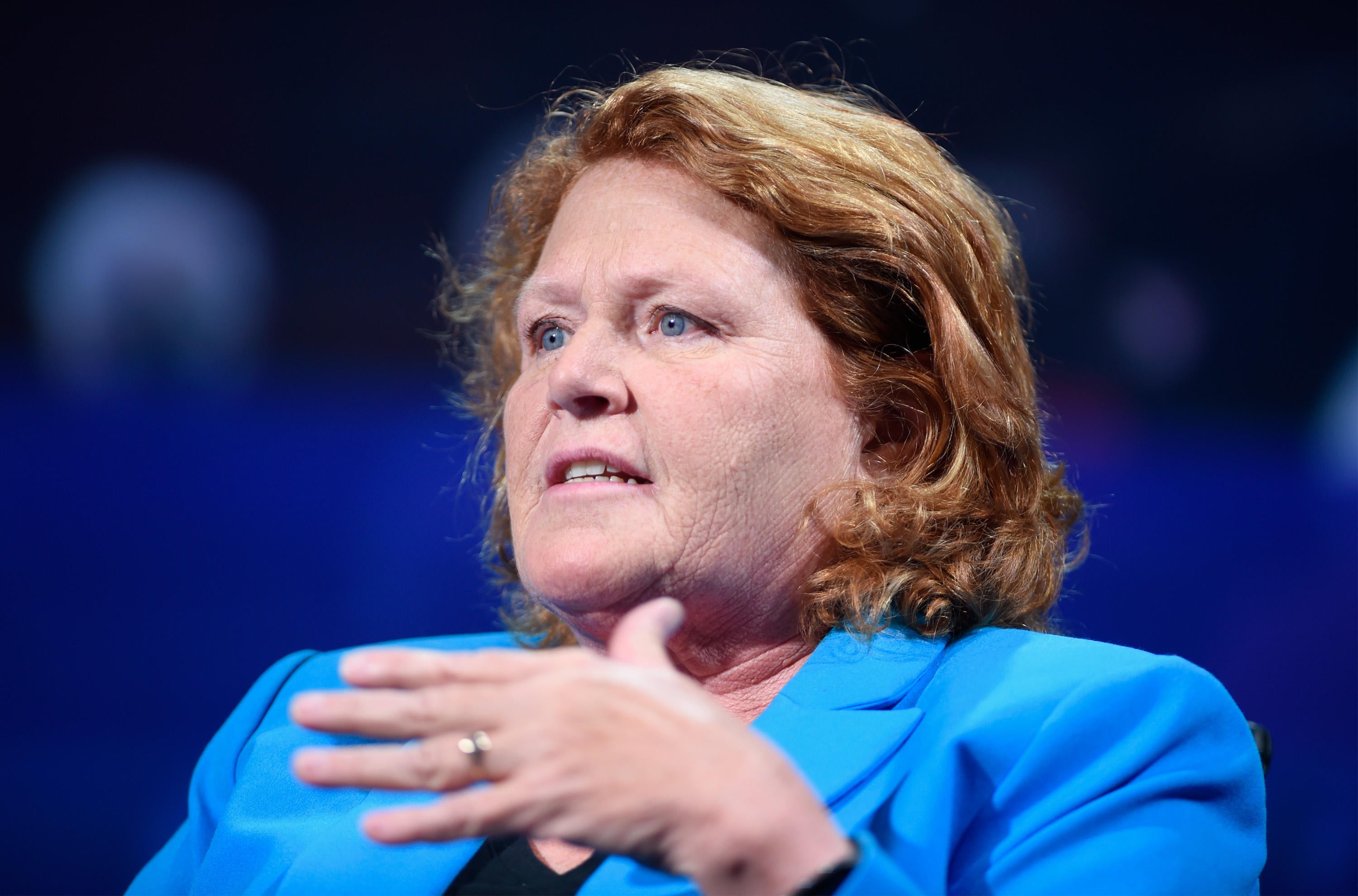 Sen. Heidi Heitkamp, who will vote no on Kavanaugh, raises significant funds in 3rd quarter
North Dakota Sen. Heidi Heitkamp is one of the most vulnerable Democrats up for re-election in North Dakota, and her poll numbers against Republican Kevin Cramer continue to drop. As a red state Democrat, Heitkamp was considered to be a significant swing vote in the confirmation of Supreme Court nominee Brett Kavanaugh. Yet Despite her difficult battle for re-election, Heitkamp told a North Dakota ABC affiliate on Thursday that she would not vote for Kavanaugh.
"I will be voting no on Judge Kavanaugh," Heitkamp said, explaining that the confirmation process "has been bad," but "at the end of the day you have to make a decision."
Heitkamp voted to confirm President Trump's previous pick for the Supreme Court, Neil Gorsuch. In a statement, Heitkamp explained why she chose to support Gorsuch and not Kavanaugh.
"I voted for Justice Gorsuch because I felt his legal ability and temperament qualified him to serve on the Supreme Court. Judge Kavanaugh is different. When considering a lifetime appointment to Supreme Court, we must evaluate the totality of the circumstances and record before us. In addition to the concerns about his past conduct, last Thursday's hearing called into question Judge Kavanaugh's current temperament, honesty, and impartiality," Heitkamp said, referring to Kavanaugh's broadside against Democrats in his testimony before the Senate Judiciary Committee last week.
Heitkamp also made an overture to Mr. Trump, saying that she was "ready to work with the president to confirm a nominee who is suited for the honor and distinction of serving this lifetime appointment."
Heitkamp's campaign released fundraising numbers for the third quarter on Thursday, revealing that it raised more than $3.8 million between July and October, which her campaign website called the "single largest fundraising haul in North Dakota history." She has raised over $14 million in the election cycle. According to the Associated Press, GOP canidate Rep. Kevin Cramer will release his 3rd quarter fundraising results next week.
The influx of campaign cash is welcome news for national Democrats, as polls have shown Heitkamp as the underdog in her race. A Fox News poll released on Wednesday showed Heitkamp 12 points behind Cramer, with 41 percent support among likely voters, compared to 53 percent support for Cramer.
The poll also revealed that 34 percent of likely voters said that they would be less likely to support Heitkamp if she voted against Kavanaugh's nomination, compared to 17 percent who said they would be more likely to support her. Forty-six percent of likely voters said that her vote would make no difference.
Thanks for reading CBS NEWS.
Create your free account or log in
for more features.