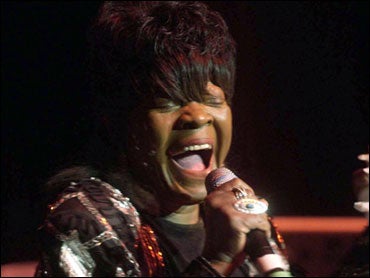 Seeking Secret Of S.F. Sourdough
Renowned chef Bobby Flay got an idea he thought was more than half-baked: During a recent trip to San Francisco, he would try to track down the secrets of the city's famous, uniquely tart, tangy – sourdough.
Flay, a frequent contributor to The Early Show, fills in viewers of CBS News' Sunday Morning on whether his idea rose to a level of success.
---
Let me say this up-front: I love bread. And for my money, nothing beats the tart and tangy bite of San Francisco sourdough.

So when I rolled into town a few days ago, I set out on a mission: to find out what makes San Francisco sourdough so -- sour.

My first stop -- along with every other tourist in town -- was Fisherman's Wharf, where they sell hundreds of loaves of sourdough every day, to accompany their famous cracked crab and clam chowder. Someone here has got to be able to clue me in, I figured.

Person after person, cook after cook turned me away. "It's a secret! The bakers don't give it to us!" one cook exclaimed.

If it's a baker's secret I'm looking for, then I might as well go back to square one, which for San Francisco sourdough means the Boudin Bakery.I've been told this is where I'll find the holy grail of sourdough.

The dough they use is more than 155 years old! That's right: Boudin's bakers have kept this mixture of flour, water and yeast alive-and-kicking since 1849.

Dan Giraudo, whose family owns Boudin, told me they use the so-called 'mother dough' to start every one of the 20,000 loaves they bake each day. All genuine sourdough makers use starter dough like it, but none has the same history - or flavor.

They showed me how to shape sourdough, but they weren't willing to share their mother dough, so I'm gonna have to learn to start my own. And for that, I called on Steve Sullivan - owner of Acme Bakery.

Acme's Steve Sullivan told me they use equal weights of flour and water: Two pounds of flour, two pounds of water.

Steve is the godfather of a new breed of San Francisco area bakers who rely on pure and simple ingredients, all made by-hand.

Steve's a real bread artist - but somehow, i get the feeling he's holding something back...
So, I asked, "You're telling me this is the whole secret to-- to your great bread? Just flour and water? I mean…"

"Well," Sullivan interrupted, "and -- paying attention to what happens to the flour and the water and the yeast. And-- and-- you know, the texture and the activity and the temperature and the timing. So…," he broke into laughter.

So the answer is yes and no, I asked.

"But there's no -- there's not a secret ingredient, if that's what you want," Sullivan insisted.

If the baker's aren't gonna clue me in, then maybe I can get the lowdown from Karen Kalumuck, a biologist at the Exploratorium Science Education Center.

"It's yeast and bacteria," she explained. "They eat sugars. And they take out the energy and they have waste products. Or to put it a little more delicately, metabolic byproducts. And it's actually those metabolic byproducts that give the sourdough bread, and especially the San Francisco sourdough bread, its unique character and its appealing taste. So what we've got is actually an ecosystem in there, in the dough. And we've got a yeast that's called-- it's called candida milleri. And we've got a bacterium called lactobacillus San Francisco," she laughed. "And they-- they live in great harmony."

So let me try to repeat that: San Francisco sourdough tastes sour because of a unique local bacteria called lactobacillus San Francisco. That, and a yeast called candida milleri are the real secret to San Francisco sourdough bread.
In other words, the secret ingredient is no secret at all: It's blowing in the wind. Mix flour and water, expose it to the San Francisco air, and you're on your way to making sourdough.

With a little more research, I uncovered something else: Before commercial yeast was introduced back in the 1860s, all bread, everywhere, was sourdough.

That's because the word 'sourdough' doesn't so much describe the taste, but the way bread is made, using nothing but yeast and bacteria naturally present in the air.

Some call it "wild" yeast -- you gotta love that -- and wild yeast is what makes San Francisco's bread so different from sourdoughs made in Sao Paulo or St. Petersburg or even Salt Lake City.

I also spoke with Kathleen Weber, who runs the Della Fattoria Bakery on a former chicken farm in Petaluma, about an hour north of San Francisco. It's literally a mom and pop operation: her husband, Ed, helps sell the bread at weekend farmer's markets.

The Webers do things the really old-fashioned way: Using wild yeast, they make just 500 gorgeous loaves per day in their wood-fired ovens.

They intentionally reproduce bread the way it was done hundreds of years ago. The Webers call it a "kind of an archeological kind of bread" -- "Once you taste really good bread, you're not gonna go back and have that flat stuff," they say.

To get a taste of the wild west served to me on a plate, I dropped in on Judy Rodgers at her legendary Zuni Café. She whipped up one of her famous Cesar salads, using her favorite ingredient -- stale bread.

Her James Beard Award-winning "Zuni Cafe Cookbook" is available at Amazon.com.

"Stale isn't a bad word," Rodgers says. "It-- it sounds bad in English. It's pejorative. But it's firmed up; some of the-- the-- the high notes are softened a little. And you can really taste the wheat. It has a wonderful mouth feel. And it-- it's not that gummy, sticky feeling."

Judy may go wild with the her seasonings, but this is one San Francisco chef who thinks there are limits to the use of sourdough: "For cooking, I don't use sourdough bread, mostly because I find…if you take a nice strong sourdough and you heat it up, the tanginess gets a little too tangy. …It can overpower the other flavors I'm using, even though the other flavors are anchovies and capers and garlic.

In his story, Flay also mentions CUESA – the Center for Urban Education About Sustainable Agriculture -- a sponsor of the San Francisco Ferry Plaza Famers Market, and the Sourdoughs International page.

Thanks for reading CBS NEWS.
Create your free account or log in
for more features.