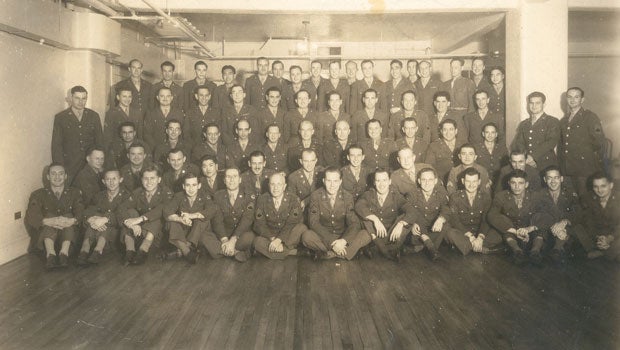 Secret WWII camp interrogators say torture wasn't needed
During World War II, the U.S. military interrogated high-level Nazis at a secret camp outside of Washington D.C. but interrogators did not use torture, according to researchers who have combed through classified documents and interviewed dozens of wartime interrogators.
The camp, known as "P.O. Box 1142," predated the CIA and was run by military intelligence services and the Naval intelligence service. Young German Jewish men who had escaped Nazi Germany were recruited to interrogate the prisoners.
"You don't get people to talk by beating them or waterboarding or anything of that nature," said Rudolph Pins a 94-year-old former Nazi interrogator told CBS News' Seth Doane. He said that in contrast, the strategy was to make the prisoners comfortable so they would talk, "If you make life for certain prisoners fairly easy, they will relax," he explained.
Interrogation transcripts from PO Box 1142 at the National Archives in Maryland show interrogators were trained not in torture tactics, but in techniques that would gain the trust and confidence of the prisoners. One interrogation viewed by CBS News showed this strategy in play:
Interrogator: Come in. Good morning. Would you like to take a seat?
Prisoner: Thank you.
Interrogator: Due to a misunderstanding you were brought into the wrong room. That was my fault, not your fault. How did you sleep?
Prisoner: Good.
Interrogator: Were you warm enough?
Prisoner: Very warm, almost too warm.
National Park Service Ranger Brandon Bies interviewed over 70 former interrogators from PO Box 1142 on the topic and said: "To our knowledge, no. There was no torture here. This is a question that was asked in every interview the [Park Service] conducted, and we have found no evidence that there was anything remotely resembling torture that happened here."
However, interrogators did use psychological tricks.
Uncooperative prisoners were told that if they did not cooperate they would be turned over to the Russian military. Interrogators even went so far as to dress in Russian military uniforms to convince the prisoners they would soon be transferred to Russian officials who promised rougher treatment.
A few years into his research Bies says he was contacted by the Defense Intelligence Agency asking if they could arrange a meeting to discuss the interrogation tactics used at PO Box 1142. Bies says he met with agents from the D.I.A. half a dozen times to review newly declassified documents and discuss what he had learned from the interrogators.
In Bies' research he also reached out to former Nazi prisoners to hear their impressions of the camp.
Anthony Leonhardt was a guard at a Nazi work camp who was later held prisoner at PO Box 1142. He told Bies that he recalled one prisoner being hit and it was reported to the Red Cross.
Leonhardt said during his stay at PO Box 1142 he was only interrogated once. He said interrogators showed him pictures of concentration camps but he told Bies he thought the images were doctored.
In addition to the World War II interrogation camp in Washington, the military also ran camps in North Africa, Italy, Southern France, Northern France and England. Prisoners from the Pacific theater were taken to a camp in Northern California called Camp Tracy according to documents at the National Archives.
The camp near Washington DC was bulldozed in 1946 and all of the documents were either destroyed or classified. They were gradually declassified in the last ten years.
Thanks for reading CBS NEWS.
Create your free account or log in
for more features.