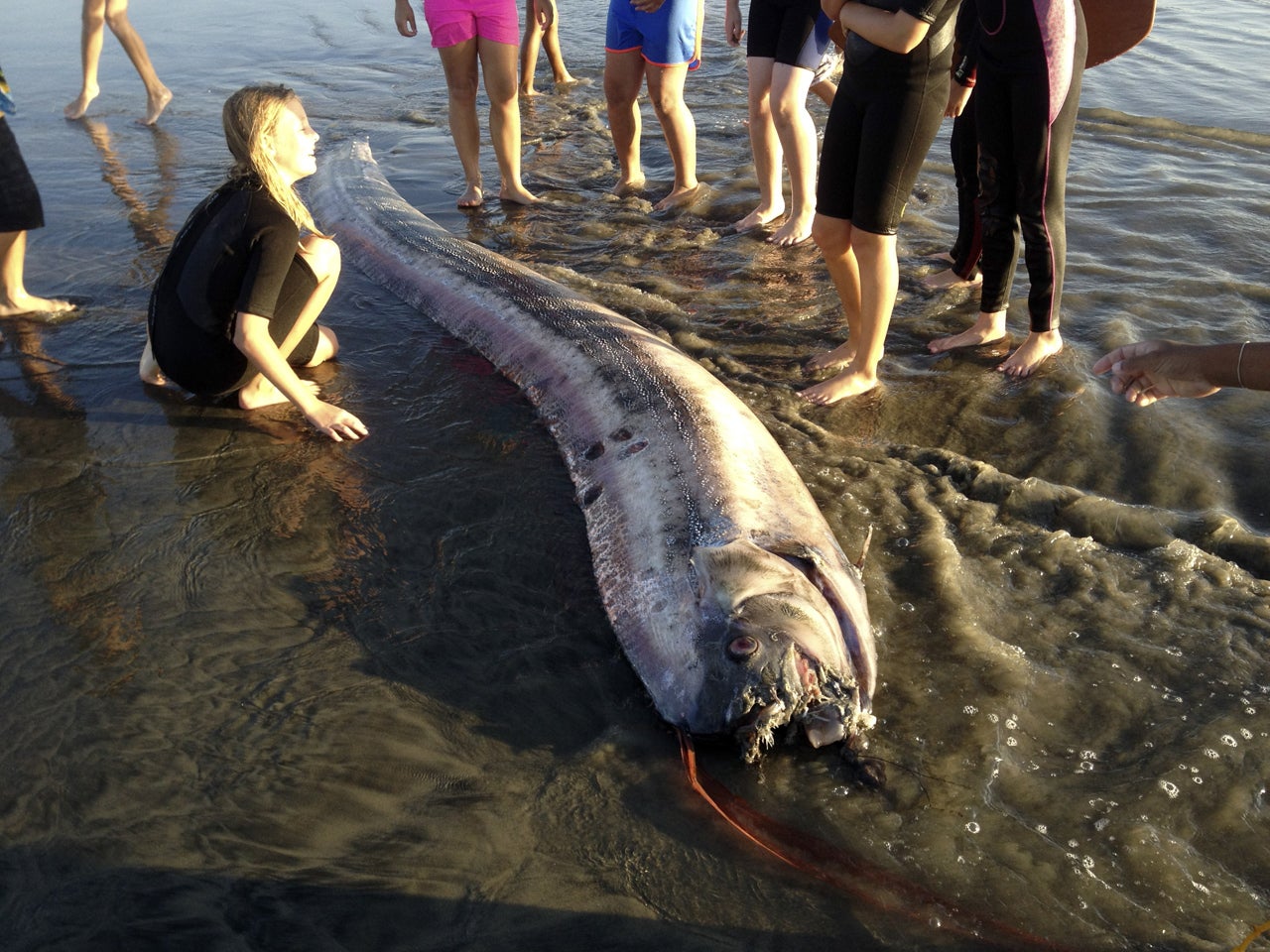 Second giant "sea serpent" oarfish found in California
OCEANSIDE, California For the second time in less than a week, a "sea serpent" has attracted gawkers on a Southern California beach.
This time the rare, snakelike oarfish washed up Friday afternoon in Oceanside. The newspaper U-T San Diego reported that it measured nearly 14 feet long and attracted a crowd of up to 75 people.
Oceanside police contacted SeaWorld San Diego, The Scripps Research Institute and the National Oceanic and Atmospheric Administration. Someone from NOAA retrieved the carcass, which was cut into sections for later study.
While it's unusual to find the deep-water fish near shore, on Sunday, Oct. 13, a snorkeler off Catalina Island found an 18-foot long oarfish and dragged it onto the beach with the help of a dozen other people.
That specimen was spotted in water about 30 feet deep, and apparently died of natural causes. Tissue samples and video footage were sent to be studied by biologists at the University of California, Santa Barbara.
"We've never seen a fish this big," Mark Waddington, senior captain of the Tole Mour, the Catalina Island Marine Institute's sail training ship, said at the time. "The last oarfish we saw was three feet long."
According to the institute, oarfish can grow to more than 50 feet, making them the longest bony fish in the world.
Because oarfish dive more than 3,000 feet deep, sightings of the creatures are rare and they are largely unstudied.
They are likely responsible for sea serpent legends throughout history.
Thanks for reading CBS NEWS.
Create your free account or log in
for more features.