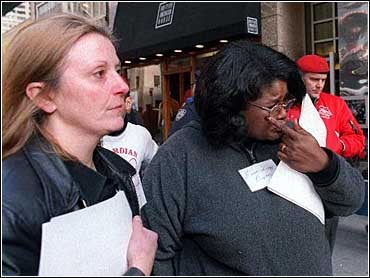 Sears Pulls Benetton Line
Sears Roebuck is canceling a contract with Italian clothing company Benetton and removing all Benetton clothes from every Sears store, reports CBS News The Early Show's Julie Chen.
It's the strongest sign yet of anger with Benetton's latest controversial ad campaign. The ads, which show death row inmates and tell their life stories, have sparked protests from people whose relatives were killed by inmates pictured in the ads. The family members accuse Benetton of glorifying convicted murderers.
"They had free will. They could have beaten the kids up, robbed the people, but these people chose to take their lives," said Cindy Finley of Springfield, Ore., mother of murder victim Patrick Finley. "Benetton is forgetting. They haven't even remembered the families or the victims."
Death row inmate Conan Hale, who is featured in the Benetton ad campaign, was sentenced to death for his role in the 1995 murders of three teen-agers in Springfield, Ore.
Earlier this month, Mark Major, a Benetton spokesman, defended the campaign during an appearance on CBS News The Early Show. At the time, he said, "This campaign is about capital punishment. We decided to move forward with it, just about capital punishment. The issue wasn't whether these guys have done horrendous crimes. They have. I think most of us would realize that if they are on death row."
The ads, which began appearing in magazines and on billboards last month, feature portraits of American death row inmates in prison uniforms over the words, "Sentenced to Death." The ads also give the inmate's name, date of birth, crime and expected method of execution.
On Wednesday, groups picketed a Houston Sears store and Benetton's New York office. Hours later, Sears announced it would immediately pull Benetton-designed clothing from all 400 Sears stores that have been selling the Benetton USA line.
Among the 26 killers shown in the ads is Victor Taylor, who beat, sodomized, and fatally shot 17-year-old Scott Nelson and his friend after the two got lost while on their way to a football game in Kentucky in 1984.
"We have been hearing from people who have lost loved ones to some of the folks who have been profiled," said Sears company spokesman Tom Nicholson. "It's reopened wounds and brought back a lot of painful memories and people are hurt by it."
Thanks for reading CBS NEWS.
Create your free account or log in
for more features.