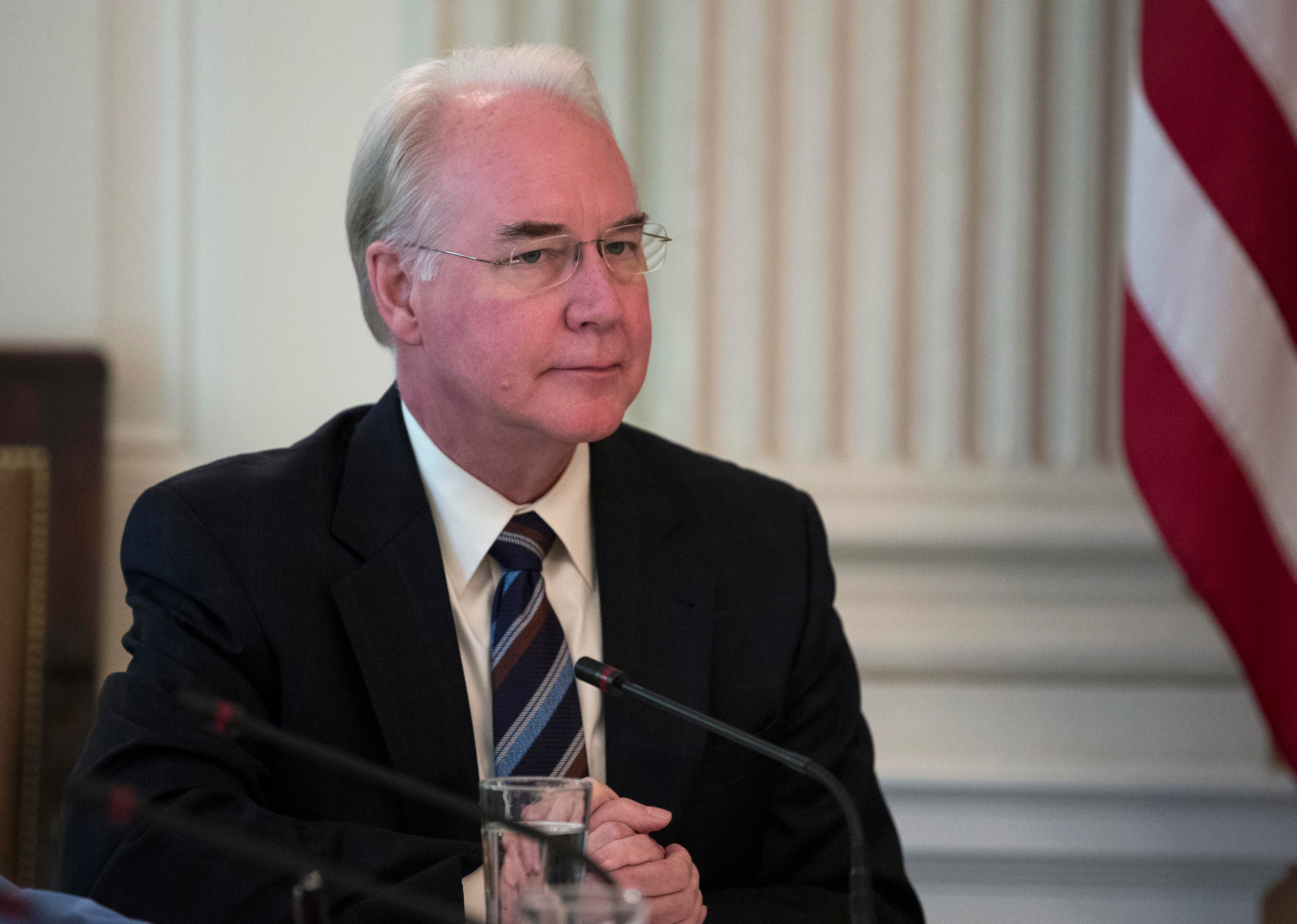 Search begins for Tom Price's replacement at HHS
President Trump is seeking a new health secretary to take the place of Tom Price, ousted after an outcry over flying on costly private charters for official travel.
The Health and Human Services chief oversees a $1 trillion department, with 80,000 employees and jurisdiction over major insurance programs, advanced medical research, drug and food safety, public health, and disease prevention.
The administration will also have to contend with renewed scrutiny of cabinet members' travel. Following news reports about Price, the House Oversight and Government Reform Committee launched a governmentwide investigation of travel by top political appointees. Most travel requests for federal officials must now go through White House Chief of Staff John Kelly.
Mr. Trump has named Don J. Wright, a deputy assistant secretary of health, to serve as acting secretary.
Mentioned as a possible permanent successor to Price is Seema Verma, a protege of Vice President Mike Pence. She now leads the Centers for Medicare and Medicaid Services, an HHS division that runs health insurance programs covering more than 130 million Americans.
Another possible HHS candidate is Food and Drug Administration Commissioner Scott Gottlieb, who won some bipartisan support in his confirmation and is well known in policy, government and industry circles.
The immediate challenge for HHS leadership is to manage the 2018 open enrollment season under the Obama-era Affordable Care Act, which Mr. Trump and the GOP-led Congress have been unable to repeal, despite repeated promises. Democrats and some Republicans are now looking to stabilize the health care market, although Mr. Trump says he wants to return to Obamacare in the near future.
Back in July at the National Scout Jamboree in West Virginia, Mr. Trump suggested he might fire Price if he didn't work Capitol Hill to repeal and replace Obamacare. At the time, Mr. Trump said if Price didn't "get" the votes needed to kill "this horrible thing known as Obamacare ... I'll say Tom, you're fired."
Price, 62, a former GOP congressman from the Atlanta suburbs, resigned Friday afternoon. His pattern of costly trips triggered investigations that overshadowed the administration's agenda and angered his boss. Price's regrets and promise of a partial repayment couldn't save his job. When he was in Congress, Price preached fiscal conservatism, and criticized then-Speaker of the House Nancy Pelosi's private jet travel.
Price served less than eight months.
Price isn't the only secretary under fire for his travel expenses. The Treasury Department's inspector general is looking into Treasury Secretary Steve Mnuchin's travel after he reportedly used a government plane to view the eclipse. Environmental Protection Agency head Scott Pruitt is also under scrutiny for spending more than $58,000 on taxpayer-funded non-commercial flights, CBS News has reported.
On Friday, Mr. Trump called Price a "very fine person," but added, "I certainly don't like the optics" around his travels.
Price said in his resignation letter that he regretted that "recent events have created a distraction."
Privately, the president had been telling associates in recent days that Price was overshadowing his tax overhaul agenda and undermining his campaign promise to "drain the swamp" of corruption, three people familiar with the discussions told the Associated Press.
Price's promised repayment of $51,887.31 for his own travel costs did not placate the White House. The total travel cost, including the secretary's entourage, could amount to several hundred thousand dollars. Price also reportedly took military jets for overseas trip with his wife, in excess of $500,000, according to Politico. HHS has not responded to CBS News' request as to whether the check was officially issued.
An orthopedic surgeon turned politician, Price rose to chairman of the House's budget committee, where he was known as a fiscal conservative. When Price joined the administration, Trump touted him as a conservative policy expert who could write a new health care bill to replace the Obama-era Affordable Care Act.
But Price became more of a supporting player in the GOP's futile health care campaign, while Vice President Mike Pence took the lead, particularly with the Senate. The perception of Price jetting around while GOP lawmakers labored to repeal the Obama health law — including a three-nation trip in May to Africa and Europe— raised eyebrows on Capitol Hill.
But House Speaker Paul Ryan, R-Wis., said Friday that Price had worked hard to help that chamber pass its plan before the GOP effort reached an impasse in the Senate. "I will always be grateful for Tom's service to this country," he said. Ryan offered no negative words about Price after the resignation.
Democrats were glad to see Price go. Some urged Mr. Trump to appoint an HHS secretary who would reach out to them.
"I hope President Trump learns from this mistake, and looks to appoint someone who can work in a bipartisan way to strengthen health care for all Americans," said Rep. Frank Pallone, D-N.J.
Thanks for reading CBS NEWS.
Create your free account or log in
for more features.