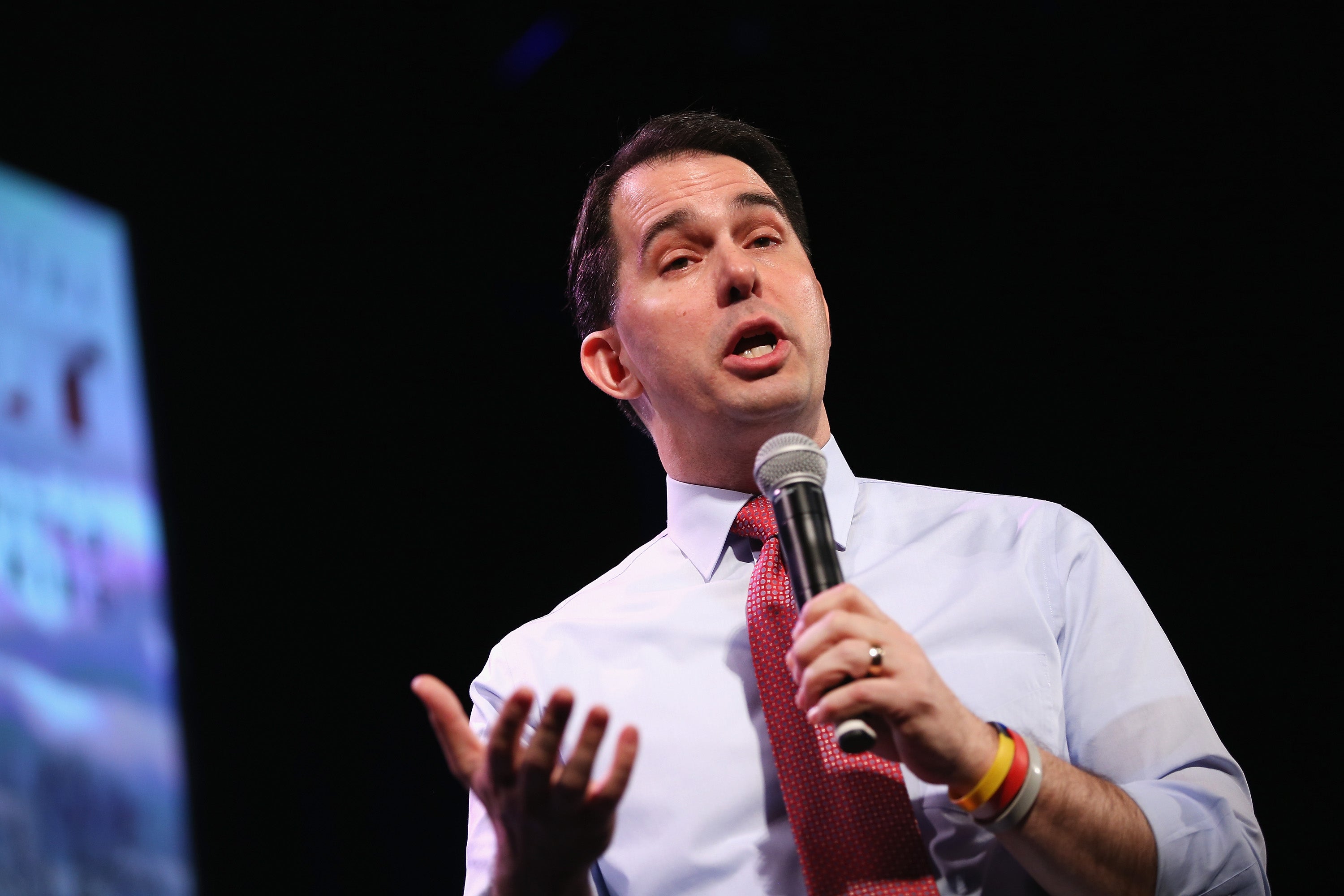 Scott Walker: America needs the reforms I pushed in Wisconsin
Scott Walker proudly brandished his record as governor of Wisconsin during a speech at the Conservative Political Action Conference on Thursday, telling a room full of right-wing activists that he's enacted far-reaching changes in his state, and he's done it without sacrificing his conservative ideals.
"I'm proud to tell you that because of our reforms, our state is indeed better than the state I grew up in," he said. "We did it without compromising. We stood up and said what we were going to do, and then we did it."
And that record, Walker added, is exactly what Americans will want from their next president. "They want someone who's going to fight and win every single day for the hardworking taxpayers," he said. "That's exactly what we need in this country going forward."
Walker nodded at his push to curtail the power of public employee unions in his state - an effort that sparked an unsuccessful attempt to recall him from office and earned him plenty of goodwill from the conservative grassroots.
"We took on the powerful special interests in Washington, and we returned the power back into the hands of the hardworking taxpayers," he said. "They didn't like that, they tried to recall me, they made me their number one target, but in the end, we showed that we can fight and win for the hardworking taxpayers."
He also touted his reforms to the state's education system, saying he'd eliminated seniority and teacher tenure laws. "We can hire and fire based on merit, we can pay based on performance, we can put the best and the brightest in our classrooms... and it's working," he said, citing higher test scores and increased graduation rates.
He bragged about his record on economic issues like unemployment and taxes. "We were able to take a state where the unemployment rate in 2010 was 9.2 percent at its peak. It's now down to 5.2 percent," he said. "We've reduced the burden on hardworking taxpayers by nearly $2 billion dollars...a typical homeowner in our state is paying less in property taxes than they were paying four years ago."
Walker, who's mulling a presidential bid in 2016, arrived at CPAC after a heady few weeks. His well-received speech at the Iowa Freedom Summit last month catapulted him into the top tier of the potential GOP primary field, amping up his early poll numbers and increasing his name recognition. But in the weeks after that speech, he stumbled over questions about evolution, his lack of a college degree, and President Obama's Christian faith.
He also took some fire for an interview with ABC News in which he criticized President Obama's foreign policies but was unable to offer a detailed alternative.
In his speech at CPAC, Walker made an attempt to flesh out his views on international affairs.
"We have a president who draws lines in the sand and fails to act," he said. "A president who calls ISIS the JV club, who calls Yemen a success, and who calls Iran a country we can do business with...We need a leader in America that stands up and realizes that radical Islamic terrorism is the threat to our way of life and to all the freedom loving people around the world."
Walker also suggested his experience dealing with the raucous demonstrators that descended on the Wisconsin state capitol building during his fight with unions would help him defend America against foes.
"If I could take on 100,000 protesters, I could do the same across the world," he said.
Thanks for reading CBS NEWS.
Create your free account or log in
for more features.